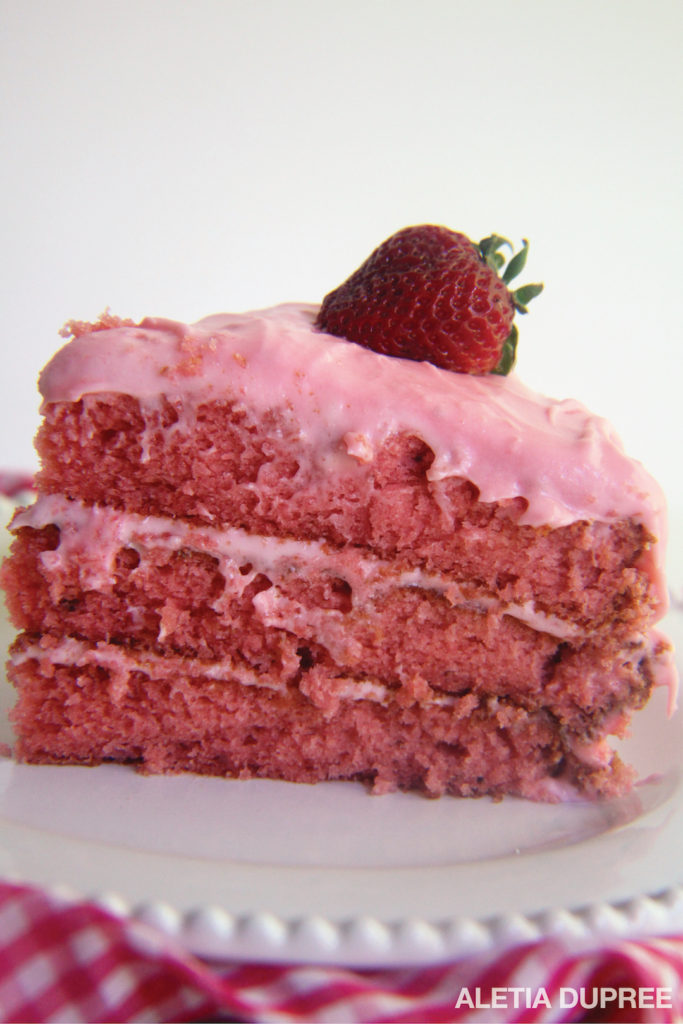 Happy Mother's Day to all you mothers! I couldn't think of a better way to celebrate Mother's Day than with a delicious, beautiful, pink strawberry cake. I love, love, love this Strawberry Cake!!  It's simply the best. I don't think I have ever met anyone who doesn't just absolutely adore this cake.
It's light, moist, yummy, sweet, pink, – there aren't enough adjectives to describe it. It's totally "strawberry deliciousness."
That's the best way for me to describe it.
You are in for a treat if you have never experienced eating a strawberry cake. My daughter always requests this cake for her birthday. It's her favorite. Her birthday is this month so I'll be making another one again soon. We enjoy strawberry cake all though the month of May. It makes a perfect cake for Mother's Day, showers, luncheons or any special occasion.
The layers are light and fluffy with bites of delicious fresh strawberries throughout. The strawberry cream cheese frosting is what dreams are made of! It's rich, smooth and creamy, and it compliments the strawberry layers perfectly.
One of the secrets to the light layers is separating the egg yolks and egg whites and beating the egg whites until they are stiff and then folding them into the cake batter.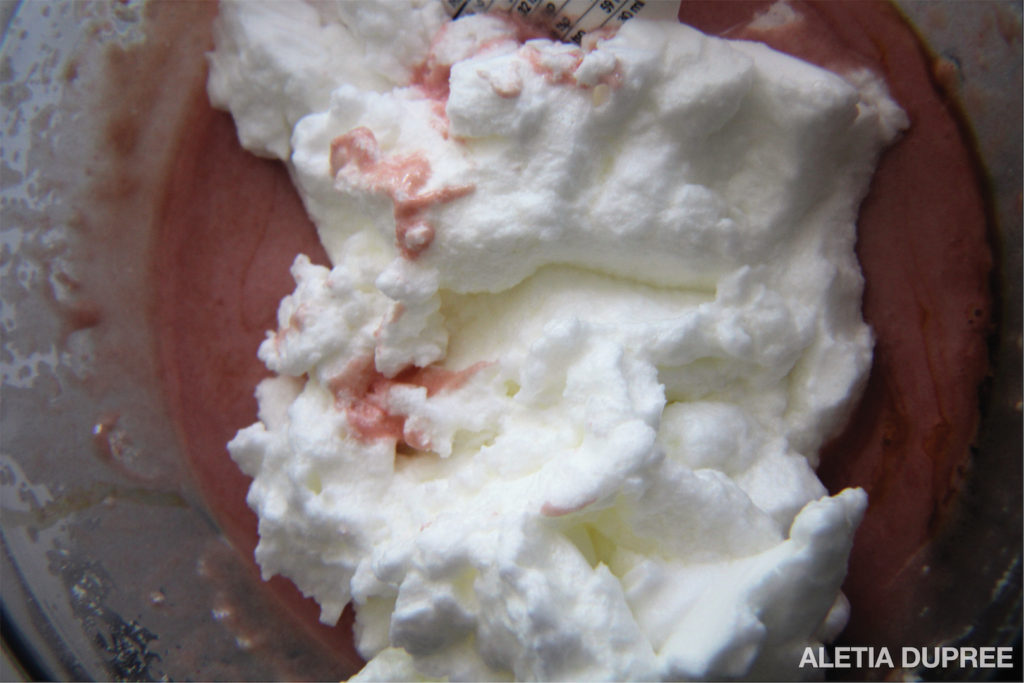 Another important tip is to beat your egg yolks before adding them to the batter. Since we are adding one cup of vegetable oil, you don't want over mix the batter. Over mixing will cause the cake layers to be too tough and too dense.  We want them moist and light.
We do use a cake mix as a base for this cake but no one will ever know it. It will taste just like it was made from scratch. I did try something different this time with the strawberries. I puree them for the batter and for the frosting as well. It turned out great!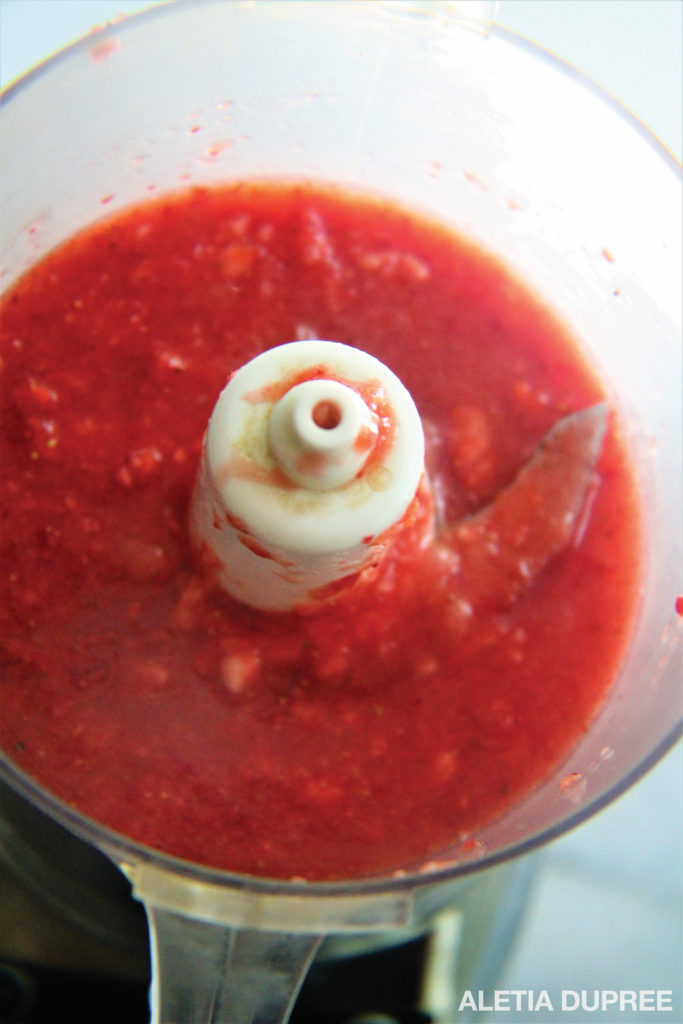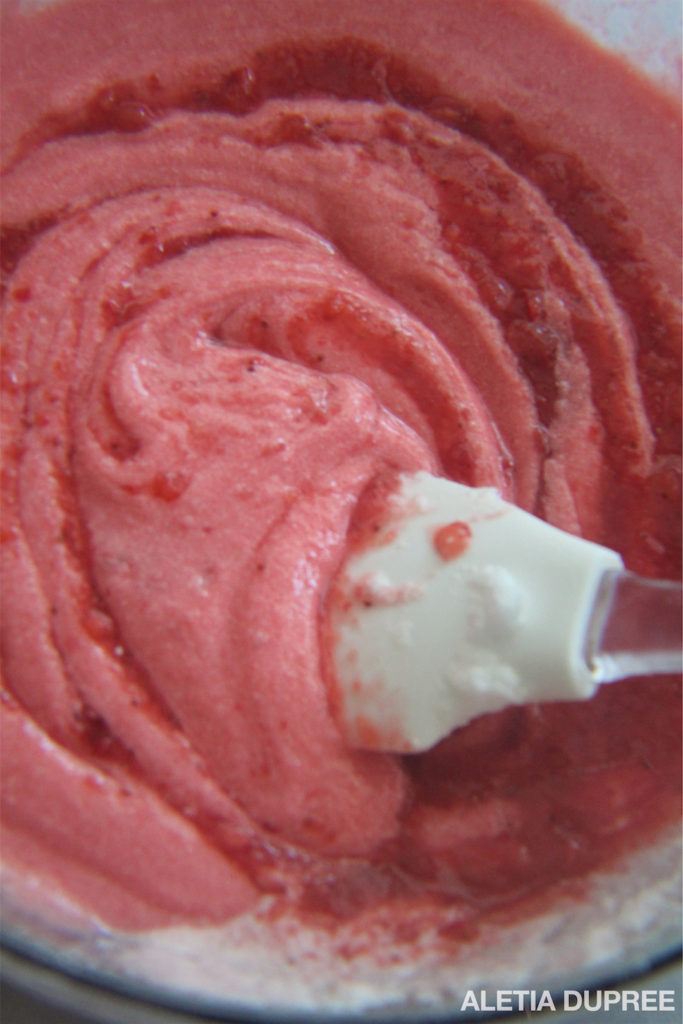 This cake is made with three layers, but you can also make it in a sheet pan as well.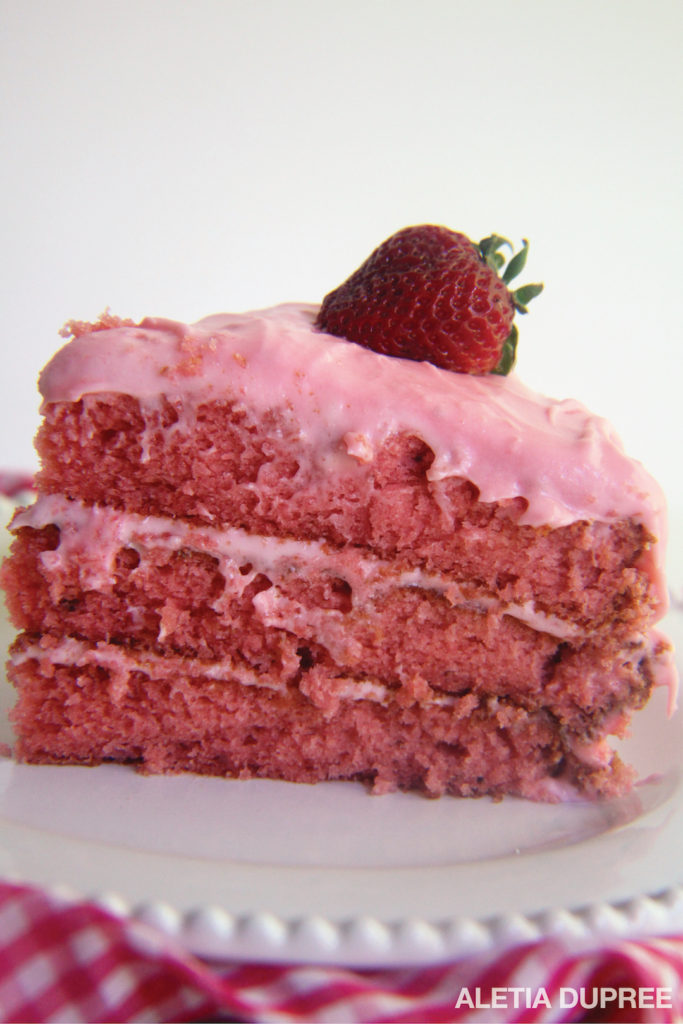 Print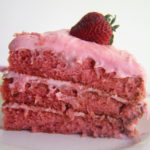 Strawberry Cake
---
Author:

aletiadupree

Prep Time:

1 hour (Included baking time and frosting)

Total Time:

1 hour (Included baking time and frosting)

Yield:

16 to 20 servings

Category:

Desserts
Ingredients
Cake
1 (18.25-ounce) box white cake mix
1 (3-ounce) package strawberry flavored gelatin
1 cup vegetable oil
4 large eggs, separated
½ cup of strawberry puree (you can puree fresh or frozen strawberries)
¼ cup strawberry juice Note: If using fresh strawberries, gently press strawberries until they release 1/4 cup of juice)
¼ cup whole milk
1 teaspoon vanilla extract
Strawberry Cream Cheese Frosting
½ cup (1stick butter), softened
1 (8-ounce) package cream cheese, softened
6 cups confectioner's sugar, sifted
¼ cup heavy whipping cream
½ cup strawberry puree
1 to 2 drop red food coloring (optional)
---
Instructions
Preheat the oven to 350 degrees F. Grease and flour 3 8 or 9-inch round cake pans. (Tip: For cake layers not to stick to pans, after greasing pans place a small circle of wax paper or parchment paper in the center of each cake pan.)
In a large mixing bowl, add cake mix, dry gelatin, and oil. Beat UNTILL just blended.
In a separate bowl, beat egg whites until stiff and set aside in the refrigerator.
Beat egg yolks in a separate bowl and add them to the cake mix mixture. Beat just enough to mix well. Sir in ½ cup pureed strawberries, strawberry juice, milk and vanilla. (Stir do not beat)
Fold in stiffly beaten egg whites. Pour into the prepared cake pans and bake for 16 to 18 minutes or until done. (Be careful not to over bake) cool cake completely before frosting.
To make the Frosting, cream butter and cream cheese until light and fluffy. Add 3 cups confectioners' sugar and ¼ cup heavy cream. Continue to beat; add the remaining 3 cups of confectioners' sugar, vanilla beat until smooth and creamy. Stir in the strawberry puree and a few drops of red food coloring.
Notes
Do ahead tip/Freeze: You can make this cake up two days ahead. Store in the refrigerator. You can freeze this cake up to 2 months. Thaw overnight in the refrigerator.
Recipe Tip: To make this cake in a sheet pan, pour batter into a greased 13 x 9 x 2-inch pan. Bake at 350 degrees F. for 25 to 30 minutes or until done. Let it cool before frosting.