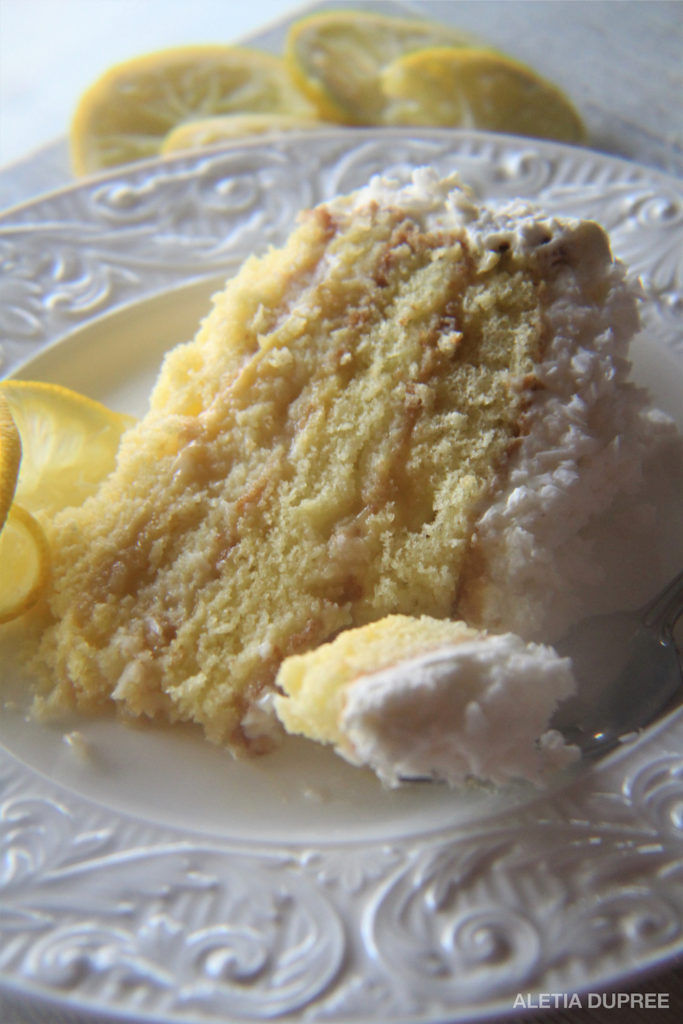 This classic sour cream coconut cake is given a lemon twist, making it the perfect cake for your Easter Dinner or a spring dessert.
I absolute love this cake. It ranks way up in the top of my favorites of the all the Southern cakes. A tangy, luscious homemade lemon curd between moist, tender, flaky buttery layers and a deliciously rich coconut filling….. ……..this is the cake of your dreams!
It's really easy to make too. In this recipe I use a butter cake mix. I do have a method that I will share with you to make the cake box layers taste just like they were made from scratch. "Duncan Hines Butter Golden" cake mix is my favorite. Here are my tips:  Use sweet cream butter, beat your eggs well separately in a small bowl. Substitute whole milk or in this recipe coconut milk for water.  I promise you with all the layering of fillings, the cream of coconut, rich coconut sour cream mixture plus the lemon filling, no one will ever know that the layers are not made from scratch unless you tell them. Your secret is safe with me.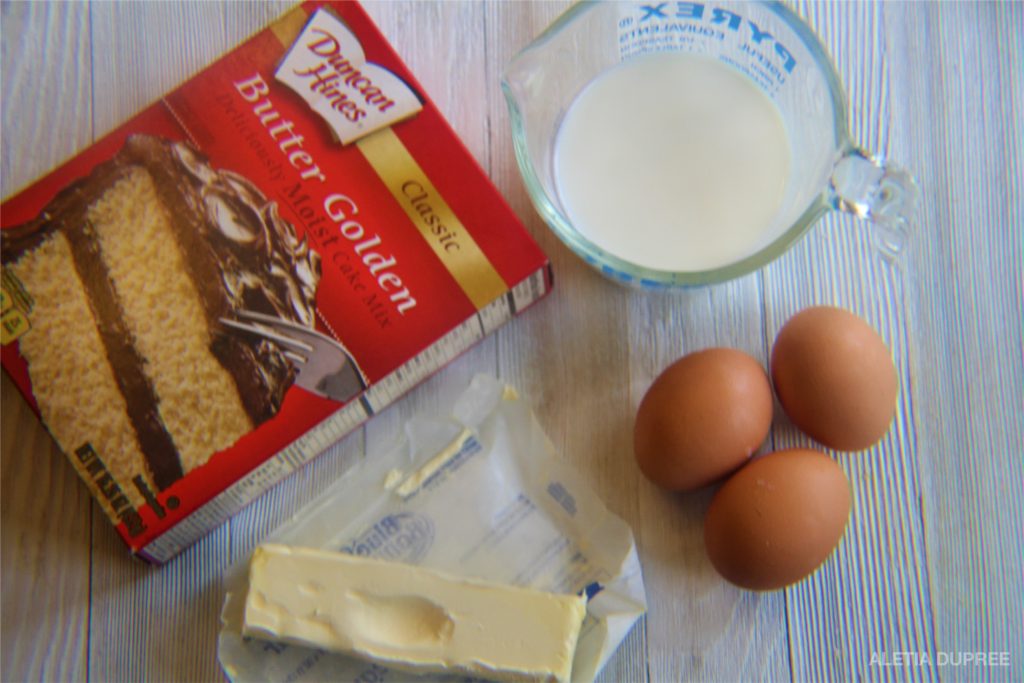 Before putting your batter into the pans, place a small circle of wax paper in each cake pan. It keeps your cake from sticking to the pan.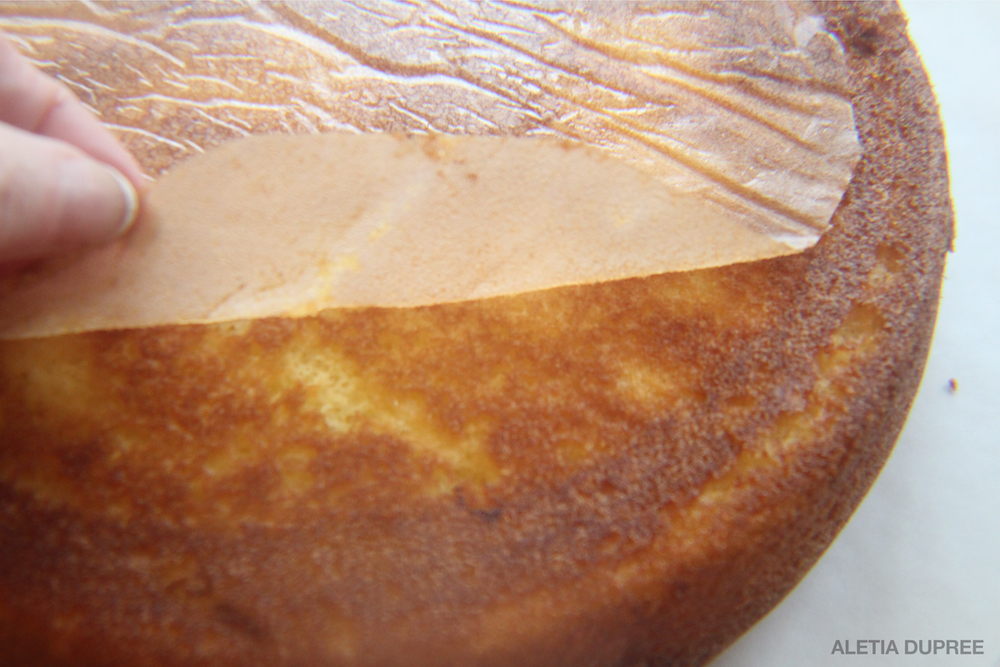 We make two layers and split them in half horizontally to make four layers.  Next, using a fork, pierce holes in cake layers and drizzle cream of coconut on each cake layer. Cream of coconut is one of the main ingredients that make this cake so delicious. Over the cream of coconut is a sour cream coconut mixture and then we top it with homemade lemon curd. All of this goodness is top with a heavenly  frosting made with real whipping cream and topped with freshly grated (or fresh frozen) coconut.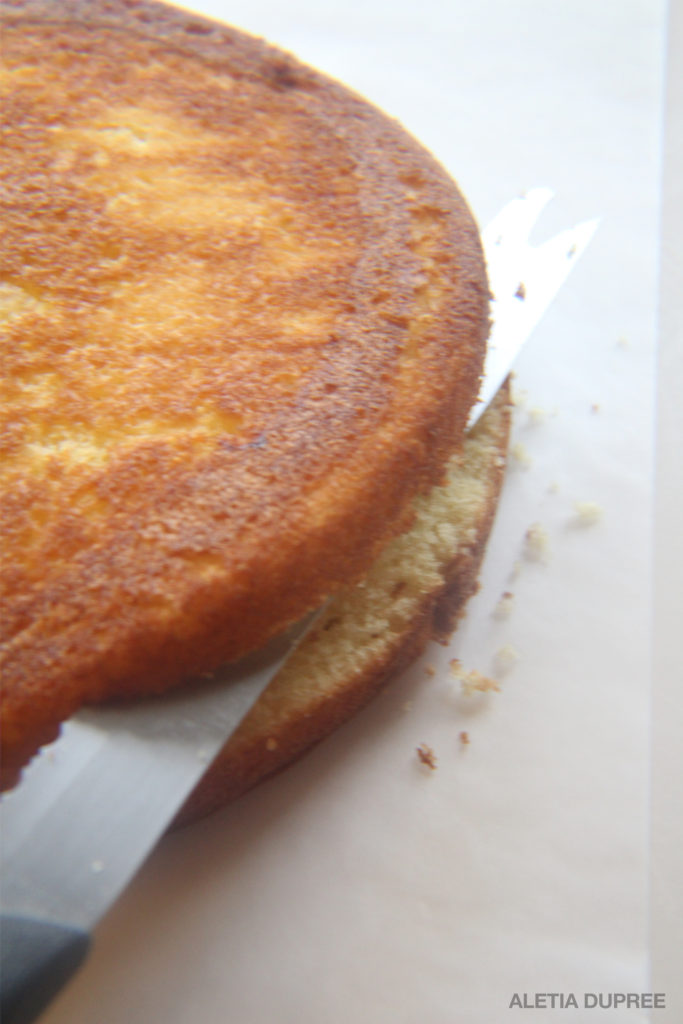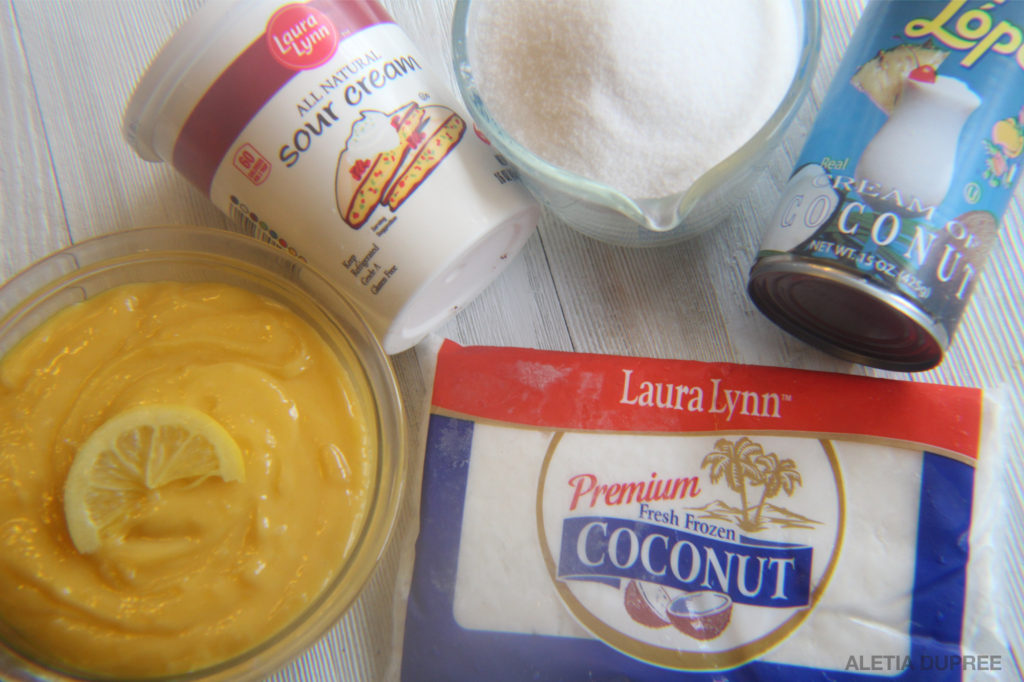 My recipe for lemon curd is delicious! It very easy and it's so much better that a store bought lemon curd. The taste doesn't even compare. So please, please don't buy a store brand. Make a homemade lemon filling. If you are not a fan of lemon, just simply omit the lemon curd and you will have the WORLD' BEST tasting coconut cake!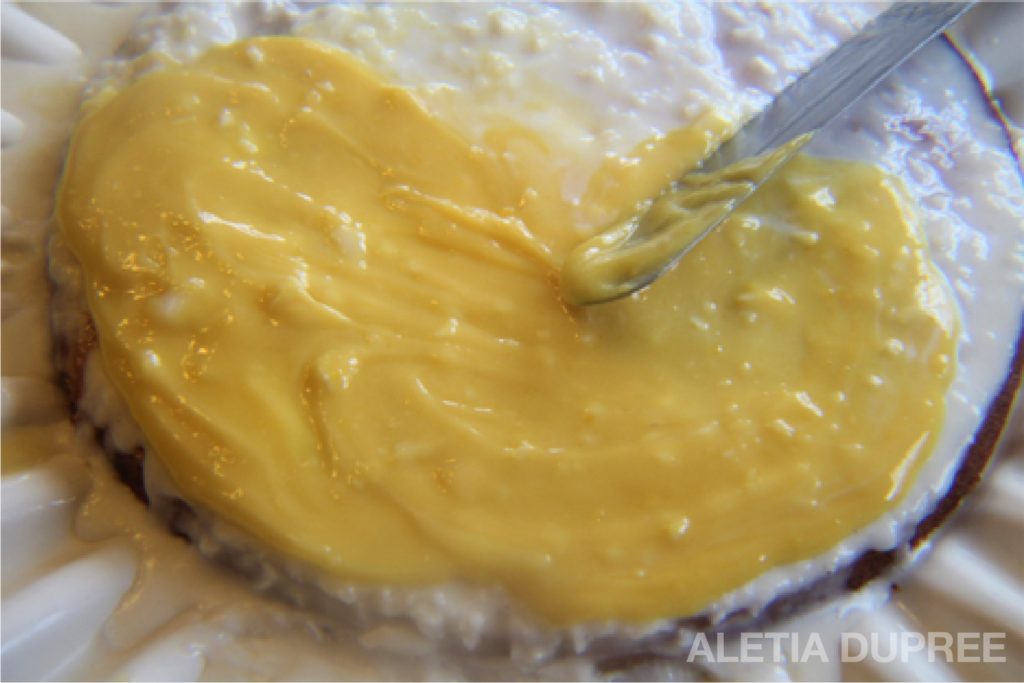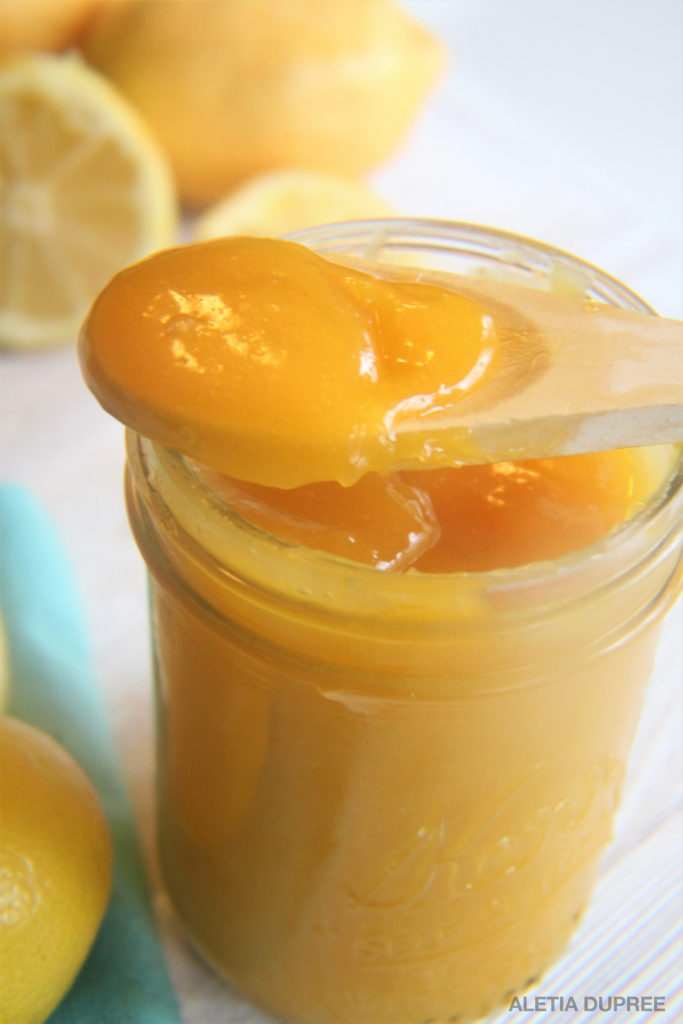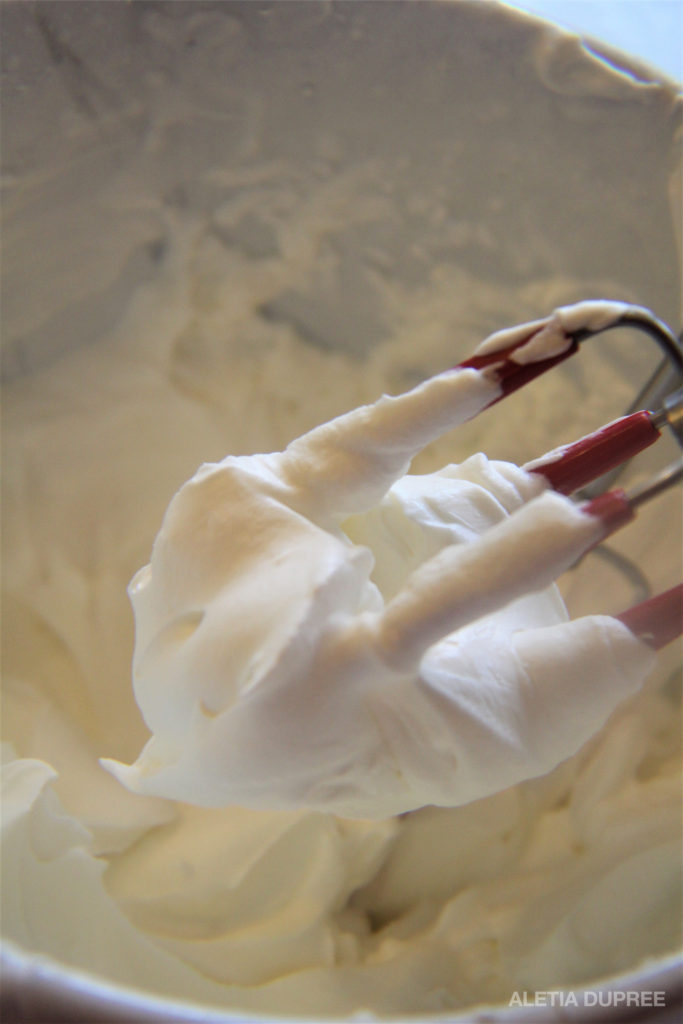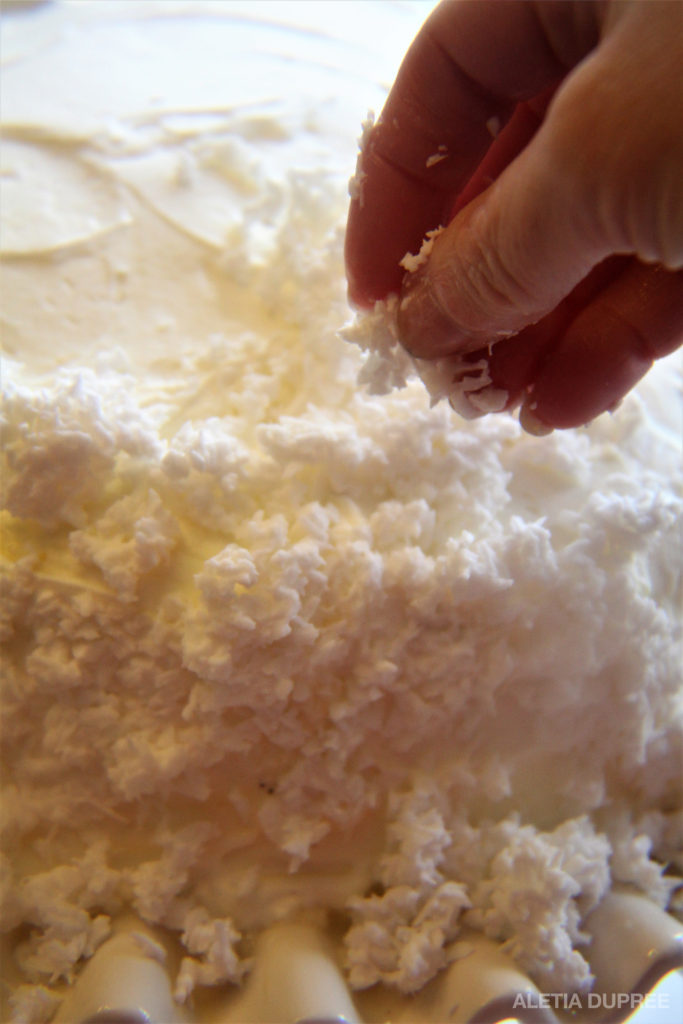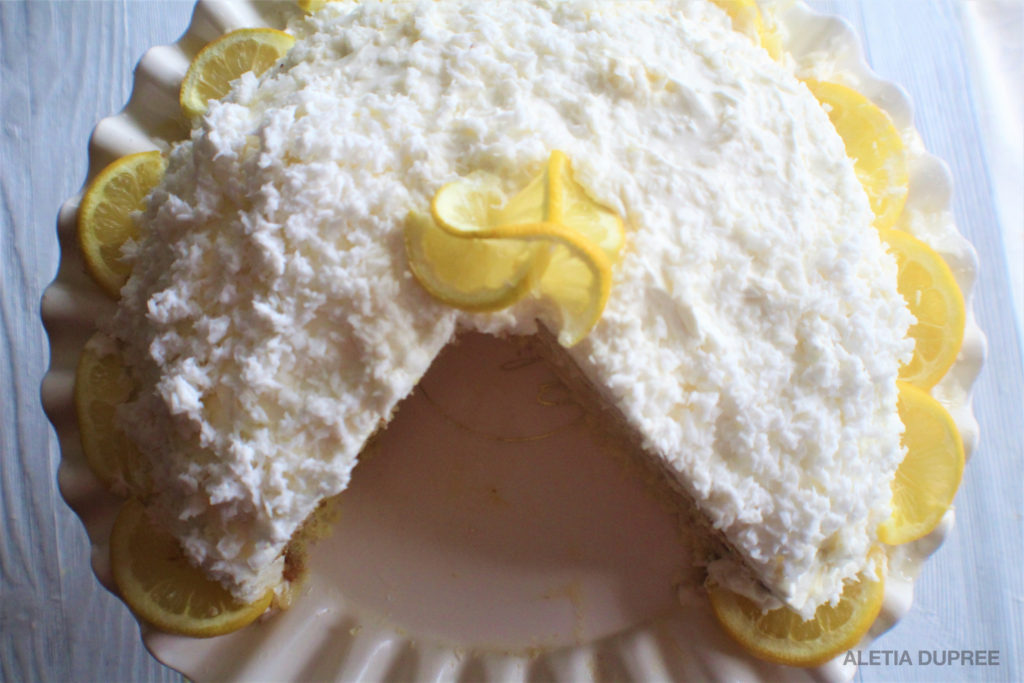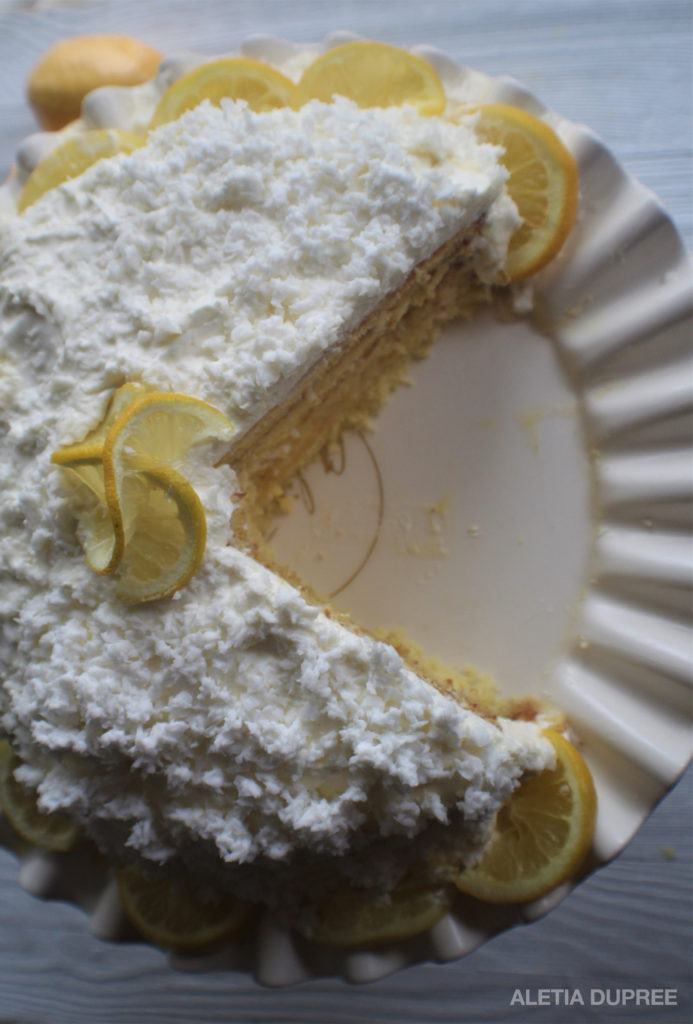 Print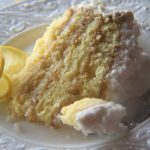 Lemon Coconut Cake
---
Author:

aletiadupree

Prep Time:

40 minutes

Total Time:

4 Hours (includes baking and chilling)

Yield:

serves 16 to 18

Category:

Desserts
Ingredients
1 (18.25-ounce) box butter cake mix, sifted (I use Duncan Hines)
3 eggs, well beaten
½ cup butter (1 stick) soften
¾ cup whole milk
1 (15-ounce) can real cream of coconut, divided
1 (16-ounce) container of sour cream (2 cups)
2 cups granulated sugar
3 ½ cups freshly grated coconut or frozen coconut, divided (3-6-ounce packages of frozen coconut)
2 ½ cups lemon curd (See recipe for homemade lemon curd)
2 cups heavy whipping cream
1 cup confectioners' sugar, sifted
Garnish: Fresh lemon slices
---
Instructions
Preheat the oven to 350 degrees. Grease 2 9-inch round cake pans and lined with a small circle (6-inch) of wax paper or parchment paper. (This keeps the cake from sticking to the pans. Believe me, this is a miracle worker.) Set the prepared pans aside.
In a large mixing bowl, beat cake mix and butter together with an electric mixer on medium speed. Add the milk and beaten eggs and beat on medium-high speed for about 4 minutes.
Pour batter evenly into the 2 9-inch prepared pans. Bake in the preheated oven for 20 to 25 minutes or until cake test done. Cool the cakes in the pan for 10 minutes, then turn them out on wax paper to cool completely.
While the cake cools make the filling: In a large bowl combine sour cream, sugar, and coconut. Mix well. Set aside in the refrigerator until ready to use.
Split cake layers horizontally to make four layers. (a corrugated knife works well for splitting the cakes.)
Pierce holes in cakes layers using a fork and drizzle a small amount on each layer. (about 3 Tablespoons on each layer. You won't use the whole can.)
Mix the remaining cream of coconut with the lemon curd.
Spread sour cream mixture over of cream of coconut layer, then spread the lemon curd filling over the sour cream mixture. Repeat the process with the remaining layers as you stack them.
To make the frosting: Pour whipping cream into a medium size bowl that been chilled. After beating my cake layers, I put my mixing bowl and beaters in the freezer until I get ready to make the frosting. The real cold bowl and beaters makes the whipping cream whip up so much better! Beat whipping cream on medium-high speed until cream thickens. Add confectioners' sugar and continue beating until stiff.
Be careful not to beat too long because the cream will turn to milk if beaten too much.
Frost sides and top of cake. Sprinkle the remaining coconut over all the cake. Keep cake in the refrigerator. Just before serving, garnish with fresh lemon slices.
Notes
Make ahead tip/freeze:  This cake can be made 3 days ahead and kept in the refrigerator in an airtight container. Actually the flavor is much better if it's made ahead. This allows the cake to soak up moisture from the coconut. You can also freeze this cake up to 2 months in the freezer and it will keep up to 6 days in the refrigerator.
Print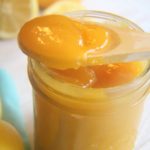 Homemade Lemon Curd
---
Author:

aletiadupree

Prep Time:

10 minutes

Cook Time:

10 minutes

Total Time:

20 minutes

Yield:

1 and 1 ½ cups
Ingredients
4 egg yolks, lightly beaten
1 cup granulated sugar
2 Tablespoons of lemon zest (about 3 lemons)
½ cup fresh lemon juice (about 4 lemons)
½ cup butter (1 stick)
---
Instructions
Fill the bottom pot of a double boiler with 2 to 3 inches of water. Place on high heat. After water begins to boil, reduce the heat to low.
Place egg yolks, granulated sugar, lemon zest and lemon juice into the top of the double boiler. Whisk until completely blended and continue to whisk and cook until the mixture becomes thick and clear.
Remove the pan from heat. Cut the butter into 8 pieces and stir each piece into the curd. The butter will melt from the heat of the curd. Pour curd into a jar or bowl. Place a piece of plastic wrap over top of curd. This prevents a skin from forming on the top. The curd will continue to thicken as it cools.
Notes
Make ahead tip:  Refrigerate the curd for up to about 7 days. For longer use, you can freeze the curd up to 3 to 4 months. Thaw in the refrigerator overnight before serving.