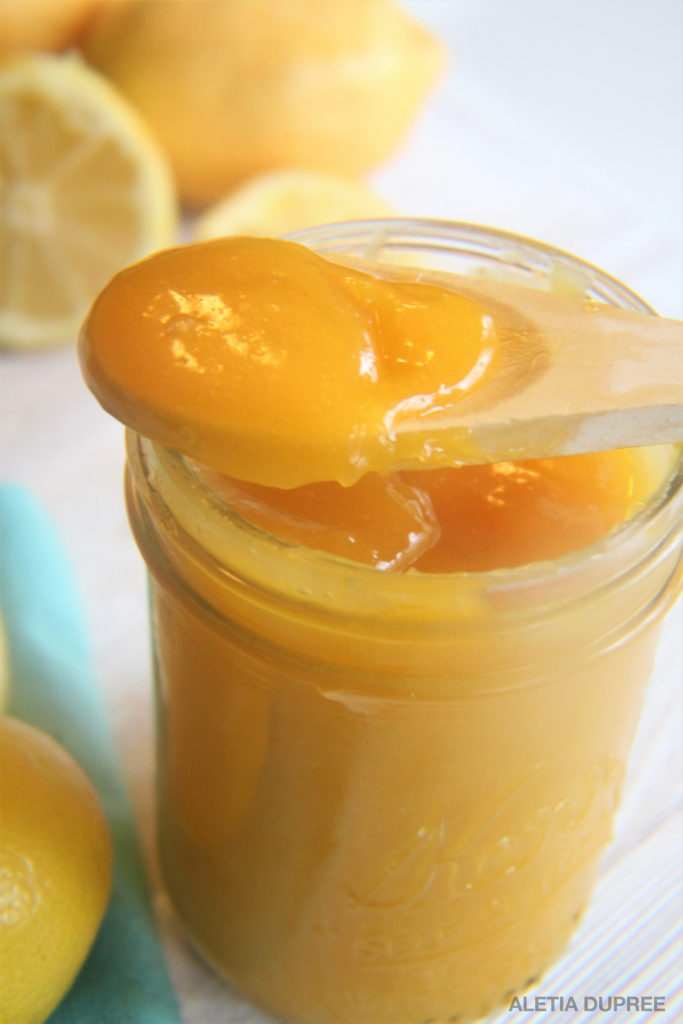 For lemon lovers, this recipe is a match made in heaven. I do love lemons and anything that has lemons in it…..lemon bars, lemon pound, blueberry lemon cake. The list could go on.
I love the tangy, fresh, lemony, buttery, sweet taste of this lemon curd!
It's creamy, thick, dense and luscious. What more could you ask for?  But, I can tell you a homemade lemon curd doesn't even compare to a store- bought brand. Homemade is soooooo….ooo MUCH better and it's really easy to make. So please, I beg you, don't buy a store-bought brand.
Lemon curd is great to have on hand in your pantry if it's sealed or kept in your refrigerator. You can use it in so many recipes. Here are some of my favorite ways I enjoy homemade lemon curd.
Layered in cakes (It's wonderful between layers of a classic sour cream coconut cake!)

As a spread with blueberry or bran muffins

On top of pancakes or waffles

Dip blueberry scones in it

Spoon it between buttermilk biscuits

Serve it on angel food cake

Fill pastry shells

Make a lemon fruit dip (Makes a perfect dip for raspberries, strawberries and blueberries)

Swirl it into Greek yogurt

Makes a PERFECT hostess or holiday gift (in a beautiful jar with a name tag and ribbon tied around 

it .)

Eat it buy the SPOON FULLS!
It's really simple to make. You only need 4 ingredients, eggs, fresh lemon, sugar and butter.  These are things you probably have in your pantry. No need for flour or cornstarch. The eggs thicken the curd. Fresh lemon juice is a must for this recipe. Bottled lemon juice will really effect the taste. FRESH is always best!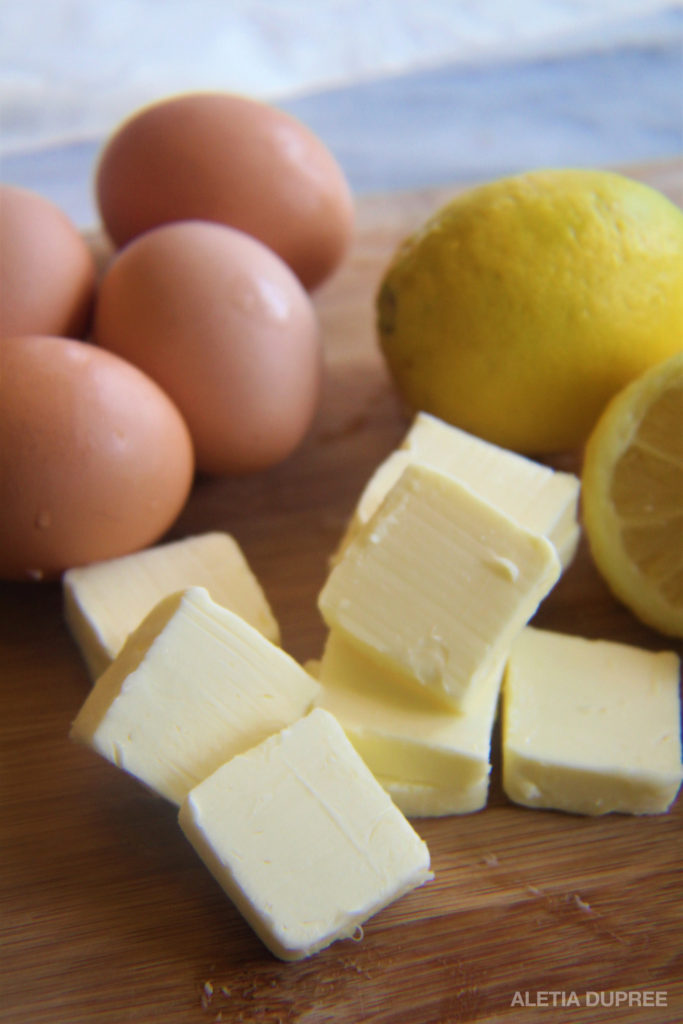 You want to cook the curd over simmering water in a double boiler. If you don't have a double boiler, you can craft a makeshift double boiler by placing a heatproof bowl or a small pot on top of a larger one. Lemon curd should never be cooked over direct heat because the egg yolks will cook and curdle. You don't want that to happen.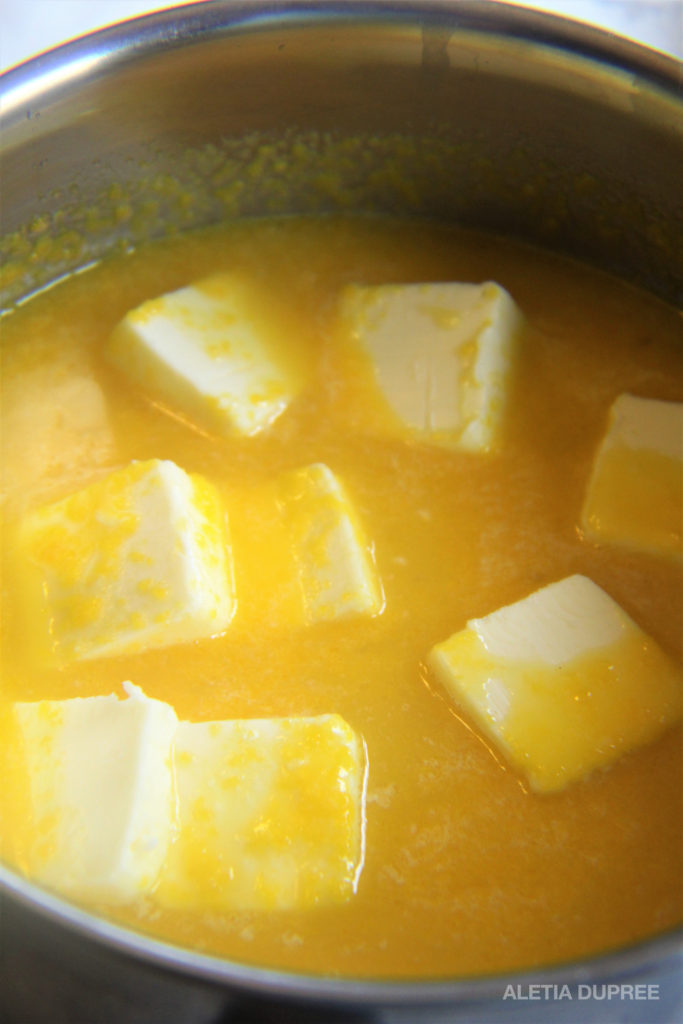 Here's another tip, pour the cooked curd into a jar or bowl and place plastic wrap directly over the surface. This helps prevent a skin developing on top.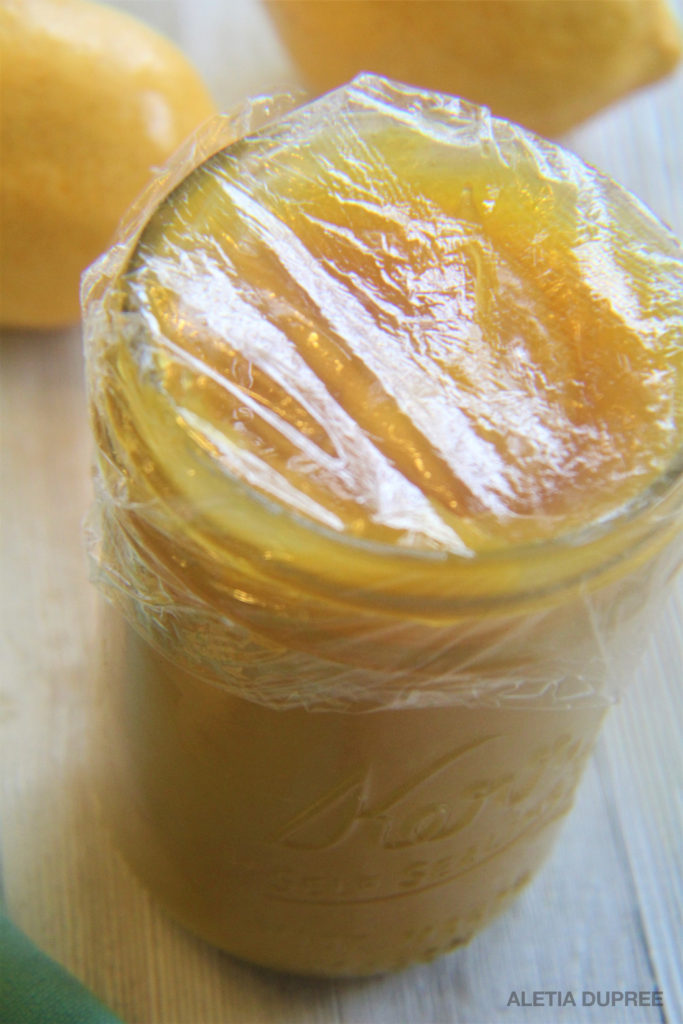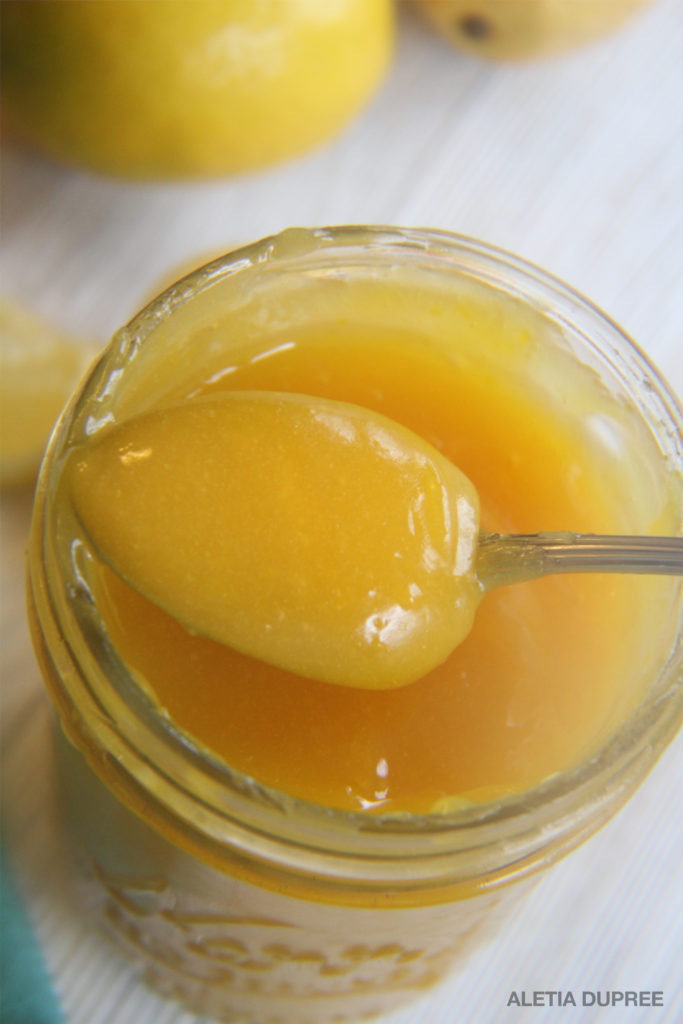 Print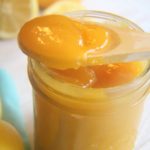 Homemade Lemon Curd
---
Author:

aletiadupree

Prep Time:

10 minutes

Cook Time:

10 minutes

Total Time:

20 minutes

Yield:

1 and 1 ½ cups
Ingredients
4 egg yolks, lightly beaten
1 cup granulated sugar
2 Tablespoons of lemon zest (about 3 lemons)
½ cup fresh lemon juice (about 4 lemons)
½ cup butter (1 stick)
---
Instructions
Fill the bottom pot of a double boiler with 2 to 3 inches of water. Place on high heat. After water begins to boil, reduce the heat to low.
Place egg yolks, granulated sugar, lemon zest and lemon juice into the top of the double boiler. Whisk until completely blended and continue to whisk and cook until the mixture becomes thick and clear.
Remove the pan from heat. Cut the butter into 8 pieces and stir each piece into the curd. The butter will melt from the heat of the curd. Pour curd into a jar or bowl. Place a piece of plastic wrap over top of curd. This prevents a skin from forming on the top. The curd will continue to thicken as it cools.
Notes
Make ahead tip:  Refrigerate the curd for up to about 7 days. For longer use, you can freeze the curd up to 3 to 4 months. Thaw in the refrigerator overnight before serving.