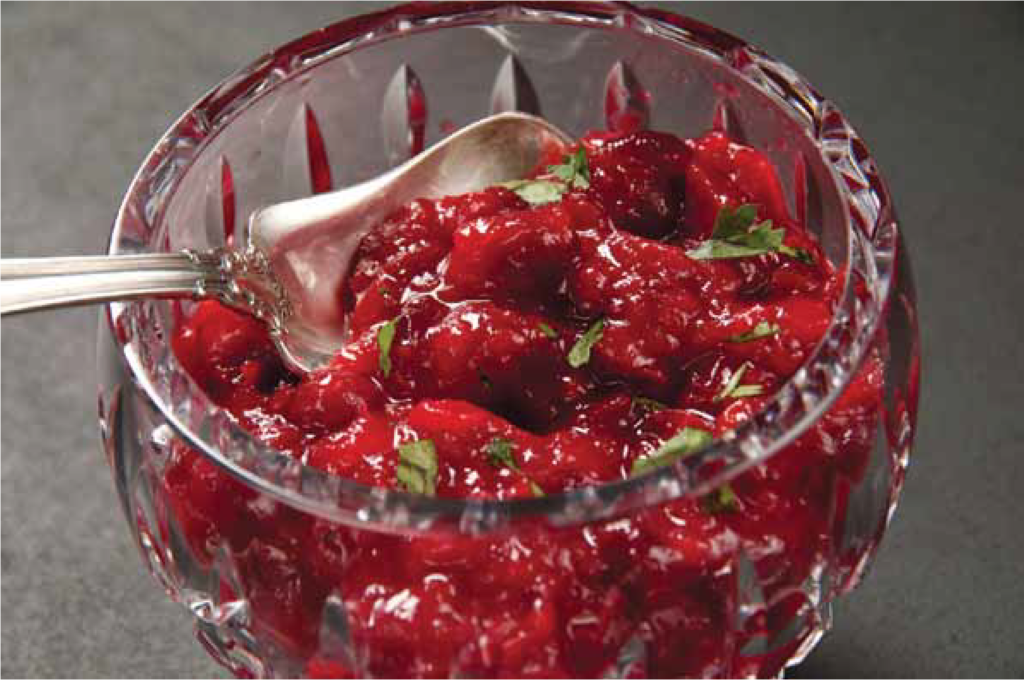 Warmed jalapeno Cranberry Sauce takes the traditional out-of- the-can cranberry sauce to a whole new level. With healthy dose of ginger and a splash of jalapeno this sauce will spice up your holiday table.
You might expect this cranberry sauce to be quite fiery, and it does have some bite, but it has a great sweetness from the apricot preserves as well which makes it perfect to pair with roasted meats such as turkey, chicken, and pork.  Trust me after you try this sauce, you will never ever want to ever go make to canned cranberry sauce. The fresh orange juice and zest ties all the wonderful favors together and gives it a nice tang. You can all ways take out the jalapenos it you prefer a milder taste. With or without the jalapenos, it's the best cranberry sauce.
Your friends and family will go "Ooooh and Awwww".
You can also serve it as an appetizer with cream cheese and crackers. It's easy to make, and it would also make a great hostess gift for the holidays too! You could make an extra batch and seal it in a jar with a pretty label. What a different kind of gift that would make-Jalapeno- Cranberry Sauce in a jar. I think I will try that this year!
And if you are wondering if you can make this in advance-YES!!! You can make this up several days ahead, and you can also freeze it a month ahead. Just heat before serving.
Enjoy!
Print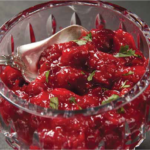 Warmed Jalapeno-Cranberry Sauce
---
Author:

Aletia DuPree

Prep Time:

10 mins

Total Time:

22 mins

Yield:

8 servings
Ingredients
1 tablespoon unsalted butter
2 tablespoons granulated sugar
2 tablespoons finely grated ginger, fresh
1 16-ounce package of fresh or frozen cranberries
⅔ cup fresh orange juice
½ cup apricot preserves
1 jalapeno, seeded and chopped
2 tablespoons finely chopped cilantro
---
Instructions
In a sauce pan over medium heat, melt the butter.
Add sugar, ginger, orange juice, and apricot preserves and cook stirring for 2 minutes.
Stir in cranberries; stir occasionally until the cranberries burst and the sauce thickens. (About 20 minutes.)
Add chopped jalapeno.
Just before serving add the fresh cilantro.