Buttery shortbread cookies with a touch of almond flavoring and filled with raspberry jam! They are so delicious and will literally melt-in-your mouth! Made with just a few simple ingredients but taste like they came from a fancy bakery.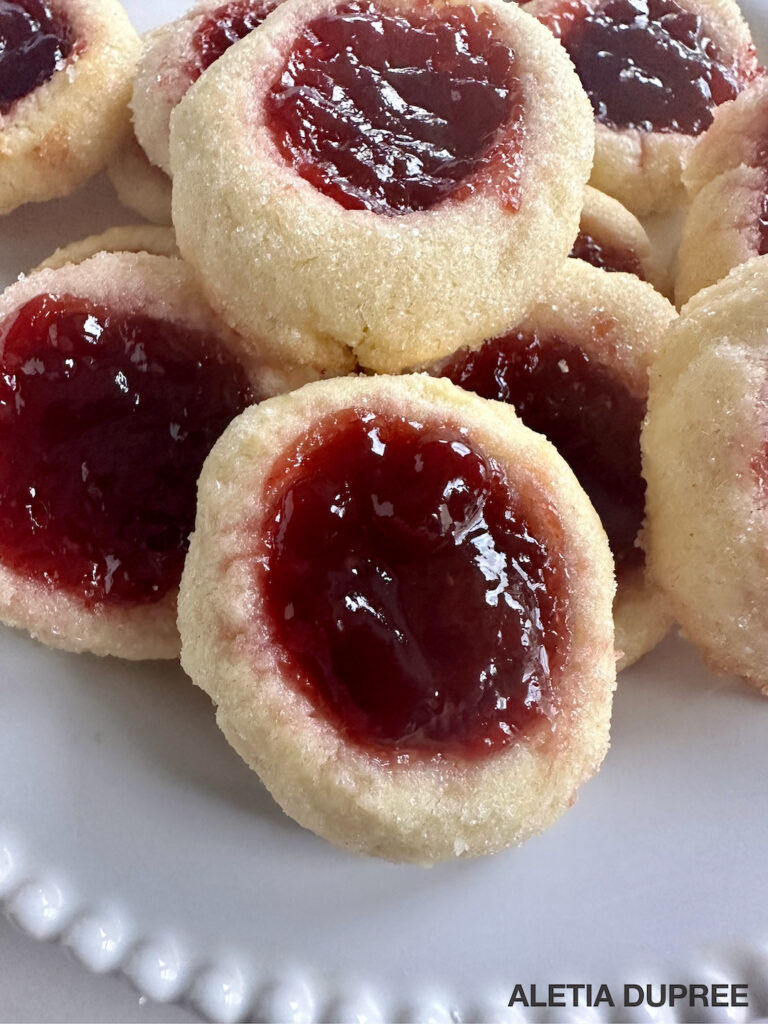 These are one of the best cookies that I have ever tasted. You just can't beat a soft buttery cookie with a touch of almond filled with yummy jam. Such a cookie calls for a quite relaxing moment with a cup of tea. Don't you agree?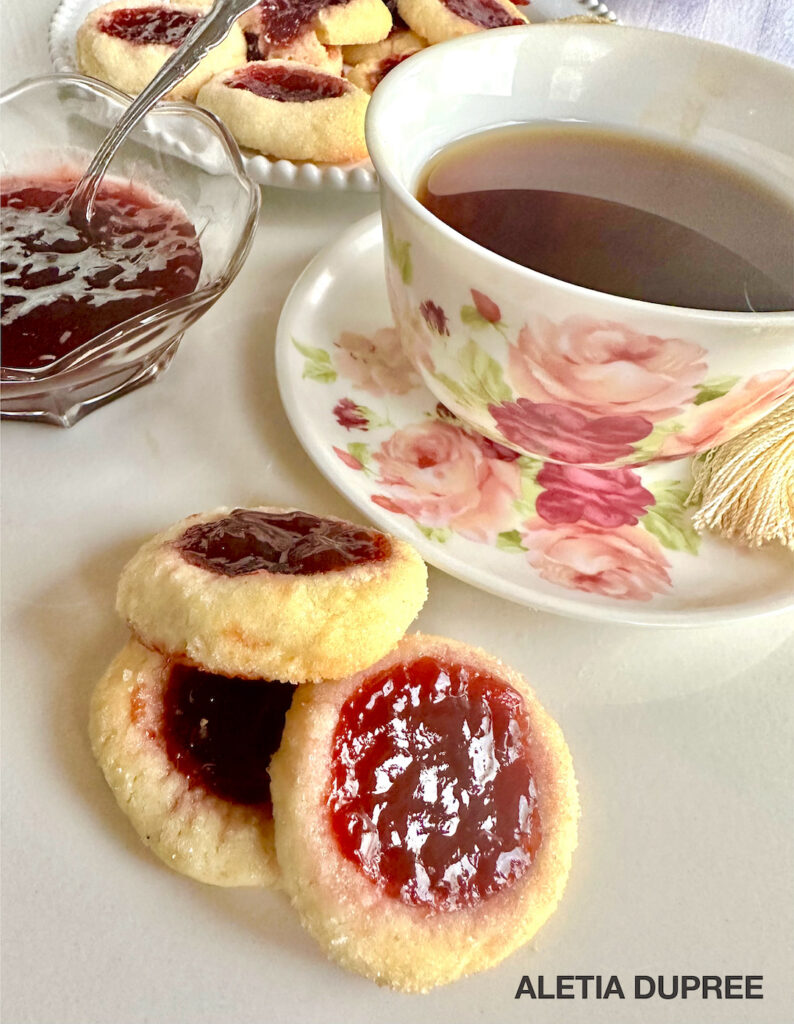 Raspberry Thumbprint Cookies are perfect for so many occasions such as:
Christmas 

Valentine's Day 

Wedding's 

Bridal showers, you can use other flavors of a jam like strawberry, peach perseveres, and orange marmalade or fill them with lemon curd 

Mother's Day 

Afternoon tea

Anytime you want something really delicious!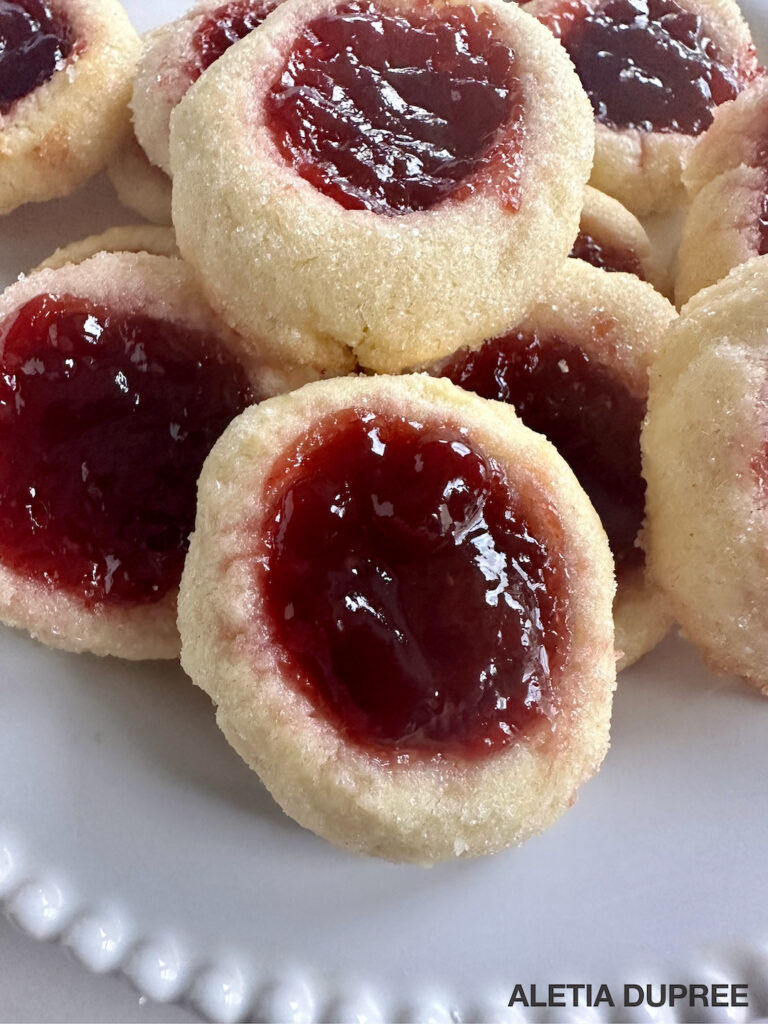 Ingredients that you will need to make these fabulous cookies. (Be sure to see the full printable recipe below this post.)
Butter 

Sugar

Eggs

Pure vanilla extract 

Pure almond extract 

Salt 

All-purpose flour 

Seedless raspberry jam

Sugar crystals (optional)
How to make Raspberry Thumbprint Cookies 
You really won't believe how easy these cookies are to make. This recipe makes a smooth thick buttery dough. You can most certainly use any flavor of jam but raspberry is my favorite. 
We'll start out with creaming the butter and sugar together. Next, add the egg yolk, vanilla, and almond extract. (It may be tempting to go ahead and add the whole egg but please don't. It will mess up the recipe. These are rich buttery shortbread cookies and the one egg yolk makes it perfect.)

Next, add the salt and flour and mix until the cookie dough is smooth. Mixture may be crumbly at first but don't worry the dough will come together.
Measure out 1 tablespoon of dough and roll it into a smooth ball without any cracks or seams. Roll in sugar crystals or granulated sugar. This is optional but it adds so much to the cookie.

Using your thumb or the rounded back of a teaspoon, gently make an indention in the center of each cookie dough ball. Continue the process until all the dough is used.

Transfer the dough balls to the freezer for at least 30 minutes to chill. This will keep the cookies from spreading. Preheat the oven to 350 degrees while the dough is chilling. 

After chilling, fill the centers to the brim with the raspberry jam. (

Note: I pop the jam in the microwave for 5 to 8 seconds and stir it until the jam is smooth. This gets all the lumps out of the jam and makes it much easier to fill.)

Place the cookie dough balls two inches apart on a parchment-lined baking sheet or bake on a silicone baking mat like I have here. I absolutely love my silicone baking mat!!)

Important Tip! If possible use two baking sheets. If you place cookie dough on a hot baking sheet, it will cause the cookies to spread out too much so if you only have one baking sheet, let it cool completely before baking the second batch of cookies.

Now we are ready to bake! Place the cookies in the preheated oven and bake for 11 to 12 minutes. 

Cool completely before transferring to a serving plate. Enjoy!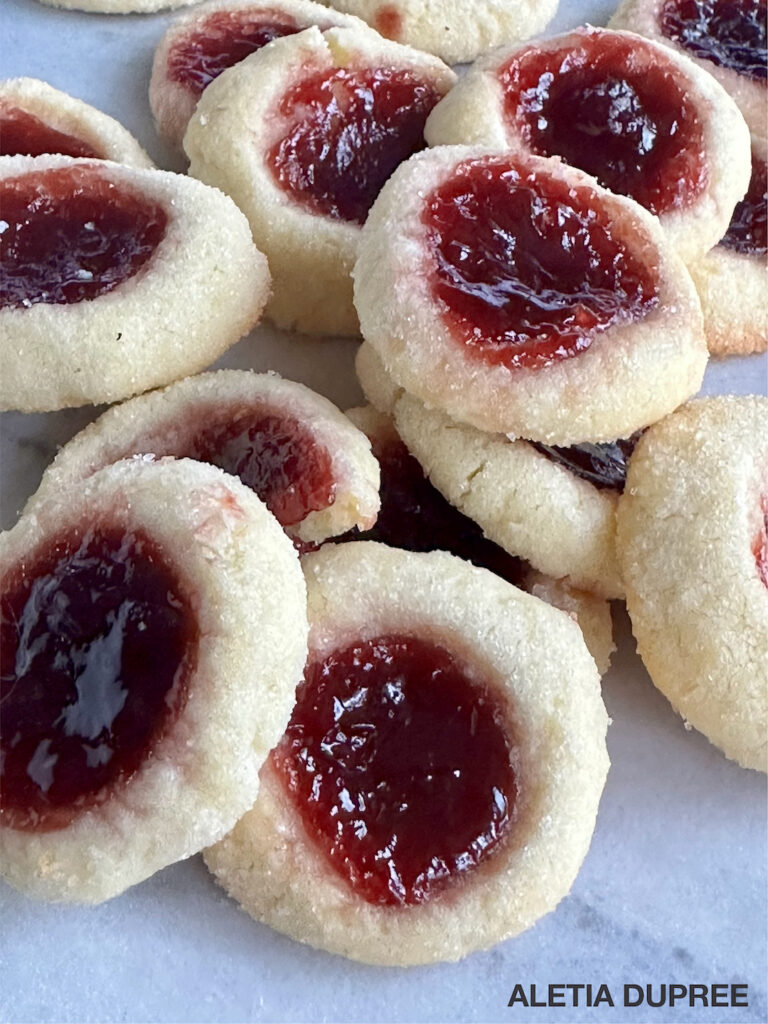 I can't wait for you to make these cookies and please share them with a friend. 
Check out these delicious cookie recipes too!
aletiadupree.com/chocolate-chocolate-chip-cookies/
aletiadupree.com/Italian-christmas-cookies/
Thank you for stopping by! So you don't miss a single recipe, please subscribe to my blog and be sure to follow me on Facebook, Instagram, and Pinterest.
Print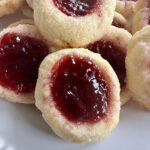 Raspberry Thumbprint Cookies
---
Author:

aletiadupree

Prep Time:

10 minutes, Chill time: 30 minutes

Cook Time:

11 to 12 minutes

Total Time:

-56524895.733333 minute

Yield:

24 to 28 cookies
Description
These buttery shortbread cookies filled with raspberry jam will literally melt in your mouth! They are super easy to make and will be perfect for any occasion.
---
Ingredients
1 cup (2 sticks) butter, softened 

⅔ cup white granulated sugar

1 egg yolk 

1 teaspoon pure vanilla extract

1 teaspoon pure almond extract 

½ teaspoon salt 

2 ⅓ cups all-purpose flour

½ cup seedless raspberry jam

½ cup sugar crystals or granulated sugar for rolling cookie dough balls (optional)
---
Instructions
Line two cookie sheets with parchment paper or use a silicone baking mat and set aside. 

In a bowl of a stand mixer fitted with the paddle attachment or a hand electric mixer, beat the butter until light. Gradually add the sugar and beat on medium-high speed while stopping often and scraping down the bowl with a spatula. Beat until the mixture is light and fluffy. 

Add the egg yolk, vanilla, and almond extract and continue beating for about 30 seconds.

In a small bowl, mix the salt and flour together and slowly add the flour mixture to the butter (wet ingredients) mixture. Beat on low speed. The dough may be crumbly but keep mixing until the dough is smooth. Be sure to stop and scrape down the side of the bowl often while mixing. The dough will be thick. 

Shape dough into 1 tablespoon size balls. Roll cookie dough balls until they are very smooth and no cracks or seams are in the dough. This will help keep the cookies from cracking while baking. Next, roll each ball in the sugar crystals or granulated sugar. Place the balls on a cookie sheet. With your thumb or using the rounded back of a  teaspoon, gently make an indentation in the center of each ball. Repeat until all the dough has been used. 

Transfer the dough to the freezer and chill for 30 minutes. Chilling will help prevent the dough from spreading while baking.

While the dough is chilling, preheat the oven to 350 degrees and pop the raspberry jam in the microwave for about 5 to 8 seconds. Be sure not to overheat. Warming a little bit will make the jam thinner and easier to fill the cookie dough thumbprints. 

After the dough has chilled, fill each thumbprint with jam to the brim. Place cookie dough balls 2 inches apart and bake in the preheated oven for 11 to 12 minutes. Be careful not to overbake. Check on the cookies after 11 minutes. They may need another minute but Bake no more than 12 minutes. Edges should be a golden brown. 

Cool cookies completely before serving! They are so delicious! Enjoy

Cookies can be stored in an airtight container in the refrigerator for up to 4 days.
Notes
Freeze/Do-Ahead Tip: Baked cookies will freeze for up to 3 months and the cookie dough will freeze for up to 3 months as well.