This is a treat-yourself- kind –of-cookie. Reserved for those days when you need a little chocolate pampering. So go ahead pour yourself a glass of cold milk, curl up on the couch and savor every single bite of these marvelous, sinfully delicious Chocolate Chip Brownie Cookies!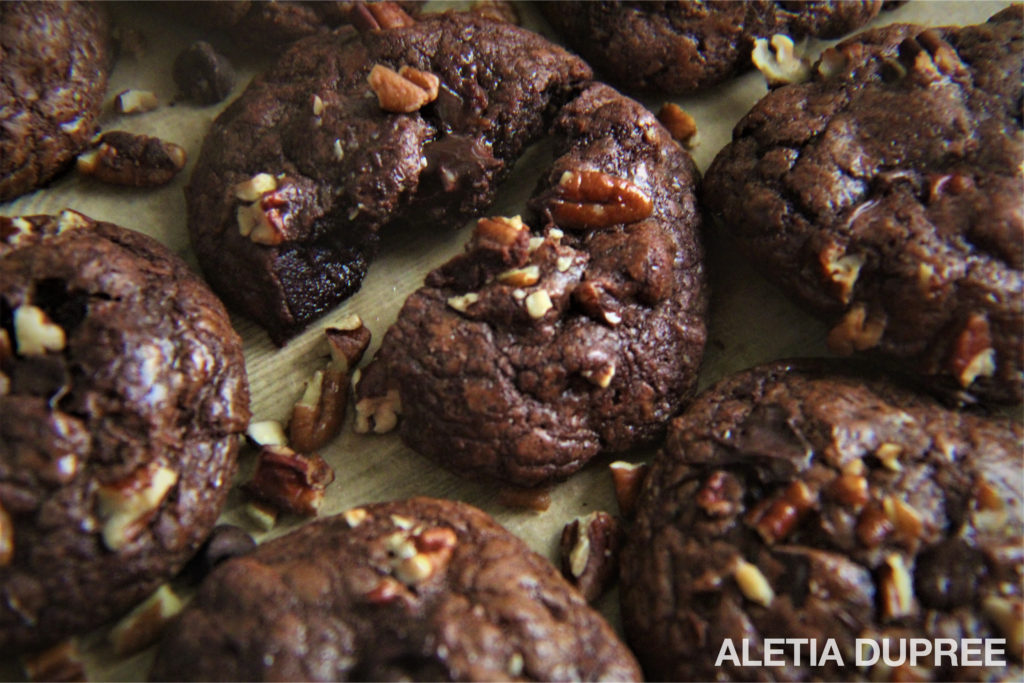 If you love chocolate chip cookies and brownies too, you will fall in love at first bite! These cookies are a combination of the best of both worlds.
They are fudgy, chewy, gooey, soft, crispy, and loaded with delicious chocolate chunks in every bite. 
This recipe is easy to make so when you feel that chocolate craving coming on it won't take long to whip up a batch. These cookies have that smooth, rich chocolatey taste because this recipe calls for melting pure chocolate and pouring and mixing it right into the dough along with much more chocolate chips and loads of chunky chunks of the good stuff. I like to use a quality chocolate such as Ghirardelli or Baker's.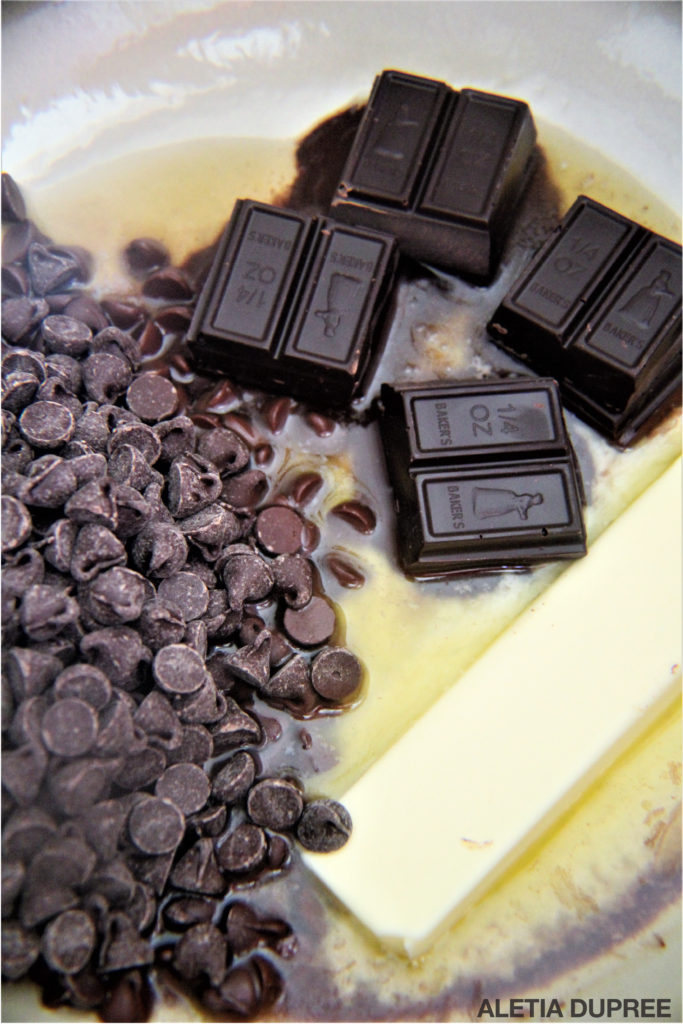 The method of mixing is much like any ordinary cookie recipe except you melt the butter with the chocolate rather than creaming it with the sugar. The sugar is beaten together with the eggs and later incorporated with the dry ingredients flour, baking powder, and salt.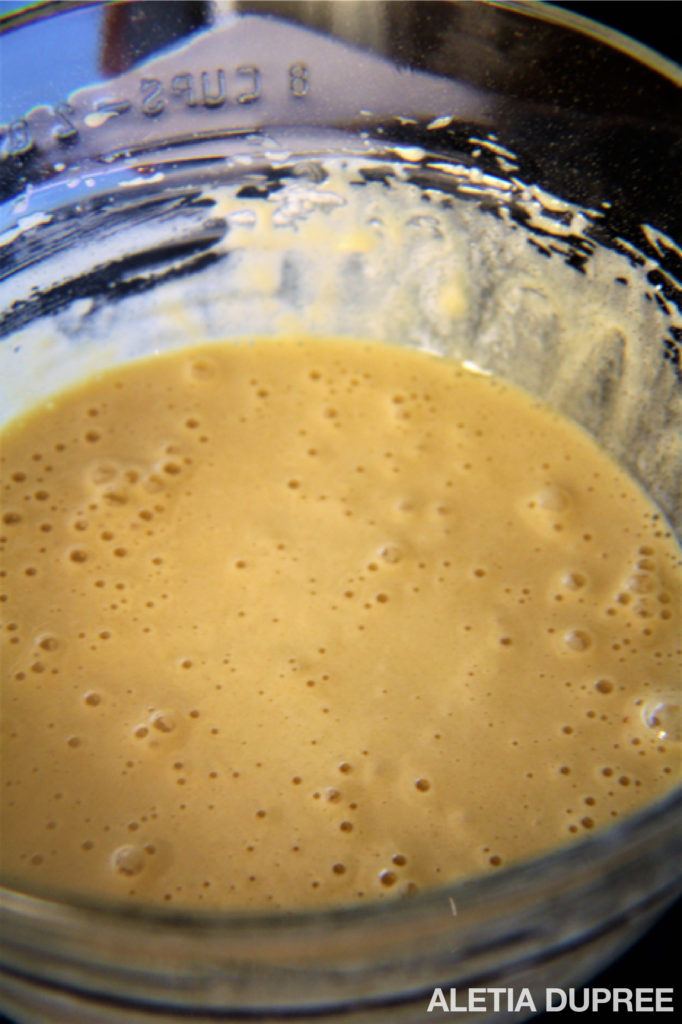 After that we will add the melted chocolate to the batter. Yum! This is soooo good. The melted chocolate gives the cookie a moist center.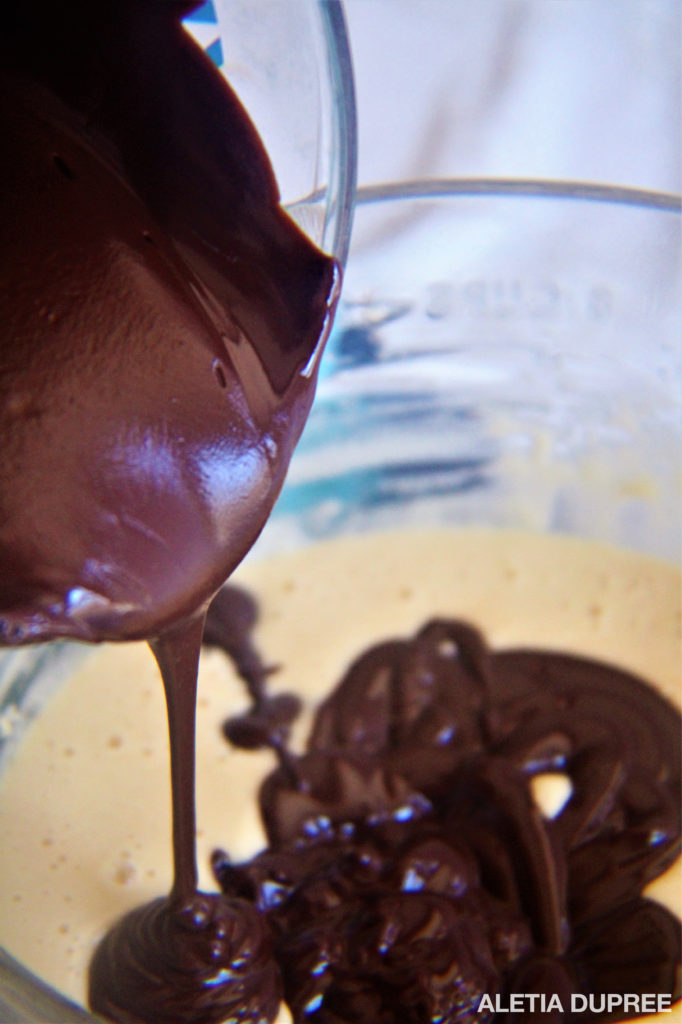 The chunkiness comes from all the chocolate chips added to the batter- 3 Cups Total! The crispy texture comes from the toasted pecans or you can use walnuts as well. I think lightly toasting the nuts REALLY makes a tremendous different in the taste in almost any recipe that calls for pecans, walnuts or almonds.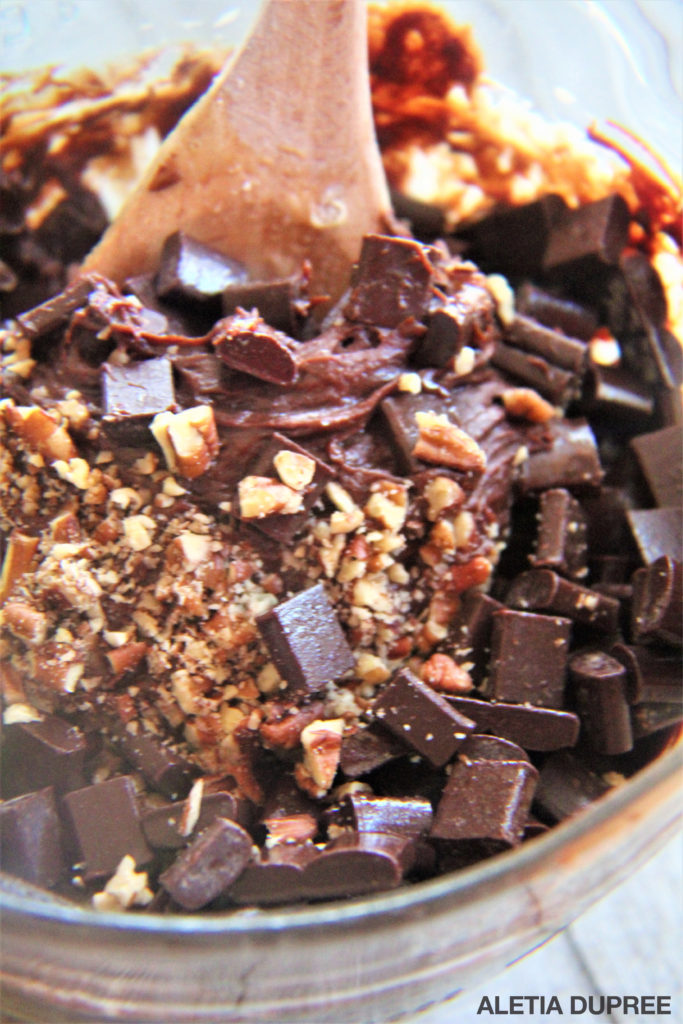 The dough will be quite thick because of all the yummy stuff that's been added to it. I could literally eat the batter by the spoonfuls right out of the bowl!
You will need to cover and chill in the refrigerator for about 45 minutes to an hour. Chilling makes it much easier to roll. Place the cookie dough balls about 3 inches apart on a baking sheet to give them plenty of room to spread. I really like using a silicone mat for baking.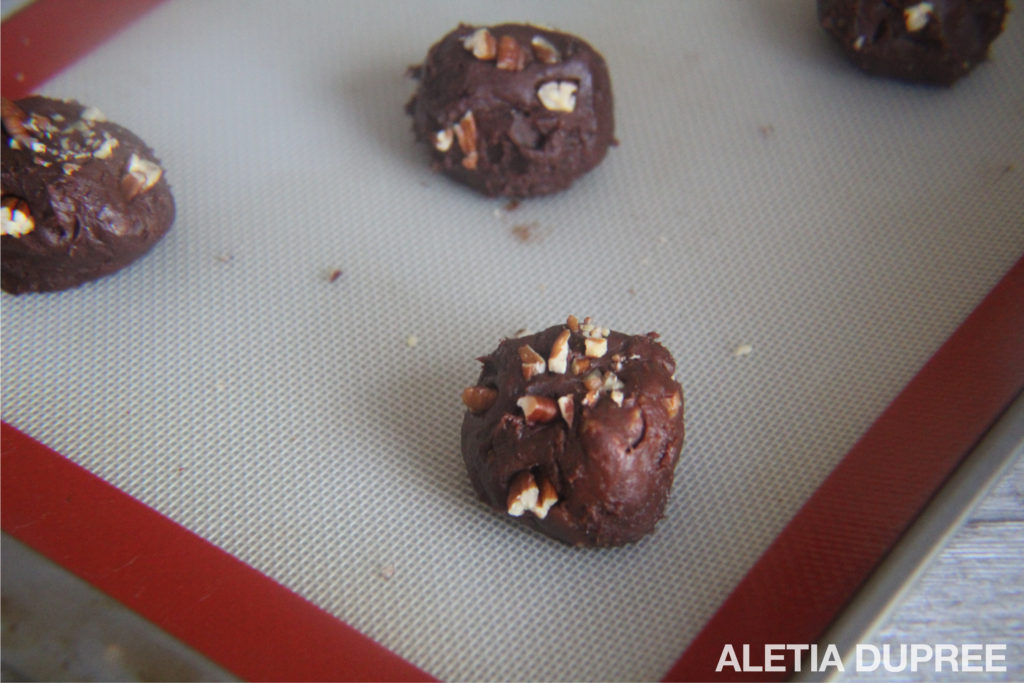 For more chocolate indulgence, you can drizzle chocolate syrup over the cookies and take the taste to another level!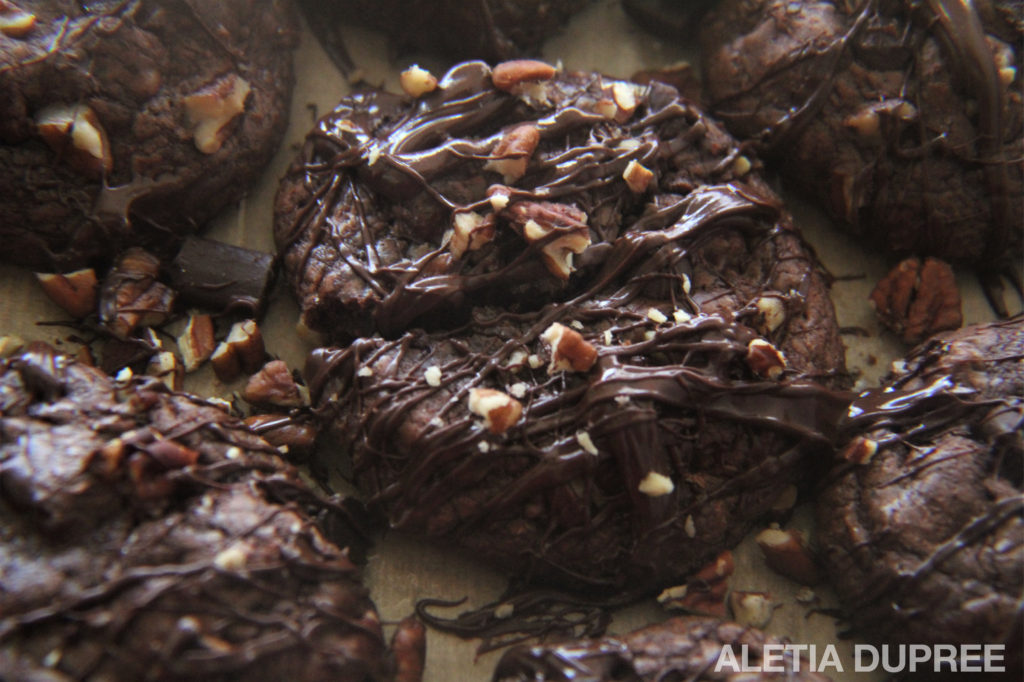 Print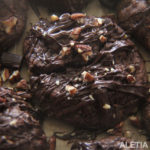 Chocolate-Chocolate Chip Cookies
---
Author:

aletiadupree

Prep Time:

15 minutes

Cook Time:

12 minutes

Total Time:

1 hour, 30 minutes (includes cooling)

Yield:

2 dozen

Category:

Desserts
Ingredients
½ cup (1 stick) butter
4 (1-ounce) squares unsweetened chocolate, chopped
2 cups semisweet chocolate morsels, divided
1 cup semisweet chocolate chunk morsels
1 ½ cups all-purpose flour
½ teaspoon baking powder
½ teaspoon salt
4 large eggs
1 ½ cups granulated sugar
2 teaspoons vanilla extract
1 ½ cups chopped pecans or walnuts, lightly toasted
Optional: Chocolate syrup for drizzle
Extra chocolate morsels and pecans for garnishing cookies after they are done (optional)
---
Instructions
Combine butter, unsweetened chocolate and 1 ½ cups chocolate chips in a heavy saucepan. Cook over low heat, stirring constantly until butter and chocolate melt; cool.
Combine flour, baking powder, and salt in a small bowl set aside.
Beat eggs, sugar, and vanilla in a mixing bowl at medium speed with an electric mixer.
Gradually add flour mixture to egg mixture, beating well.
Add the cooled chocolate mixture and stir in the remaining chocolate morsels, chunks and lightly toasted pecans. Cover and chill the dough for at least 45-60 minutes in refrigerator. (you can keep the dough in the refrigerator for up to 4 days). If chilling for longer than a few hours, allow to sit at room temperature for at least 30 minutes before rolling and baking because the dough will be too hard to roll.
Preheat the oven to 350 degrees. Line baking sheets with parchment paper or silicone baking mats.
Roll the dough into balls, about 1.5 Tablespoons of dough each. Place 3 inches apart on the baking sheets and bake for 11-12 minutes or until the edges appear set. The centers will look a little soft. It's better to under baker rather than over bake the cookies.
Remove from oven and allow the cookies to cool on the baking sheet. While the cookies are still warm, I like to press more chocolate chips or pecan pieces into the tops. Makes them look pretty!! Just an optional thing!
Notes
Make ahead tip: Cookies stay fresh covered at room temperature for up to 1 week. You can make the cookie dough and chill it in the refrigerator for up to 4 days. Baked cookies freeze well for up to 3 months. Unbaked cookie dough will freeze well for up to 3 months. Bake frozen cookie dough balls an extra minute, no need to thaw.