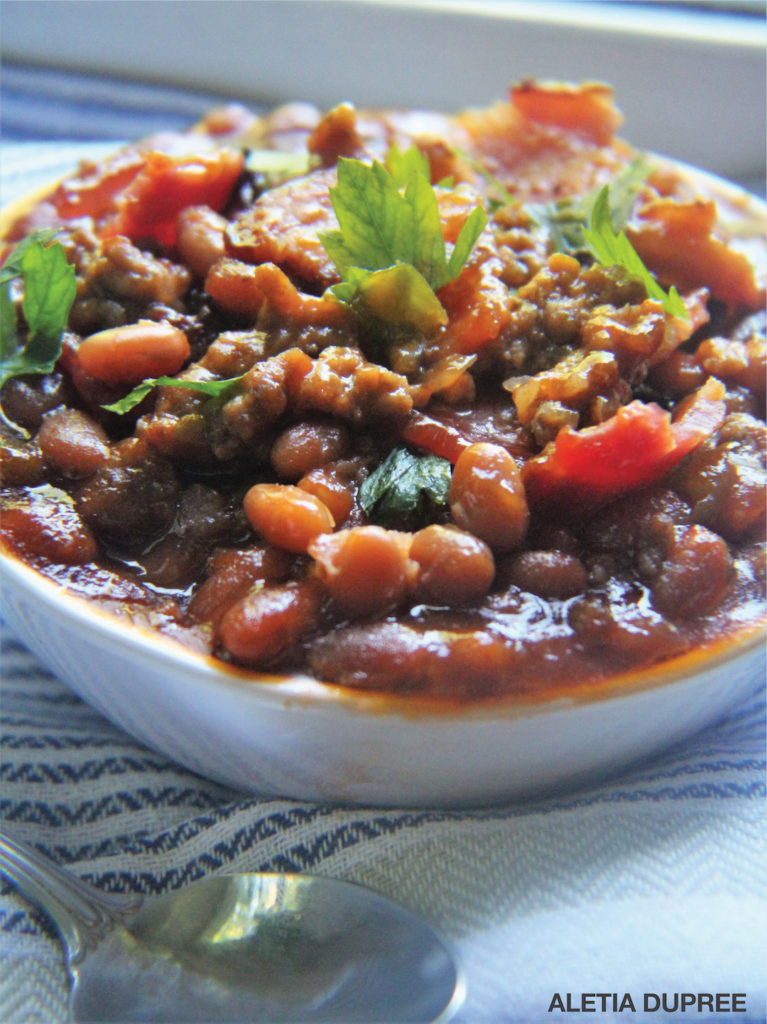 This is my mother's recipe for baked beans, and it's simply the best baked beans that I have EVER eaten! I promise it will be the biggest hit at your Labor Day cookout. So get ready because everyone will be asking for the recipe.
It's deliciously rich and hearty. It's like a meal-in-one. 
Loaded with bites of ground beef, crispy bacon, onions, peppers, that's all baked in a "Marvelous" sweet and tangy barbecue sauce. YUM!

 
I could eat a huge bowlful right now.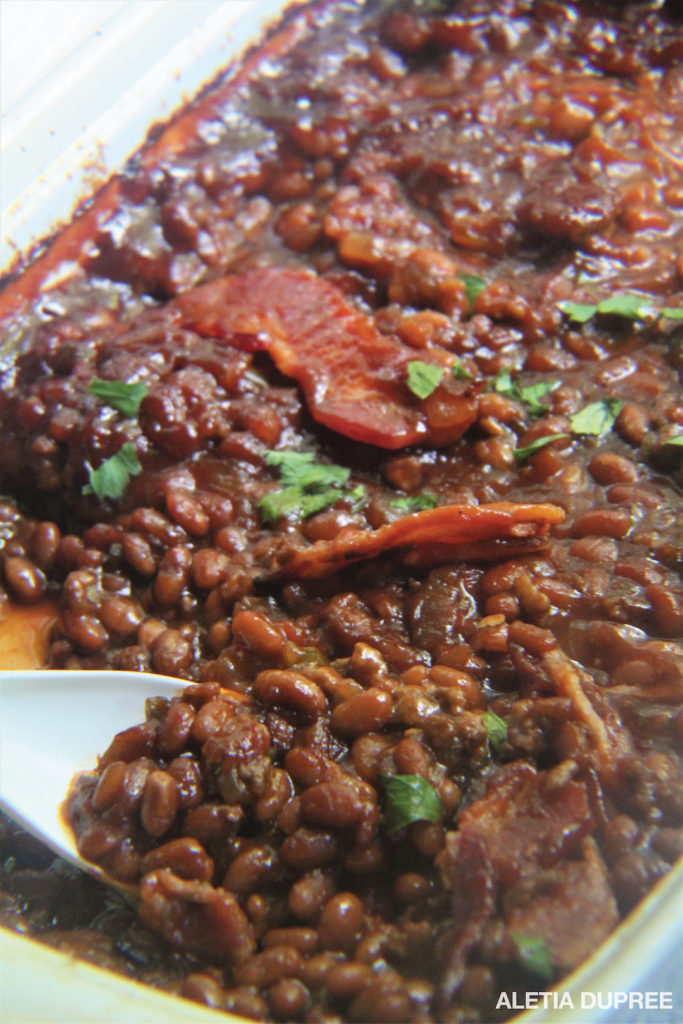 You can bake these beans in the oven or cook them in a crockpot too. Whatever way is the most convenient for you. They are delicious cooked either way.    
You can use Van Camps Pork-n-Beans or Bush's Original Baked Beans. You may ask, what would be the difference? Van Camps is not already in a sweet sauce whereas Bush's Bake Beans are already in a brown sugar sauce. We love the Bush bake beans in this recipe. If you use the Bush Beans, you might want to reduce the sugar amount just by ¼ cup because they are already packed in a brown sugar sauce. But if you are like me, the sweeter the better, don't reduce the sugar. 
If you have rather have a total vegetarian type bake bean, you can simply omit the ground beef and bacon all together. With or without the meat this recipe makes awesome bake bean dish.
Okay let get started! Brown the ground beef over medium heat. Add your onions and peppers just as the ground beef begins to brown.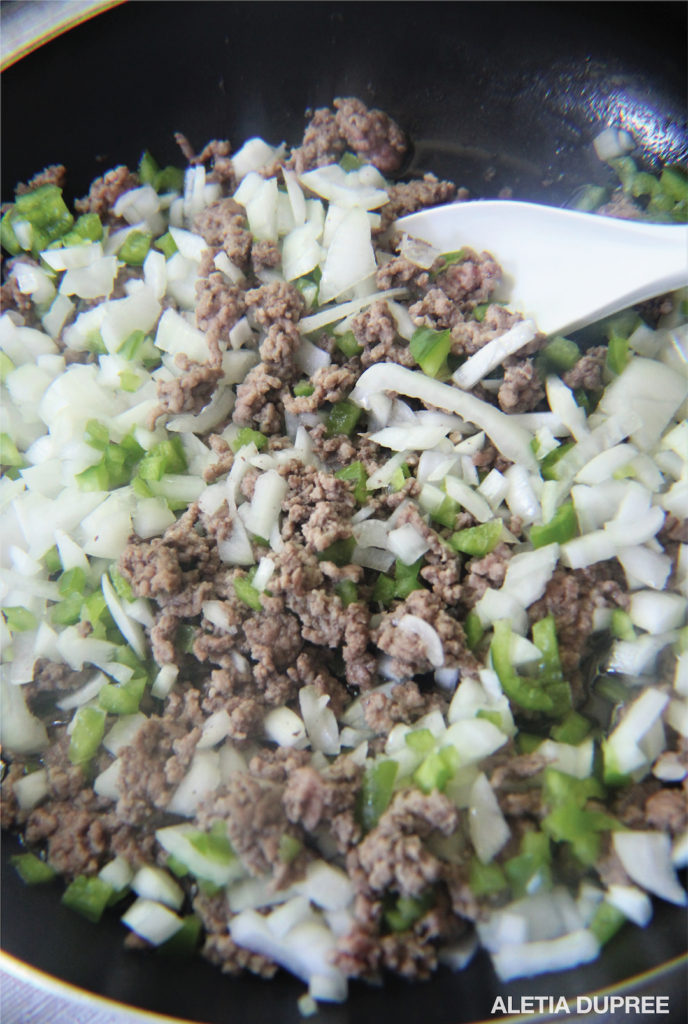 I like to use sweet yellow onions. If possible, use Vidalia onions they are a mild super sweet tasting onion that is grown right here in Georgia actually Vidalia, GA. The onions are named after the town that they are grown in.  I could go on and on about how much I love Vidalia onions!  After browning your meat, drain off the grease. Next, in a medium size bowl, mix beans, 1 cup ketchup, 1 cup of your favorite barbecue sauce, brown sugar, mustard, and Worcestershire sauce together. Add the ground beef, onions and peppers to the barbecue mix and pour into a greased casserole dish.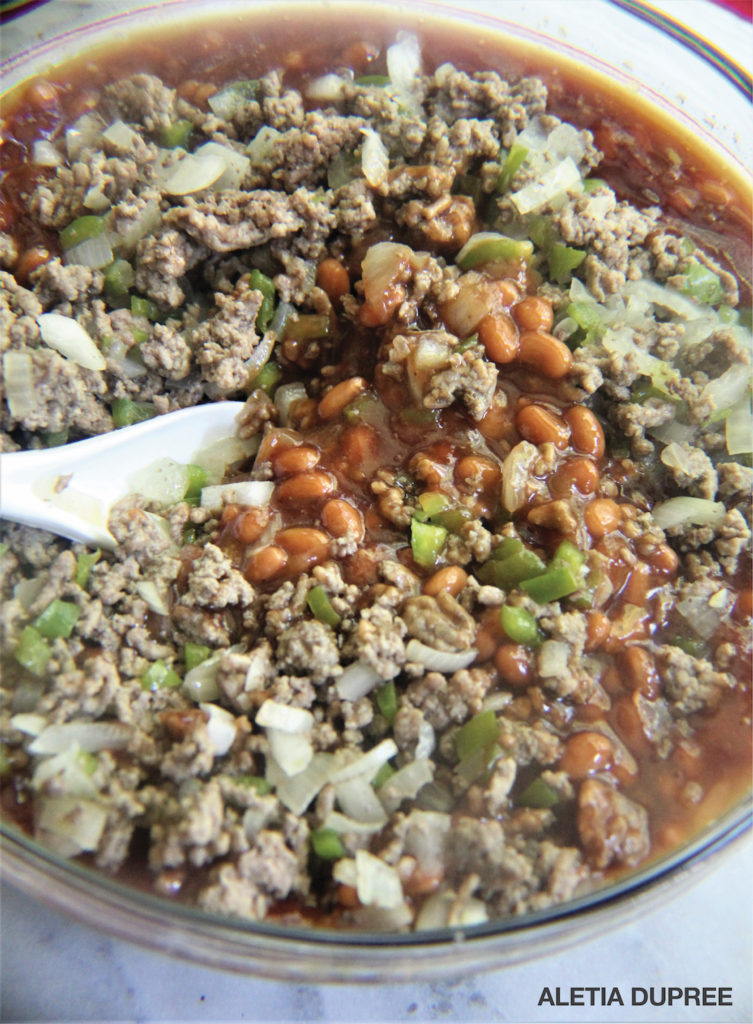 Cut three slices of raw bacon in half and place them on top of beans. The bacon gives the beans a delicious flavor and your house will smell wonderful as the bacon cooks. You just got to have bacon in your baked beans. It's one of those "Southern Things" for sure. Then bake at 350 degrees uncover for about 45 to 50 minutes until or the bacon is done.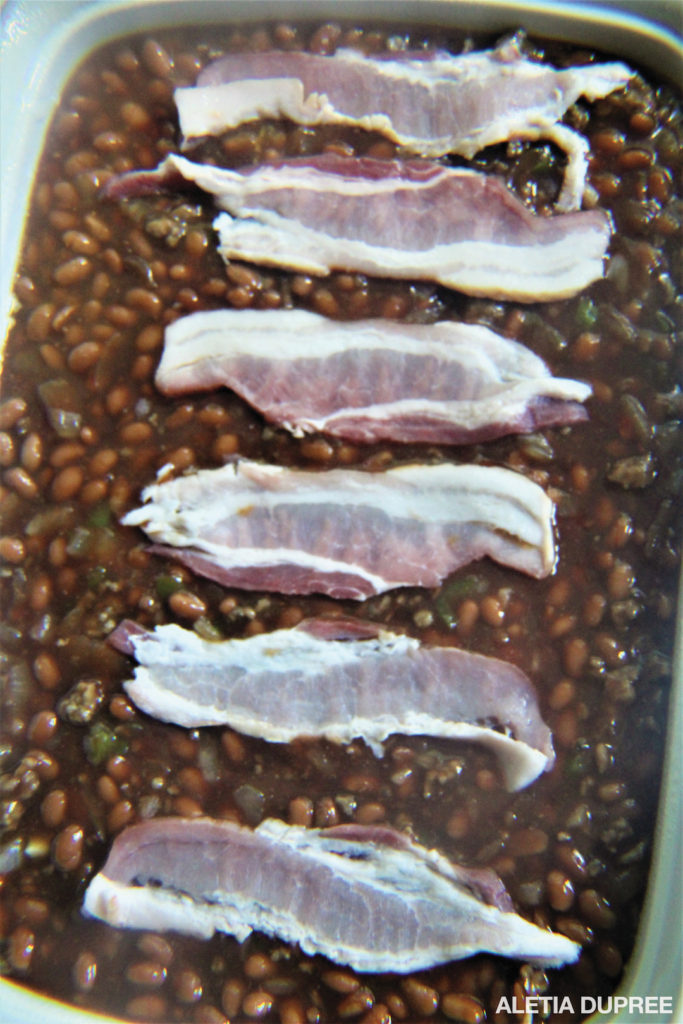 If you are cooking the beans in a crockpot, simply pour the cooked hamburger/bean mixture into the crockpot. Add your raw bacon pieces on top. Cook on low for 2 ½ to 3 hours.
Enjoy!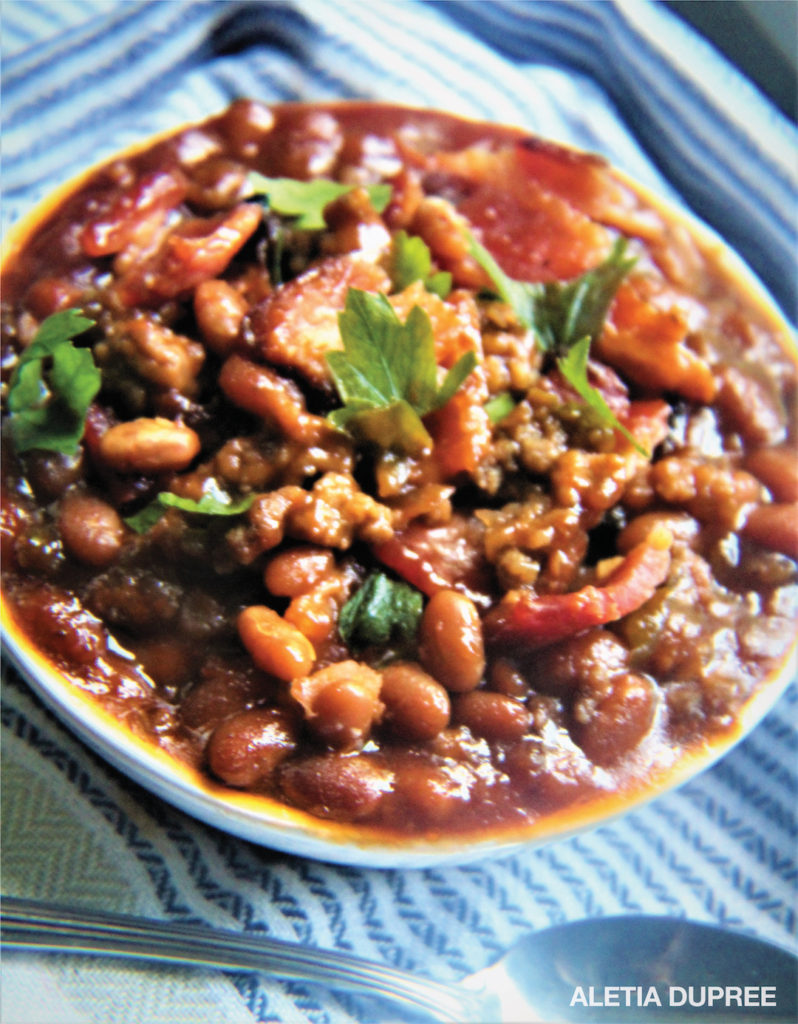 Print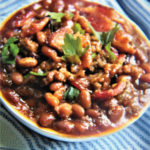 The Best Baked Beans
---
Author:

aletiadupree

Prep Time:

15 minutes

Cook Time:

45 to 50 minutes

Total Time:

-28262352.383333 minute

Yield:

8 to 10
Ingredients
1 pound ground beef
1 medium onion, finely chopped
1 medium green bell pepper, finely chopped
3 (15-ounce) cans pork and beans (Van Camps) or **2 (28-ounce) cans Bush's original bake beans
1 cup ketchup
1 cup of your favorite barbecue sauce
¾ cup firmly packed light brown sugar
2 tablespoons prepared mustard
2 tablespoons Worcestershire sauce
3 slices of uncooked bacon, cut in half
---
Instructions
In a large skillet over medium heat, brown ground beef. As the beef begins brown, add the onions and bell peppers to the skillet. Cook until meat is totally brown and onions and peppers are transparent. Drain the grease off the ground beef.
In a large bowl, combine the pork and beans, ketchup, barbecue sauce, brown sugar, mustard, and Worcestershire sauce. Mix well.
Stir in the ground beef, onion, peppers into the bean mixture.
Pour into a greased 2-quart baking dish. Place uncooked bacon strips on top of beans. Bake in a preheated oven at 350 degrees for 45 to 50 minutes or until bacon is done and baked beans are hot and bubbly. If cooking in a crockpot, pour cooked ground beef mixture and bean mixture into a crockpot and place uncooked bacon strips on top.  Cook on low for 2 ½ hours to 3 hours stirring every 30 minutes.
Notes
**Recipe Note: If using Bush's Baked Beans, you might want to reduce the brown sugar to ½ cup.
Also if you prefer a vegetarian style bake beans, just omit the ground beef and bacon. This is an awesome recipe with or without the meat.