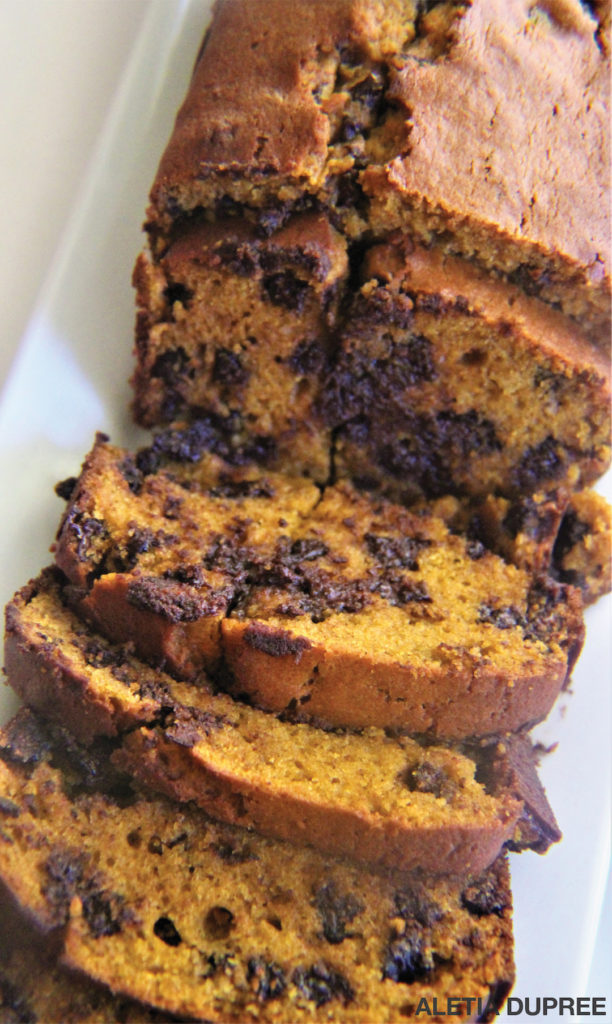 Chocolate Chip Pumpkin Bread is one of my favorites for fall baking. I made this yesterday, and I wish that you could have smelled the delicious aroma that filled my house!  I thoroughly enjoyed it with my morning coffee. It's just perfect for those chilly autumn mornings!  What are some of your favorite fall foods?
If you are like me and love everything "pumpkin spice", you will adore this bread.
It's a supper, supper moist bread with just the right amount of cinnamon spice and loaded with yummy chocolate chips in every bite.
If you can resist not devouring this bread as soon as it comes out of the oven, it's actually better the next day. Day 2 gives all the marvelous flavors time to soak in and the top forms a nice crispy, crunchy crust. With all that being said, I think I'll have another slice and another cup of coffee right now before I finish this post. Yes, it's that's good! And I can't wait for you to bake a loaf.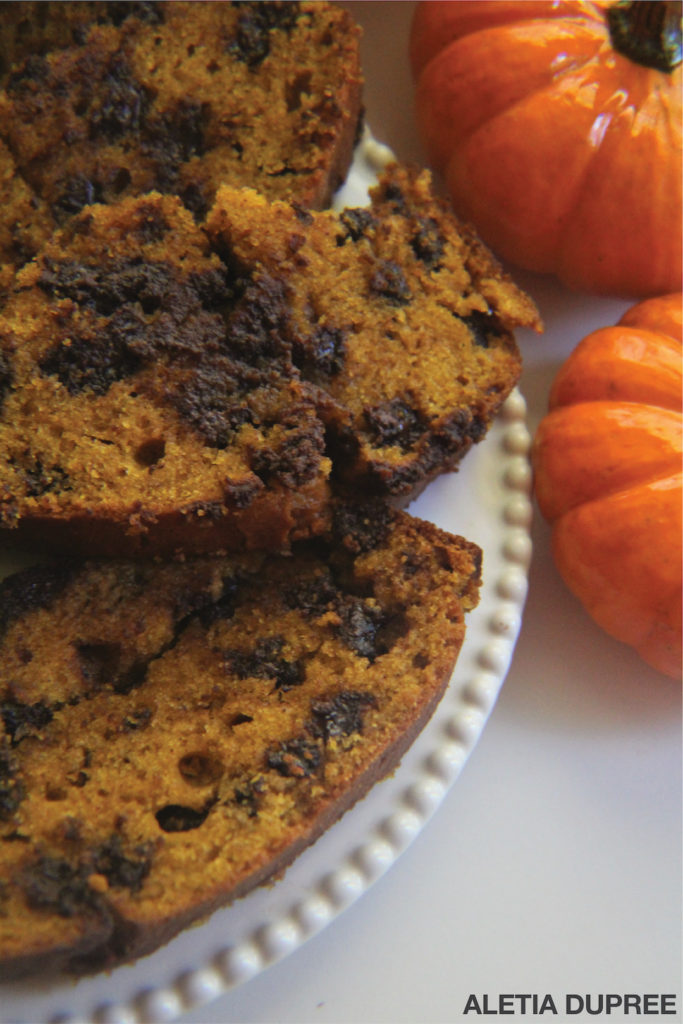 Another thing that I love about this bread is that it is so easy to make. If you have children in the house, they can help with it too. Kids love to help in the kitchen and this is a great memory making recipe.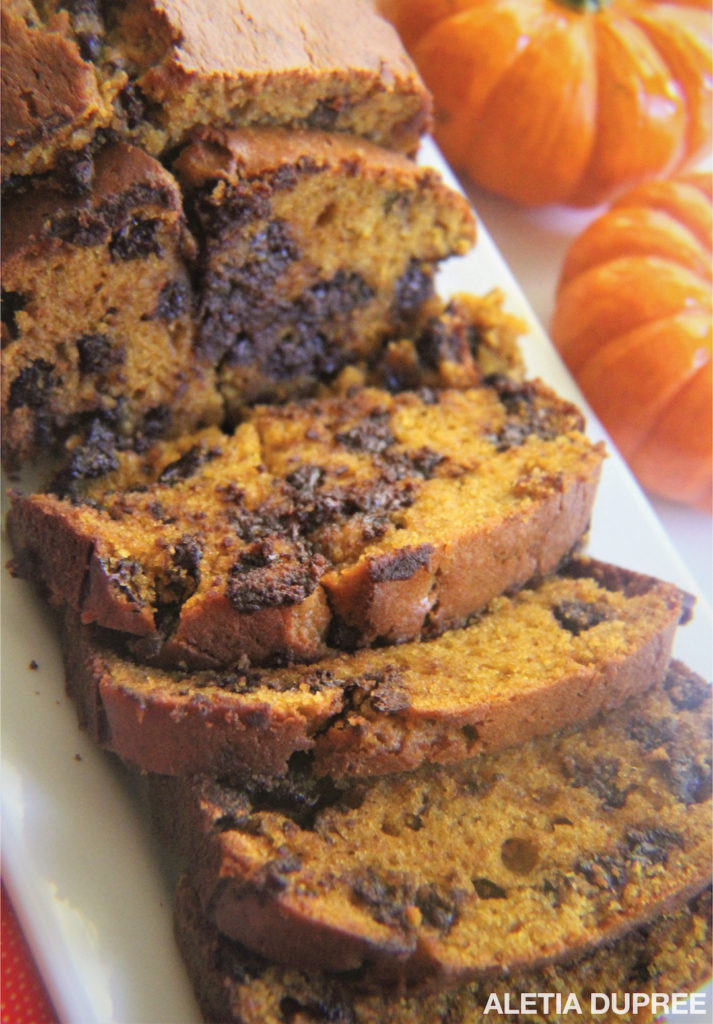 The best thing about this recipe is that you don't need an electric mixer just a good whisk. Mix your dry ingredients in a separate bowl (flour, cinnamon, salt and baking soda) and in another bowl beat the eggs with a whisk until light and fluffy. Add sugar and the other wet ingredients pumpkin and oil to the eggs. Next, pour the pumpkin mixture into the flour mixture and mix with a sturdy spoon. I use a big wooden spoon for mixing and blending.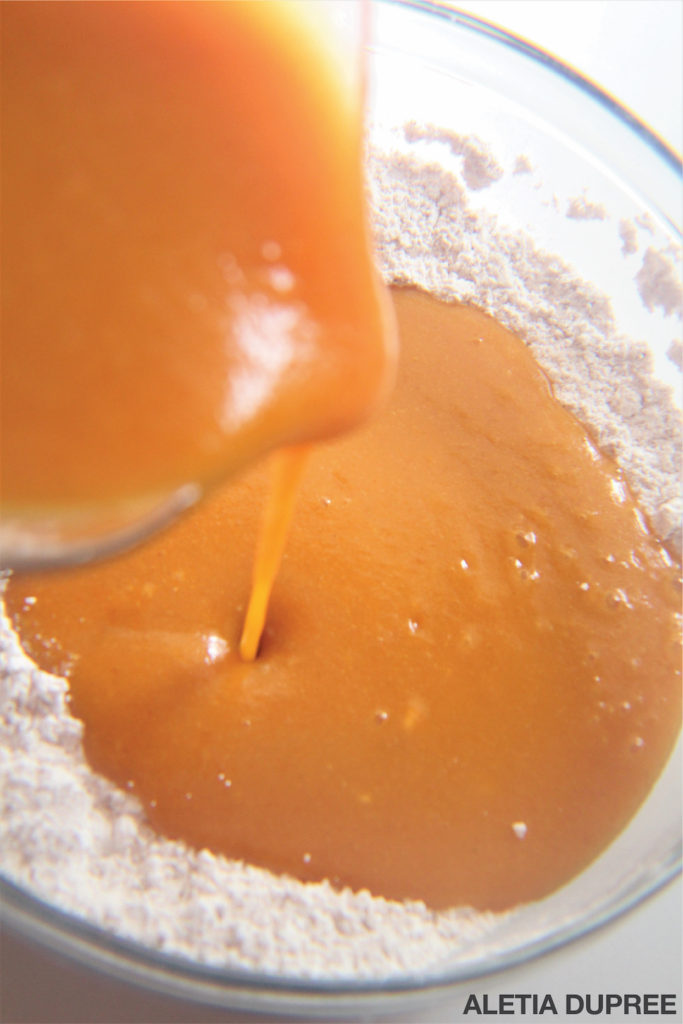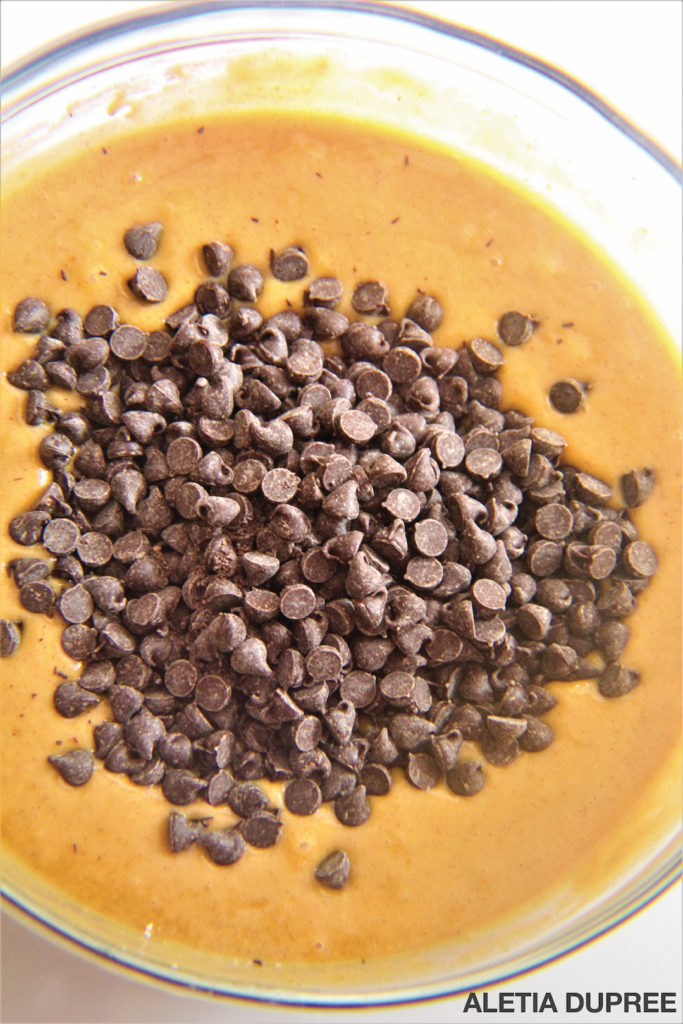 This recipe will make 2 9-inch loaf pans so you can share one. I love to give them as gifts. Makes a perfect hostess gift, teacher's gift, or take a freshly baked loaf to a neighbor. They will love you forever!!
When I make this I bake it in 1 9-inch loaf pan and 2 mini loaf pans. I give two away or freeze them to give as gifts later. Be sure to cut the baking time in half if you bake in the mini pans. This little mini loafs are so cute, aren't they?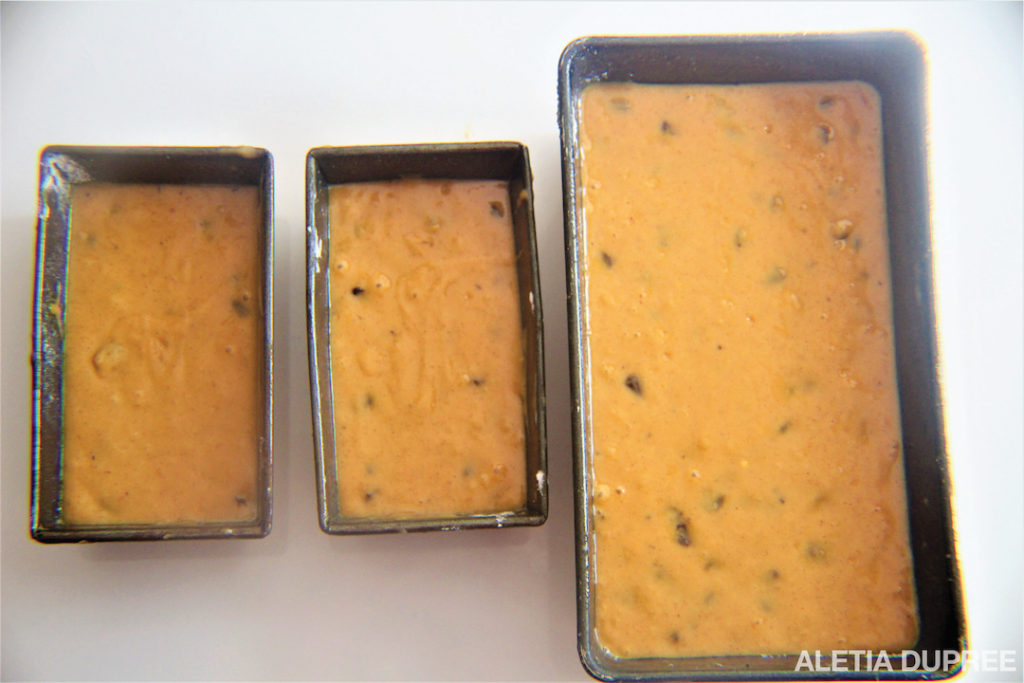 Take a look at the mini loaf all wrapped up! I can't wait to surprise someone with these mini loaves.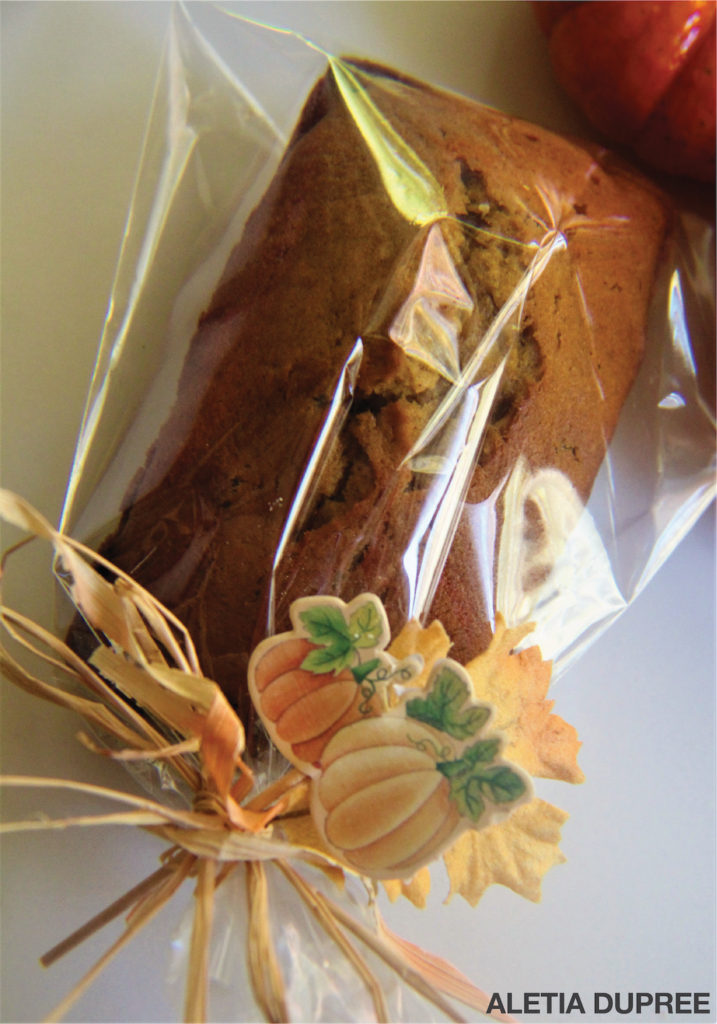 Another delicious way to enjoy this bread is toasted with cream cheese. Also for a party slice the bread and serve it with cream cheese frosting and add dash of cinnamon to the frosting.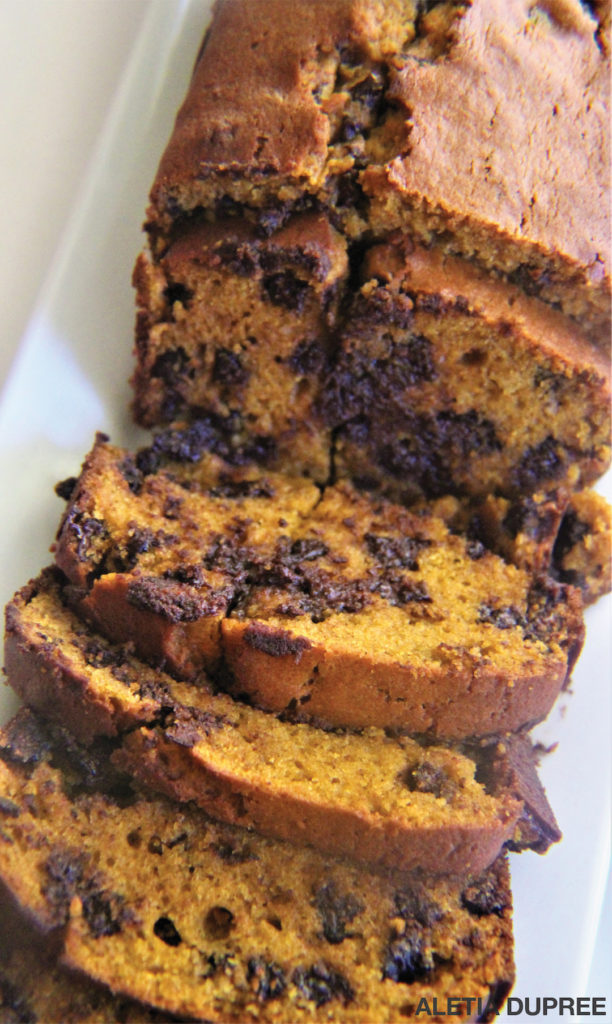 Happy Halloween and Happy Baking!!
Print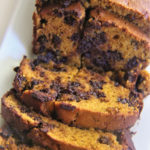 Chocolate Chip Pumpkin Bread
---
Author:

aletiadupree

Prep Time:

10 minutes

Cook Time:

55 to 65 minutes

Total Time:

-28370814.933333 minute

Yield:

2 9-inch loaf pans
Description
This recipe is from my cookbook, Deliciously Southern. It's supper moist and packed with all the delicious flavors of fall-pumpkin, cinnamon spice and loaded with chocolate chips in every bite.
---
Ingredients
3 cups all-purpose flour
2 teaspoons cinnamon
1 salt
1 teaspoon baking soda
4 eggs
2 cups granulated sugar
2 cups canned pumpkin
1 ¼ cups vegetable oil
2 cups semi-sweet chocolate chips
---
Instructions
Preheat the oven to 350 degrees. Spray 2 (9×5-inch loaf pans) with a non-stick spray. Set aside.
In a large bowl, whisk the flour, cinnamon, salt, and baking soda together until combined. In another large bowl, whisk the eggs until light and fluffy. Add sugar, pumpkin, and oil. Pour these wet ingredients into the dry ingredients and gently mix together with a wooden spoon or rubber spatula. Do not over mix. Gently fold in the chocolate chips.
Pour the batter into the prepared loaf pans. The bread is done when a toothpick inserted in the center comes out clean with only a few small moist crumbs. Check bread after 55 minutes. Be sure not to overcook bread.
Note: If you are baking the bread in the mini loafs adjust the cooking time to half the amount for the larger loaf pan. For the mini loaf pans, cook 25 to 30 minutes. Also, to prevent too much browning on the top, cover loosely with aluminum foil halfway through baking.
Allow the bread to cool completely in the pan on a wire rack before removing and slicing. (Remember it taste better on day 2!) It will stay fresh in an airtight container for 5 days at room temperature or in the  refrigerator for up to 10 days. (I wouldn't count on it lasting after the second day!!)
Notes
Make ahead/ freeze tip: The best recipe to make up a few days ahead of your event or party. It's great to freeze too. You can freeze this bread for up to 3 months.
For something different, try using milk chocolate, dark chocolate, white chocolate chips, pecans/ walnuts instead of the semisweet chocolate chips.
If you would like it more spice, add a pinch of ground cloves, nutmeg, and ginger or pumpkin spice.