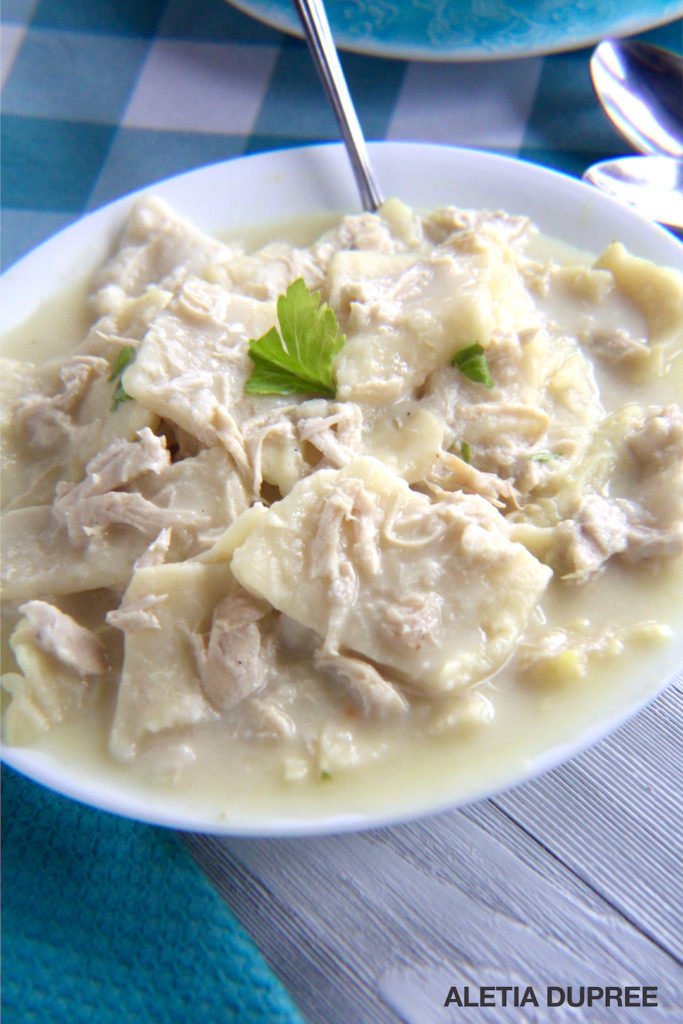 I couldn't think of anything better to eat on a chilly fall evening or a cold winter's night than a piping hot bowl of chicken and dumplings. It's a one-pot made from a scratch bowl of goodness with juicy chunks of chicken and light and tender dumplings all cooked in a rich and creamy broth.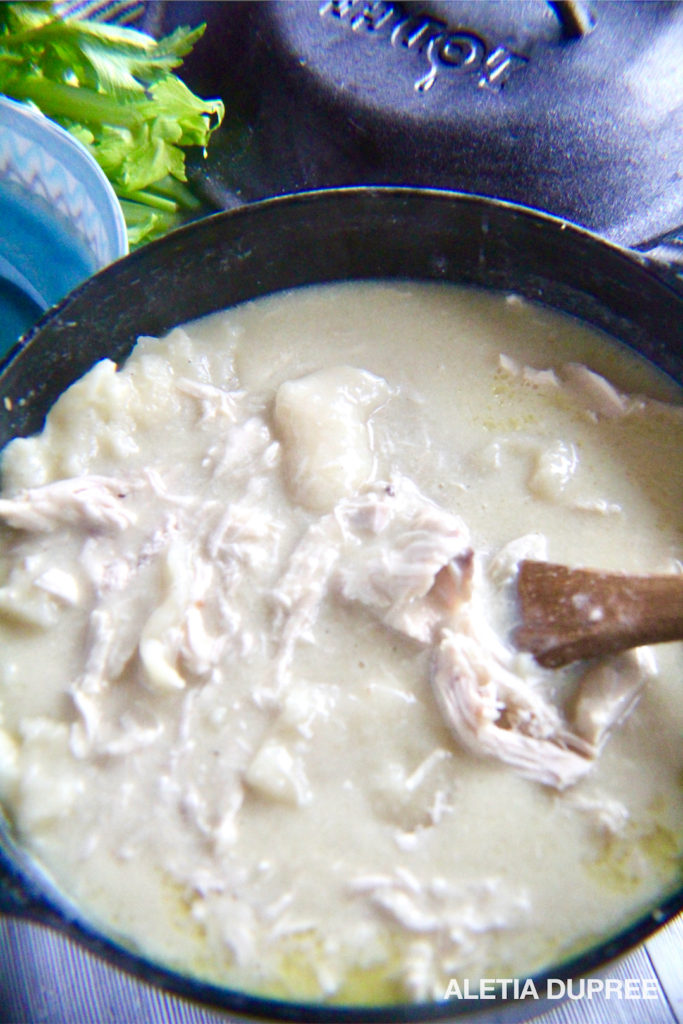 It's the ultimate comfort food that warms the heart and warms the soul.
When the weather starts turning real cold, I begin craving a bowl of chicken and dumplings. Tonight is one of those nights. I'm going to curl up on the couch with a warm and fuzzy blanket and a hot bowl of dumplings. Life just doesn't get much better than that!
My great grandmother, my grandmother, and my mama all made dumplings except that they called them "chicken n' dumplin's.  To them, there would have been no such thing as chicken and dumplings. It's just one of those "Southern Things." To be true to my deep Southern roots,  I felt obliged to share that with you. I know my grandmother would be turning over in her grave if I didn't straighten that out. Chicken and dumplings are a very sacred thing in the South. 
So whether you call them chicken n' dumplins or chicken and dumplings it's totally fine.
This recipe makes some delicious old fashioned hearty dumplings!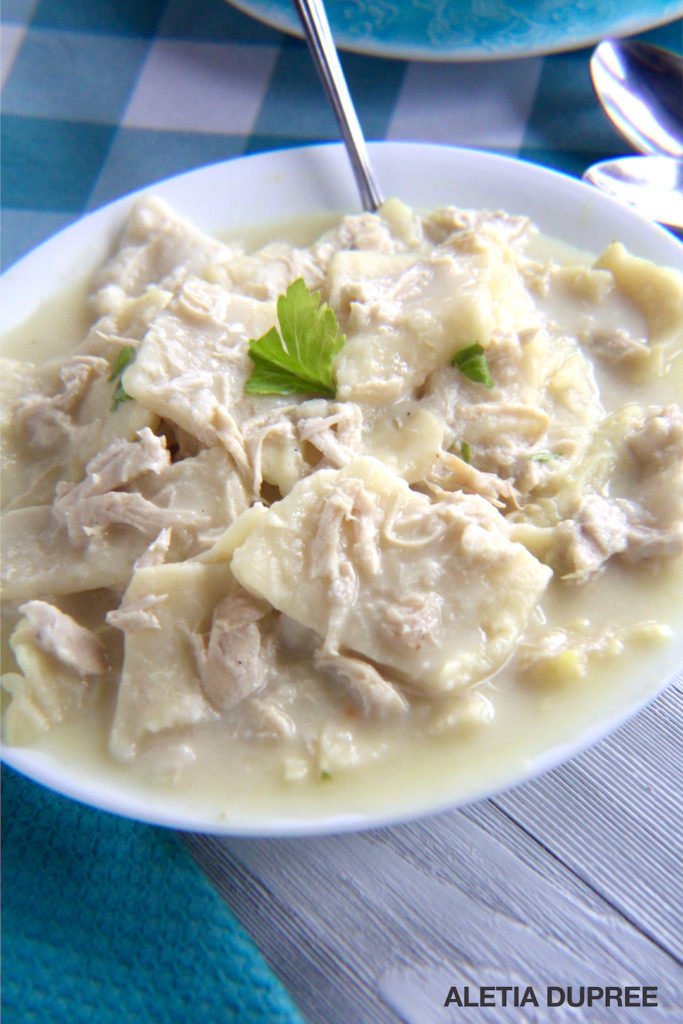 Tips and How to make the perfect pot of chicken and dumplings (The complete (printable) recipe is at the bottom of the post)
Use skin-on chicken. The chicken skins make a deliciously rich broth. If you prefer all-white meat, use chicken breast only, or use a combination of dark meat with chicken and thighs or even a whole chicken.

Boil your chicken in a pot of water and chicken broth from a carton rather than baking to create that rich, rich delicious broth!!!

Use chicken bouillon granules. It's actually more like a seasoning paste. This really adds richness to the chicken broth. The granules or paste are different from the bouillon cubes. It does come in a jar and sometimes you'll find it in the refrigerated section of the grocery store or you may also find it next to the regular cube bouillon. After you open the jar, you'll need to keep it stored in the refrigerator. Using this chicken seasoning paste makes all the difference in the world in seasoning the broth. Here a photo of the brand that I use. I love it! It's called better than bouillon!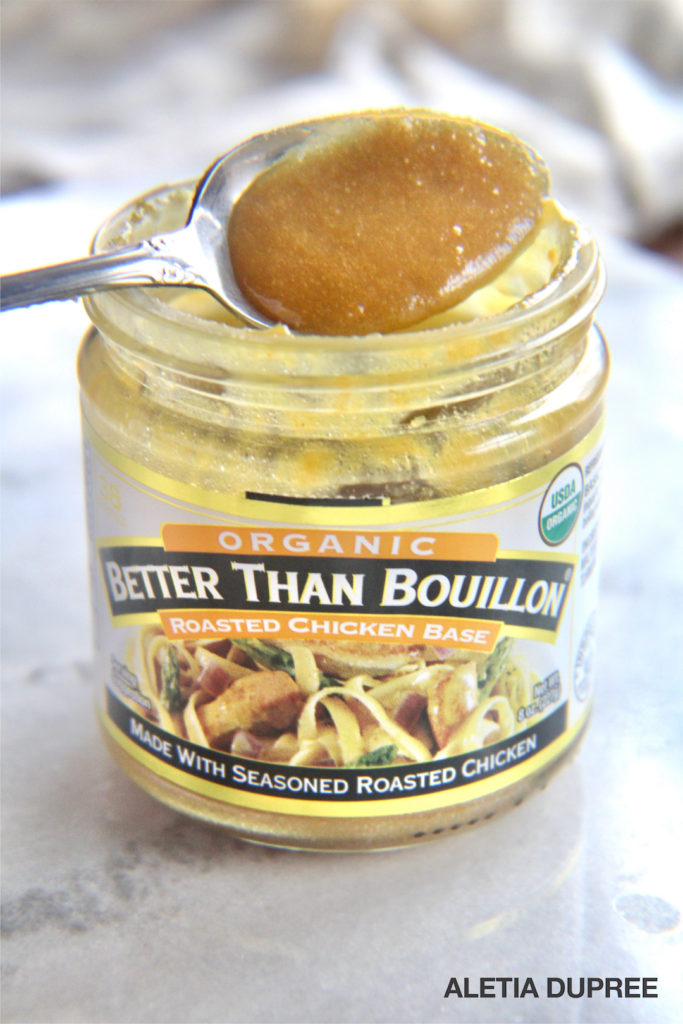 Add some whole milk to the broth. When I started adding milk to the broth, it just took the chicken and dumplings to a whole new level. You do need to use whole milk rather than lesser fat content milk. Adding milk keeps the broth from tasting too watery. Half and half would also be great to use too.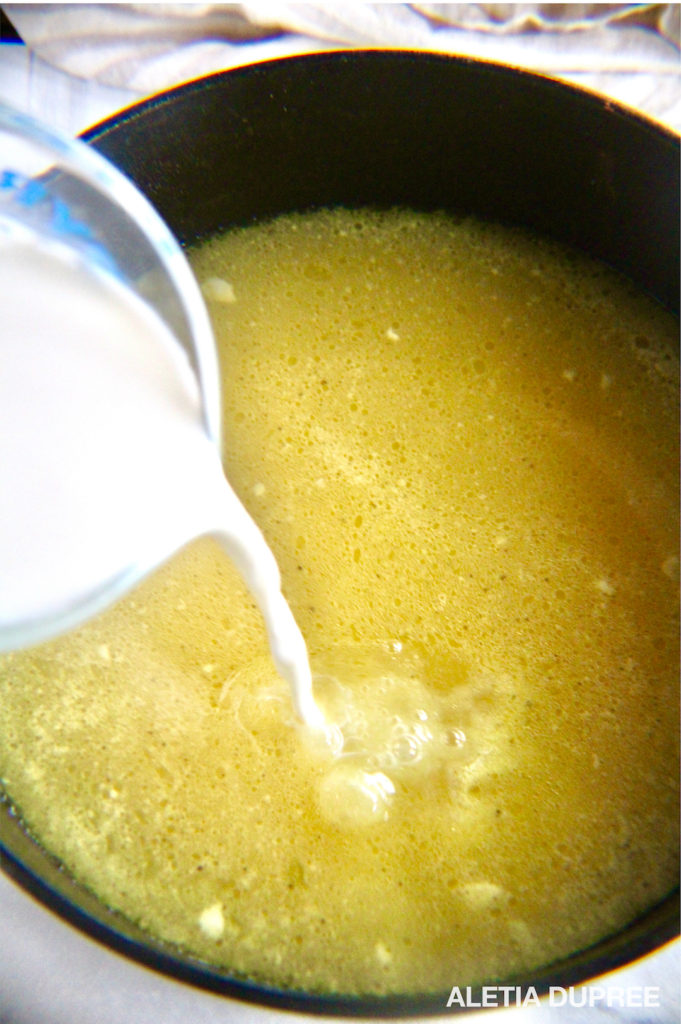 Cook some vegetables in your broth. I throw in some carrots, onions, and celery in the pot while the chicken is cooking. Later I strain the broth and remove the vegetables. The vegetables add a lot of delicious flavors!

This recipe makes a light and tender rolled out dough dumpling. We'll use a combination of self-rising and all-purpose (plain flour) and a combination of vegetable storage and butter.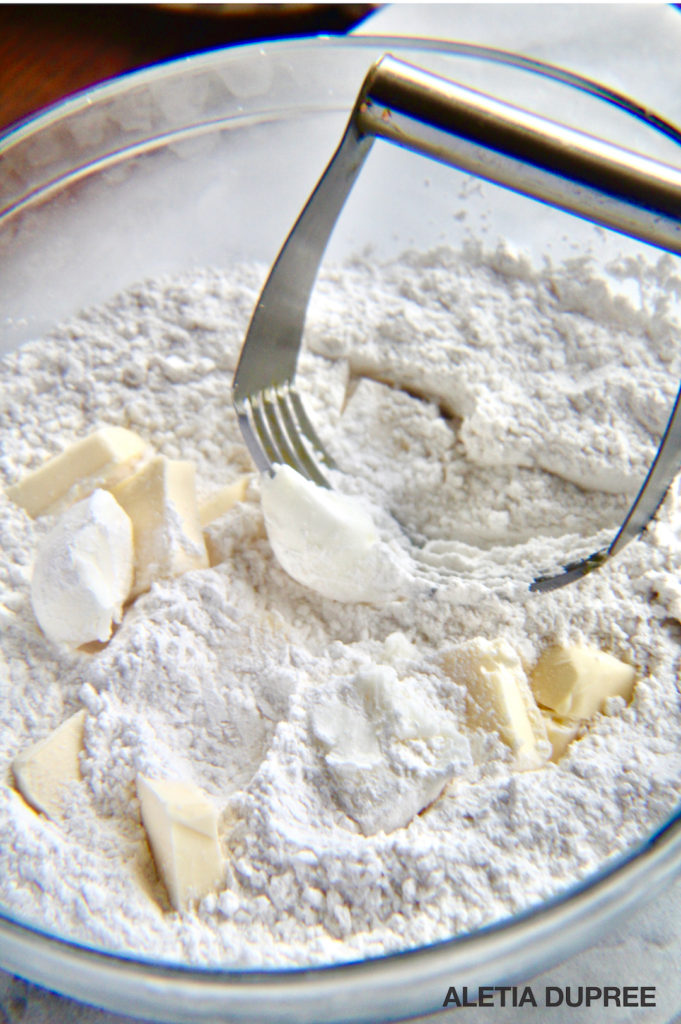 Once the shortening and butter are worked in the flour, (it should resemble small peas) add just enough ice water to form a ball. Wrap the dough in plastic wrap and pop in the freezer for about 10 minutes to chill.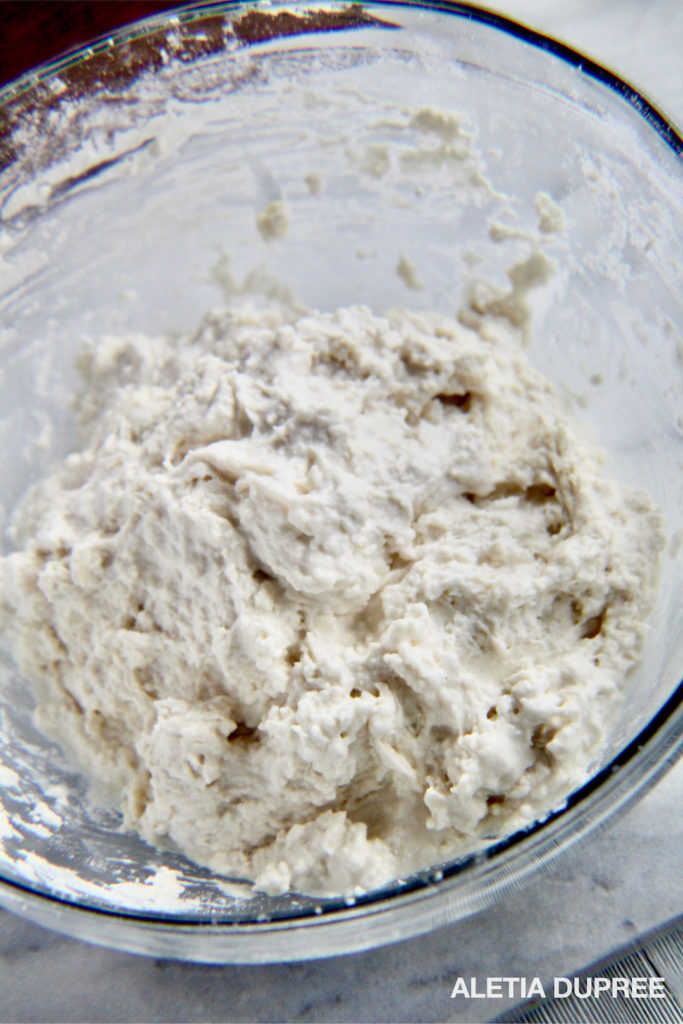 Roll the dough out to about ¼ inch thickness. And cut the dough into 1-inch strips and then cut into squares or into rectangular strips. (Be careful not to roll your dough out too thin or thick. If it's too thick, your dumplings will taste doughy.)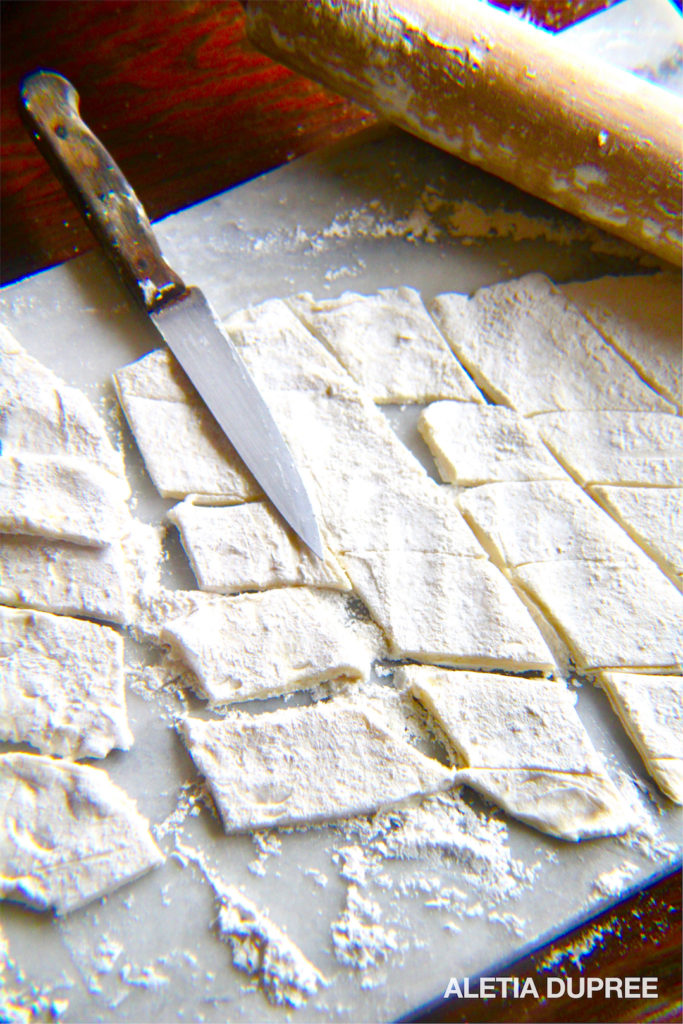 Bring your broth to a boil before dropping your dumplings in. 

This next tip is probably the most important one. I learned this from my mother. When dropping the dumplings into the chicken broth pot, work very, very quickly and once all the dough strips are in the pot, IMMEDIATELY cover the pot with a lid for about 20 minutes. This process creates steam and makes the dumplings puff up. Otherwise you will have a tough and chewy dumpling. I also drop extra flour in the pot as I'm dropping the dumpling in the pot. The flour helps to thicken the stock. Note: Gently stir the dumplings while you are dropping them in the pot to prevent them from clumping together. 

Add the shredded chicken after the dumplings have cooked with lid on for 20 minutes. 

I always add a little bitty drop of yellow food coloring. The tiny bit of extra color makes it look beautiful and more appetizing because authentic chicken and dumplings don't have vegetables except maybe a little sprinkle of fresh parsley for garnish.

Be sure to season well with salt and pepper. I love lots of freshly ground black pepper in my dumplings!!! If your dumplings get a little too thick, just a chicken broth to thin it out a little.

Lastly, a bowl of creamy coleslaw is delicious with Chicken and Dumplings. My mother wouldn't have it any other way! Enjoy!!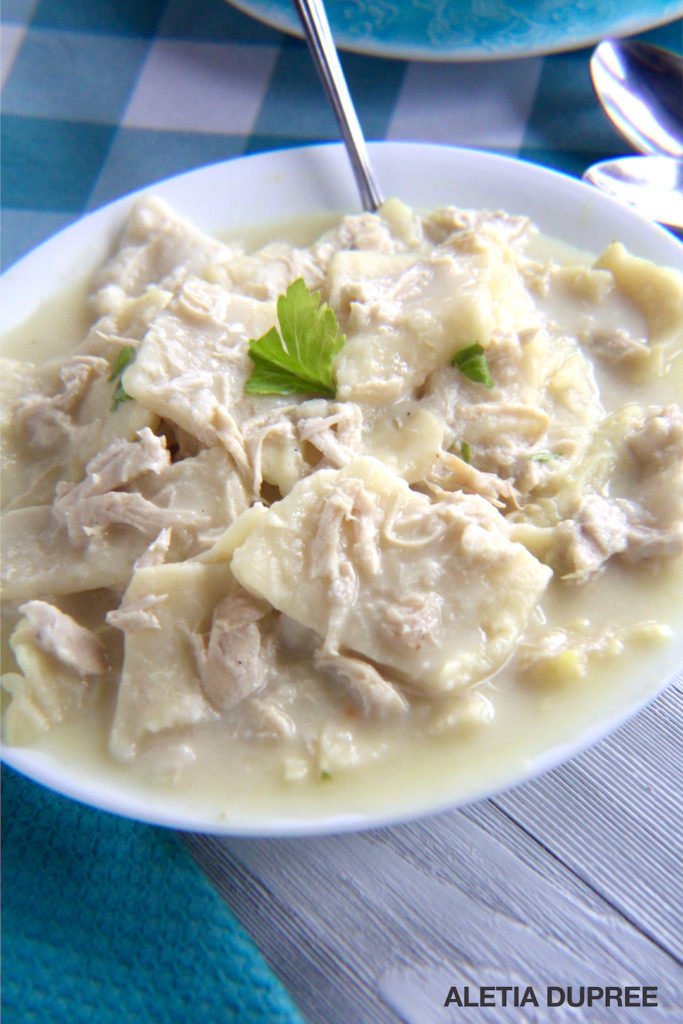 Print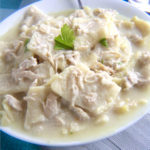 The Best Chicken and Dumplings
---
Author:

aletiadupree

Prep Time:

20 minutes

Cook Time:

1 hour and 20 minutes

Total Time:

-28262306.283333 minute

Yield:

6 to 8 servings
Description
This Southern classic is a one-pot made from a scratch bowl of goodness. Light and tender dumplings with juicy pieces of chicken all in a rich and creamy broth. The ultimate comfort food!
---
Ingredients
3 medium-size skin-on chicken breasts or a (1- 3 pound whole chicken)

2 medium-size carrots, sliced

2 stalks celery, sliced

1 yellow sweet onion, quartered

6 cups water

1 (32-ounce) carton of chicken broth such as Swanson's

2 teaspoons salt 

½ teaspoon freshly ground pepper

2 ½ cups self-rising flour

1 1/2 cups all-purpose (plain) flour

3 tablespoons vegetable shortening 

½ cup (1stick) cold butter, cut into ¼ inch pieces 

1cup ice cold water

2 cups whole milk

½ cup chicken granules or paste such as the brand Better Than Bouillon 

1 drop yellow food coloring, optional

Extra salt and pepper, to taste 

Garnish with celery chopped celery leaves if desired
---
Instructions
Place the chicken breast, carrots, celery, and onion in a large stockpot.
Add the water, chicken broth, and salt and pepper to the pot.  Bring to a boil over medium-high heat. Reduce the heat and cook for 45 minutes to an hour, or until the chicken is fork-tender. 

While the chicken is cooking, make the dumpling dough. In a medium-size mixing bowl, mix the self-rising flour and all-purpose flour together. Cut in the cold butter and shortening until it resembles small peas. Add 1cup of ice water and gently stir until the dough forms a ball. You may need to add a tablespoon or more water. Cover the bowl with plastic wrap and let it chill while the chicken is cooking. The dough needs to chill for at least 25 to 30 minutes. 

Once the chicken is done. Remove it from the pot and let it cool slightly. Pick the meat off the bones, discarding the bones and skins; set aside. Once the chicken has cooled down, shred it with a fork. Remove the carrots, celery, and onions, reserving the stock. 

Bring the stock back to a boil and then add the milk, chicken granules, and yellow food coloring to the stock and bring to a rapid boil.

 While the chicken stock is coming to a rapid boil, remove the chilled dumpling dough from the refrigerator and roll out on a well-floured surface to about ¼ of an inch thickness. Cut into 1-inch wide strips and then into squares or rectangular shapes. Sprinkle extra flour over the top of dumplings. The extra flour on the dumplings will help thicken the broth. 

Taste chicken stock and add more salt and pepper if needed. 

Once the chicken stock has come to a rapid boil, drop the well-floured dumplings into the broth one at a time until all are used. Reduce the heat slightly and

Immediately cover the pot with a tight lid for 20 minutes. Do not lift the lid during these 2O minutes.

This process is very important. This creates steam and will make your dumplings light, fluffy, and tender. 

After 20 minutes, remove the lid and add the shredded chicken and more salt and pepper to taste. Stir very gently. Cover again and simmer for about 10 minutes longer. To serve, ladle into bowls. Garnish with chopped celery leaves or parsley if desired. Leftovers will keep in the refrigerator for up to 6 days. Enjoy!
Notes
Do ahead/Freeze Tip: The dumpling can be made up 2 or 3 days ahead. Store in the refrigerator. The dumpling dough can be frozen for up to 2 months. Thaw and then roll out.
Recipe Note: The dumplings will absorb the liquid broth. If needed add more broth to thin it out.