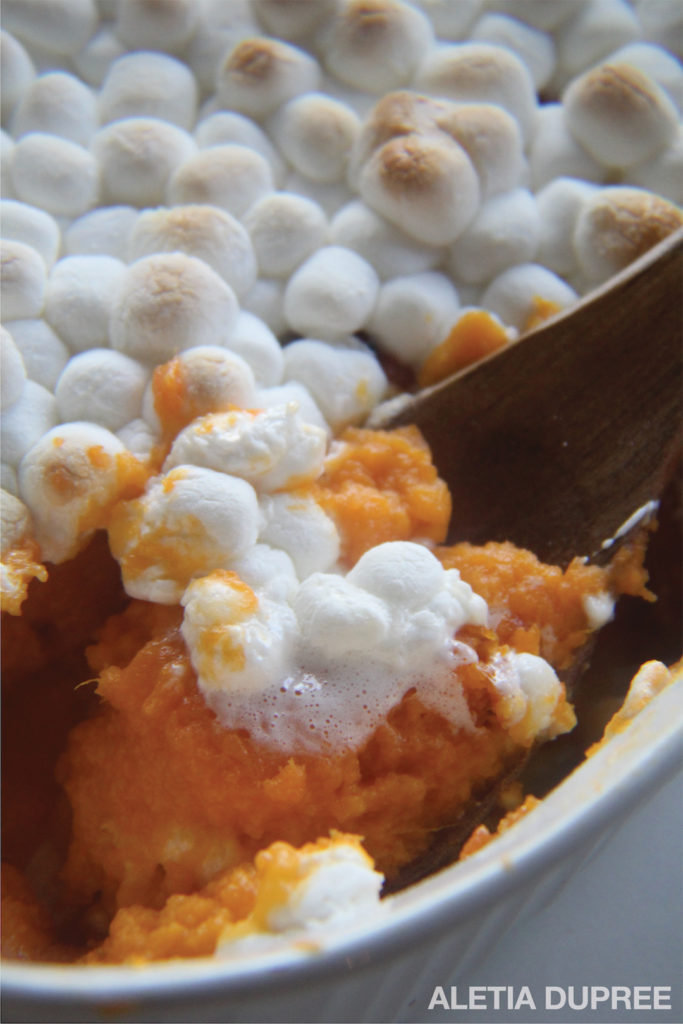 It doesn't have to be Thanksgiving for me to devour a pan of Sweet Potato soufflé.    I love sweet potatoes fixed any kind of way – candied, baked or in a casserole. It's all good to me, but this delicious light, fluffy sweet potato soufflé topped with a billowing blanket of toasted yummy marshmallows is one of my favorites.
If you are looking for a crowd pleasing side dish for your Mother's Day Dinner, this is your dish.
It will go great with any entrée and kids of all ages will love it!
I'll share with you some tips to making this the BEST sweet potato soufflé that you have ever eaten! Are you ready? Okay let's get started!
I like to boil my sweet potatoes rather than baking them for a soufflé. The sweet potatoes stay a beautiful bright orange if you boil them. I boiled them unpeel and the skins peel off very easily. Also it's best to buy the large jumbo potatoes because they are a lot less stringy that the smaller sweet potatoes.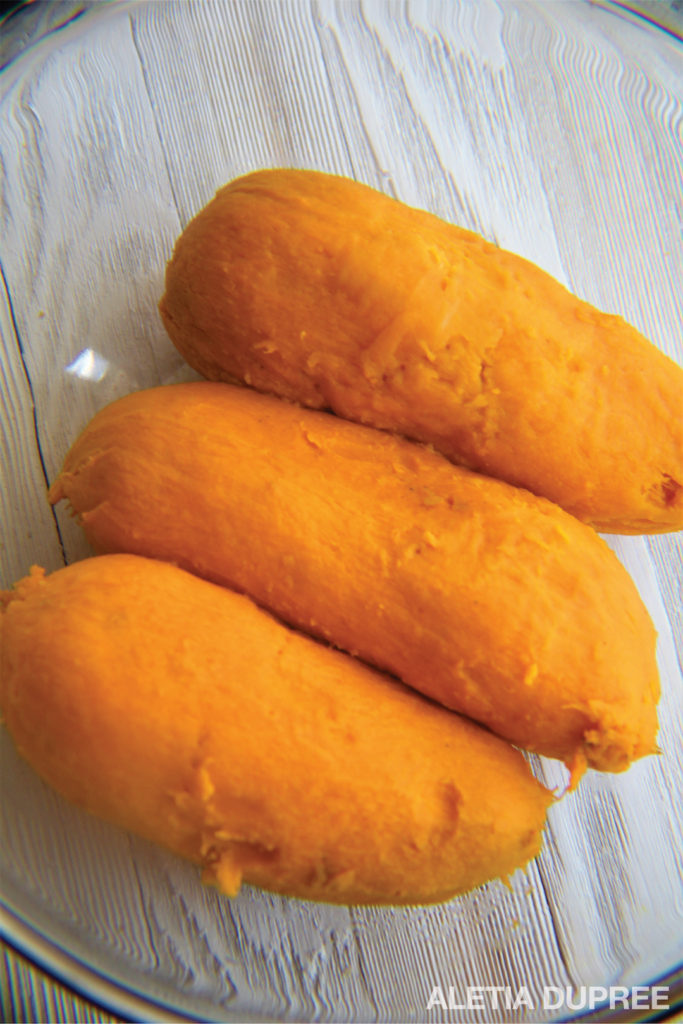 Beating the sweet potatoes with an electric mixer while they are still warm is another tip to making a perfect soufflé. Then slowly add the sugar and continue beating on high speed. Next add the butter. I use a salted sweet cream butter. No margarine. We want the real thing. It taste sooooo much better! Believe me. Now we're ready to add the beaten eggs, whole milk and pure vanilla extract. Using  pure vanilla is really important. Imitation vanilla just doesn't measure up to the pure vanilla taste. Pure vanilla is one of the most important ingredients to making   this soufflé taste so good. I try to keep Madagascar Bourbon Vanilla on hand. It's the finest pure vanilla on the market. It's worth every penny.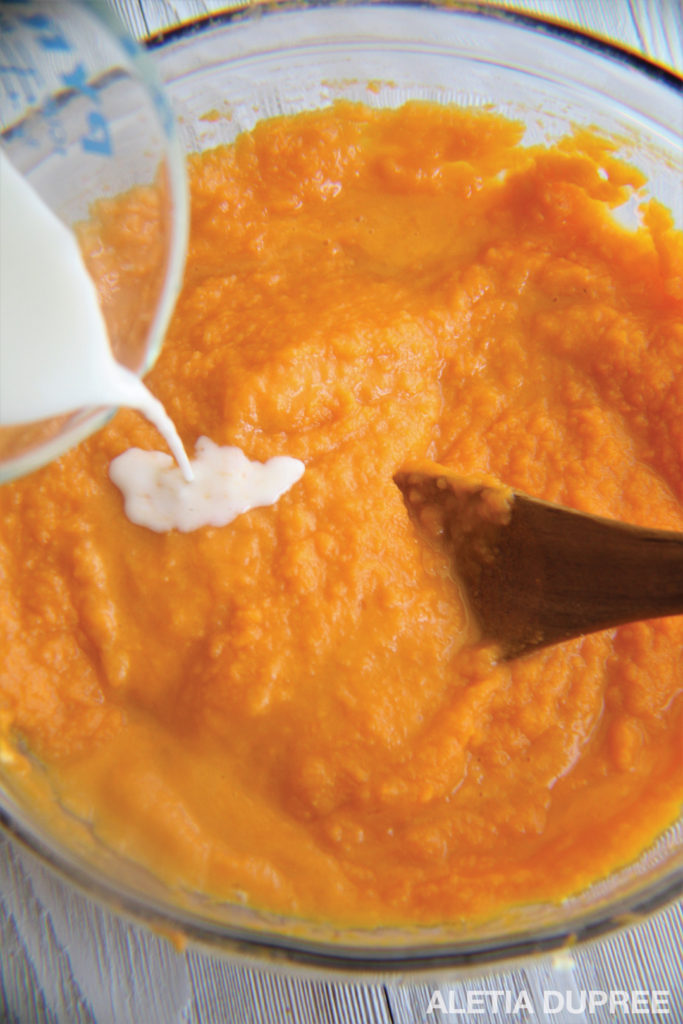 Beat the sweet potato mixture until it's light and fluffy. Spoon soufflé into a greased casserole dish and bake for 30 minutes without the marshmallow topping. Remove from oven and sprinkle marshmallows on top of soufflé. I cover mine with lots of marshmallows. You can toast them lightly until the marshmallows are just melting or toast them until they are brown and crunchy.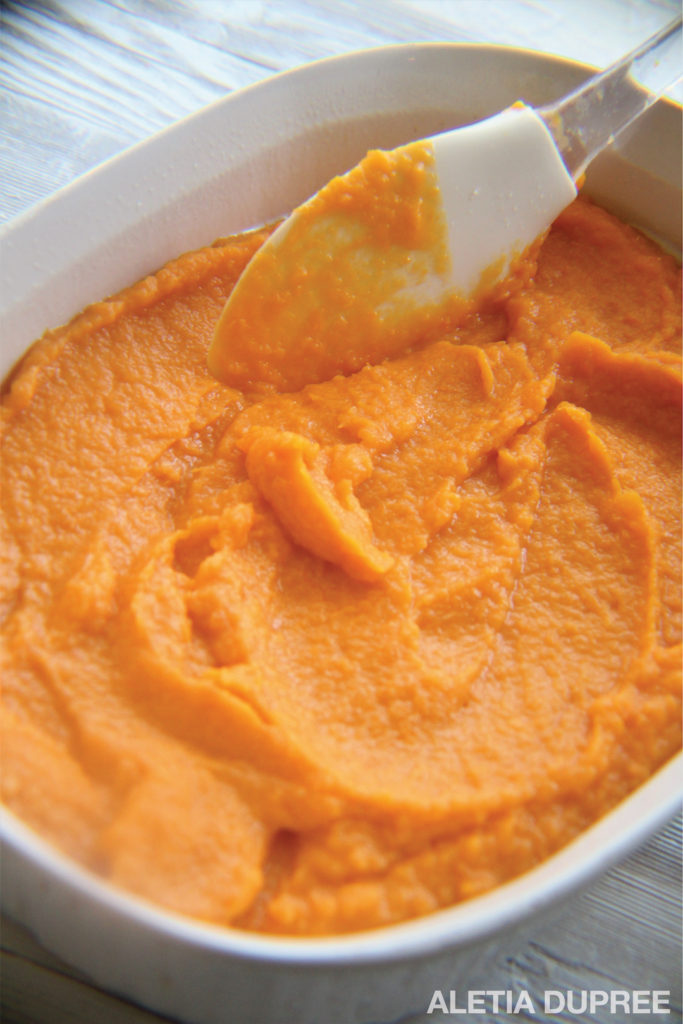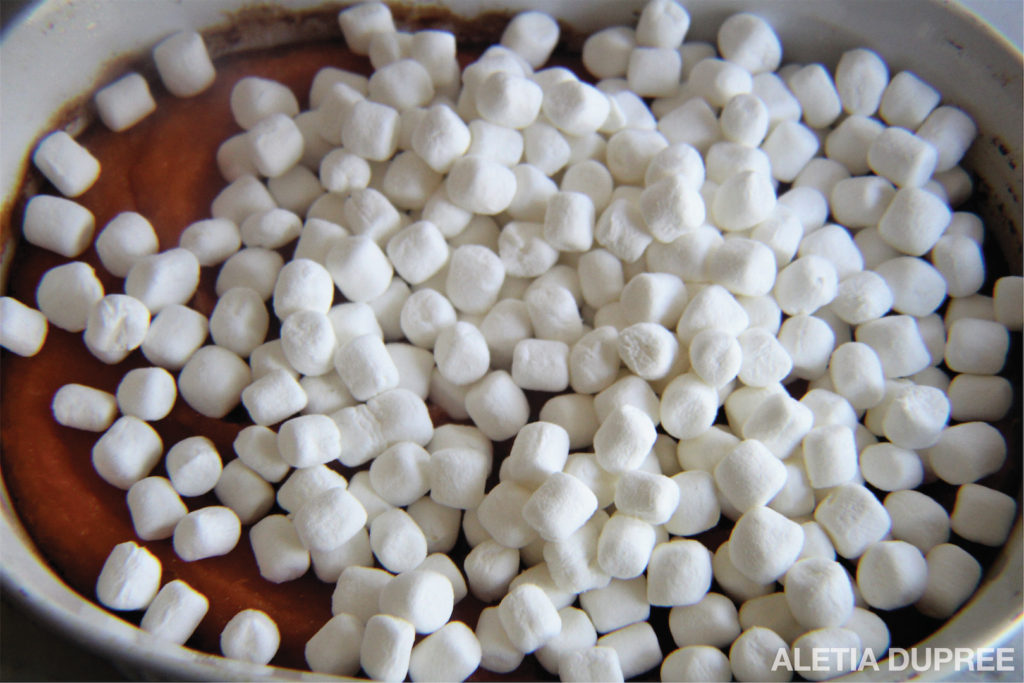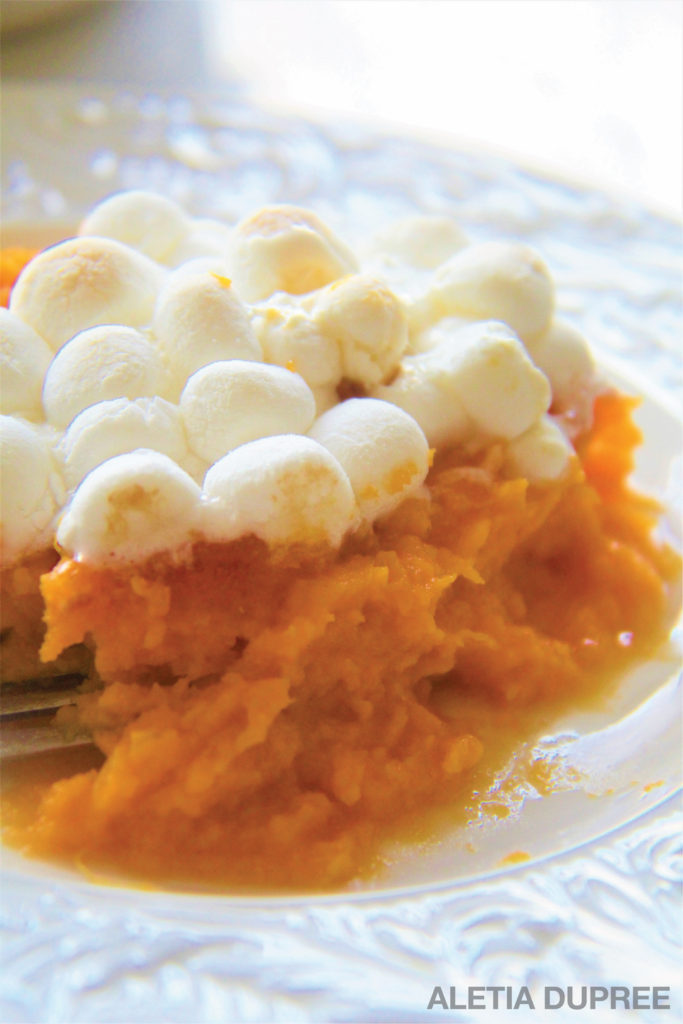 Print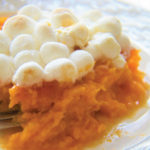 Sweet Potato Soufflé with Marshmallows
---
Author:

aletiadupree

Prep Time:

45 minutes (includes boiling sweet potatoes)

Cook Time:

30 minutes

Total Time:

1 hour 15 minutes

Yield:

6 to 8 servings

Category:

Soufflés
Ingredients
4 cups mashed sweet potatoes (about 3 jumbo sweet potatoes)
1 ⅓ cup granulated sugar
½ cup (1 stick) butter, softened
2 eggs, beaten
⅓ cup whole milk
2 teaspoons vanilla extract
3 to 4 cups miniature marshmallows
---
Instructions
Wash potatoes thoroughly and place in a large pot. Cover the potatoes with water and boil until fork tender. Remove peelings and place in mixing bowl.
Using an electric mixer, beat sweet potatoes on high speed. Reduce speed and slowly add sugar. Beat well.
Add butter; beat well. Add beaten eggs, milk, and vanilla extract. Beat until light and fluffy. (About 2 to 3 minutes)
Pour into a greased or buttered 13 x 9 x 2-inch casserole dish. Bake in a preheated oven at 350 degrees F. for 30 minutes. Remove from oven and sprinkle with marshmallows. Return to oven and toast marshmallows until lightly browned and marshmallows are melting. Or for a crunchy taste brown longer.
Notes
Do ahead tip/freezer:  Soufflé can be made 1day ahead before baking and kept in the refrigerator. Uncooked soufflé can be frozen for up to 2 months. Thaw in the refrigerator overnight before baking. Add 5 minutes to baking time.