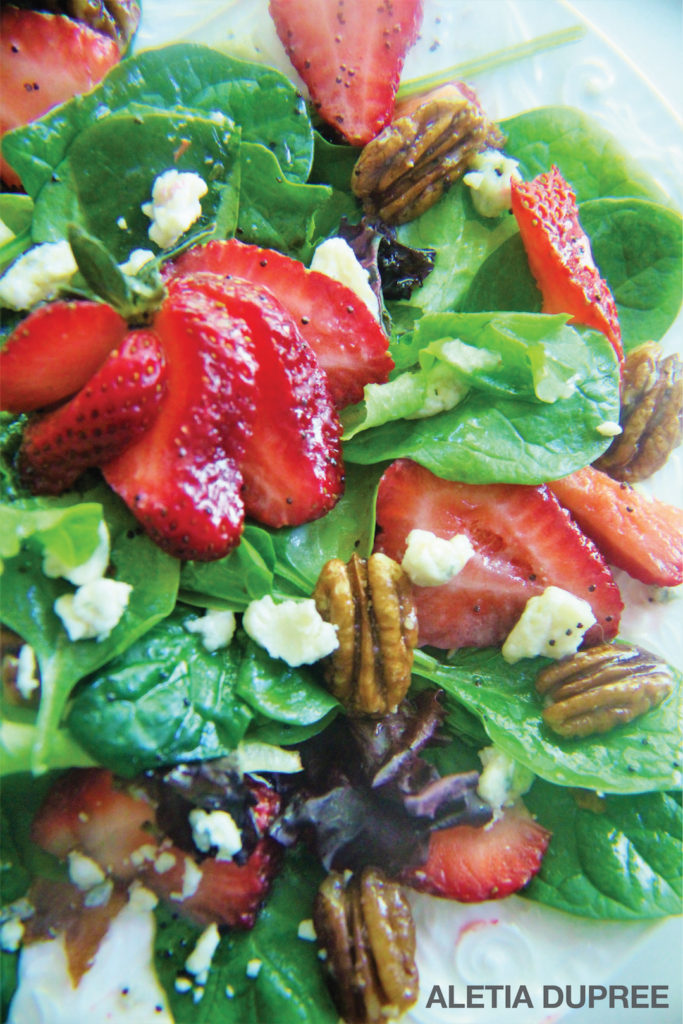 Are you enjoying the fresh strawberries in your area this spring? Here in Georgia, we are thoroughly enjoying the all the sweet, delicious, gorgeous strawberries coming up from Florida. I just can't get enough!
I'm a strawberry girl through and through! I love strawberries in everything from pies, cakes, jams, smoothies to salads. One of the things that I look so forward to making during strawberry season is Strawberry Pecan Spinach Salad with Poppy Seed Dressing. I adore this salad and I know you will too!
This salad has everything going for it-It's bright, beautiful, crunchy, delicious, and it's drizzled with the most incredible sweet, tangy, creamy homemade poppy seed dressing that you will ever put in your mouth. What more could you ask for?
I make this salad more for entertaining than any other salad recipe. I don't have to stress or worry over my guest not liking the salad choice or offering them a huge selection of salad dressings to choose from. My guests always love this salad and the poppy seed dressing is a big hit too. Plus it's super quick and easy to prepare. So that's my entertaining tip! Also this is a great salad to take to a potluck or office party. Drizzle and toss the poppy seed dressing over the salad just before serving to prevent the salad from getting soggy. I guarantee that everyone will be impressed.
This salad is easy to make and it has all my favorite ingredients for a lovely springtime salad. Fresh, tender baby spinach with a combination of spring mix greens such as red Boston curly lettuce and fresh sprigs of arugula lettuce.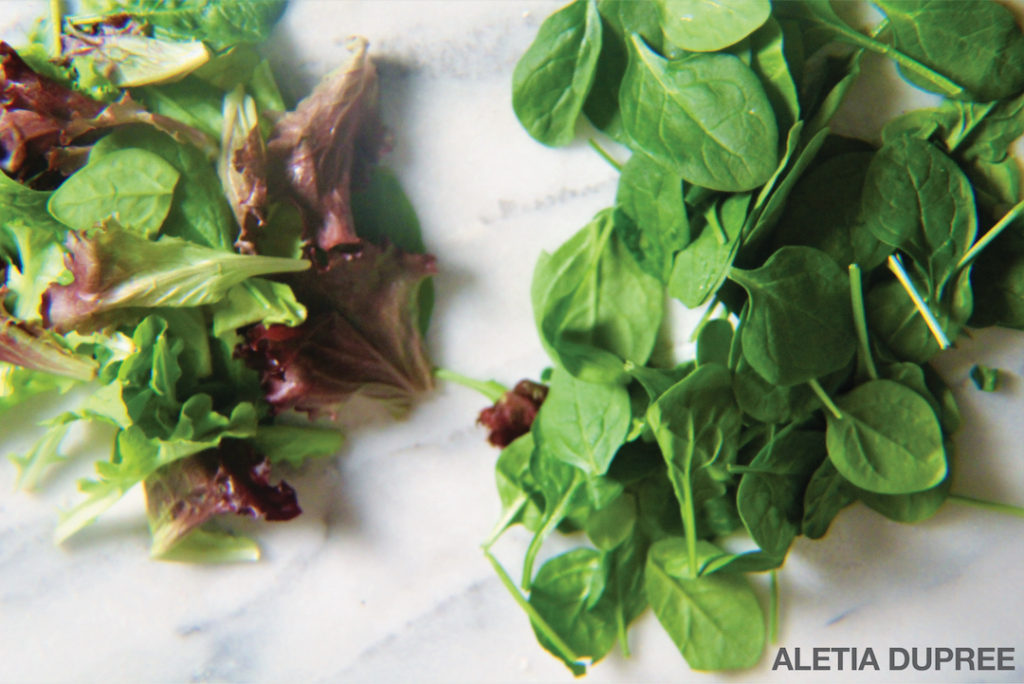 Along with fresh strawberries, fried crisp bacon, crumbles of Gorgonzola cheese or you can use blue cheese. I personally prefer the sweeter milder taste of Gorgonzola cheese to the stronger taste of blue cheese in this salad. I think it goes better with fruit. Next we add honey glazed pecans.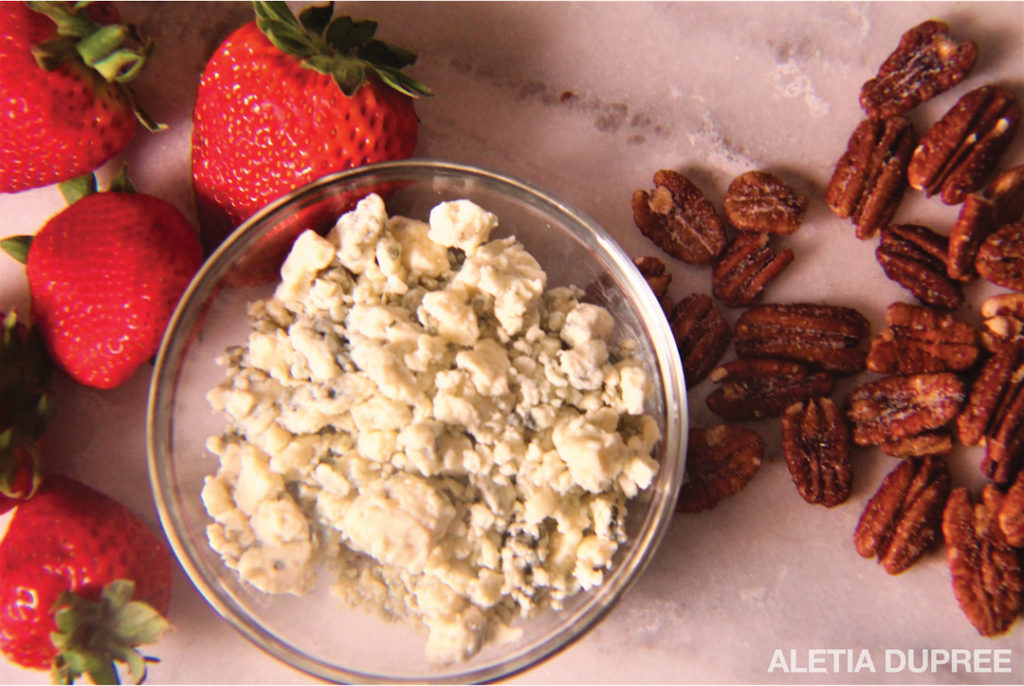 This really takes this salad to the next level. The pecans add the crunch to the salad and the honey coating adds a nice sweet taste. They are good to eat by themselves. Walnuts or almonds are great in this salad as well. It so easy to make honey glazed pecans or walnuts or almonds. Heat 2 tablespoons of honey in a saucepan over low heat. Add 1 cups pecan halves and toss until nuts are completely coated with a shinny beautiful glaze. Spoon nuts onto wax paper to dry and set. If you don't have the time to make the honey pecans, you can purchase a can of honey roasted pecans at the grocery store in the snack section.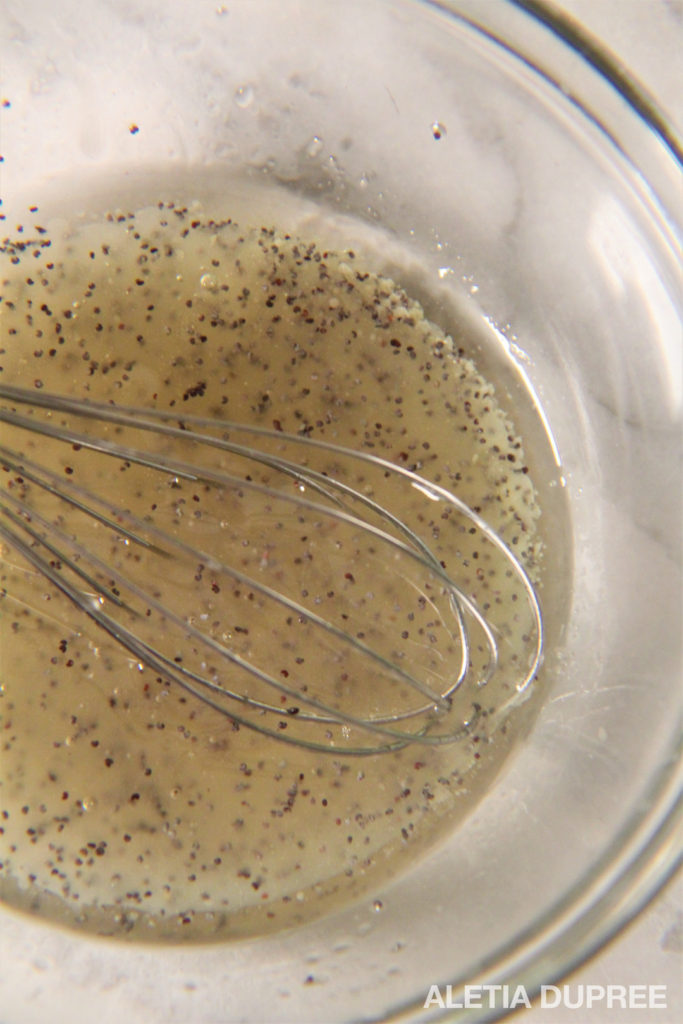 Poppy Seed Dressing is so easy to make. Sweet and tangy, it makes great hostess gifts. Make it up and put in a jar with a label and tie a ribbon around it.                                    
Even though it has bacon in it, you can add some grilled chicken or another protein if you like for a complete meal. You can get creative with this salad by throwing in avocados or other vegetables and fruits. When strawberry season is over, I like to substitute with fresh pears in the salad. Pears are delicious with the Gorgonzola cheese.
Happy Strawberry season and stay tuned for more strawberry recipes coming real soon!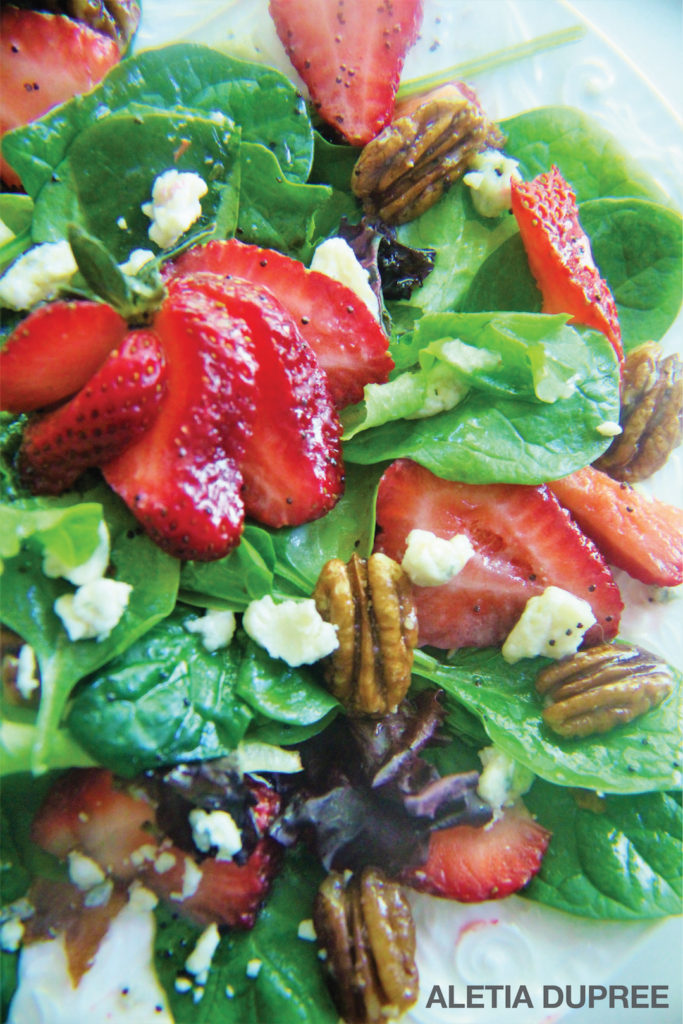 Print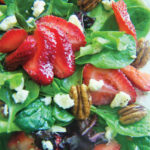 Strawberry Pecan Spinach Salad with Poppy Seed Dressing
---
Author:

aletiadupree

Prep Time:

15 minutes

Total Time:

15 minutes

Yield:

10 servings

Category:

Salads
Ingredients
Salad ingredients:
1 (6-ounce) package baby spinach
2 cups fresh spring mix lettuce, red Boston curly and arugula lettuce
1 pint fresh strawberries, sliced
½ pound bacon, cooked and coarsely crumbled
1 (8-ounce) package Gorgonzola cheese or Blue Cheese, crumbled
1 cup honey gazed pecans or walnuts
Poppy Seed Dressing ingredients:
¾ cup granulated sugar
⅓ cup apple cider vinegar
1 cup canola oil
1 tablespoon dry mustard
1 tablespoon poppy seeds
---
Instructions
In a large bowl, mix spinach, red Boston and arugula lettuce, strawberries, bacon, Gorgonzola cheese, and pecans. Toss gently. Serve with Poppy Seed Dressing.
To make the dressing, Combine sugar, vinegar, oil, dry mustard, and poppy seeds. Mix well and pour into an airtight container. Keep refrigerated. Shake well before serving.
Notes
Do ahead tip:  The Poppy Seed Dressing can be made ahead and stored in the refrigerator for up to two months.
Recipe tip:  To make Honey Glazed Pecans heat 2 tablespoons of honey over low heat. Add 1 cup pecans halves. Stir until pecans are completely coated and have a shinny glaze. Spoon onto wax paper and let set.