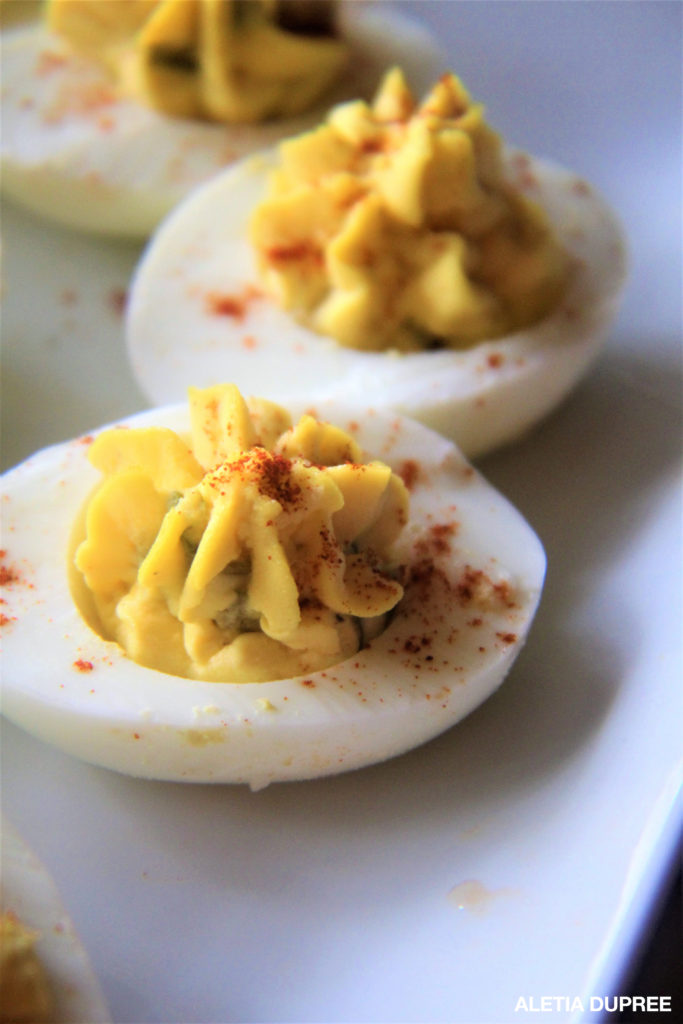 We Southerner's love our deviled eggs. They grace our table at Easter, Sunday Dinners, and other major holidays, but we don't need a special occasion to make deviled eggs. We enjoy them with any meal from game day gatherings, for a spring brunch or a summer picnic.
This recipe is the Southern version of deviled eggs.
So what is makes a deviled egg Southern? It's the sweet pickles! Of course, we would never, never make our deviled eggs with dill pickles! Absolutely NOT! That would be like a Southern lady making chicken salad with dark meat. (That is for another post). I must confess that I didn't know that until last year. I thought that everyone put sweet pickles in deviled eggs because that's what we do in the South and that's how my momma taught me how to make them. We simply put sweet pickles in our deviled eggs and sprinkle the tops of them with paprika. No questions asked. That's how we do it!
I found out differently during a recent visit from my cousin who is from the Mid-West. She tasted of my deviled eggs and really like them but she knew that it was something really different about mine. Her husband spoke up and said it's the pickles!" She uses sweet pickles and you use dill pickles." So the secret ingredient in the Southern deviled eggs is the sweet pickle relish.  I guess it's just one of those "Southern Things".
With all that said, these little treasures are dear to our heart.  In our family for every holiday dinner, the questions always comes up, "who is going to make the deviled eggs"?
In this recipe, I use just a tad of prepared mustard along with a few tablespoons of mayonnaise, sweet pickles, of course, salt and pepper to taste.
Tips on making the filling: Be sure to drain the pickles and be careful with the amount of mayonnaise that you use. You want a nice creamy mixture-not too dry or too soupy. It's better to add the mayonnaise a little bit at a time to be sure to get the right consistency. Slice the cooked eggs lengthwise and remove egg yolks.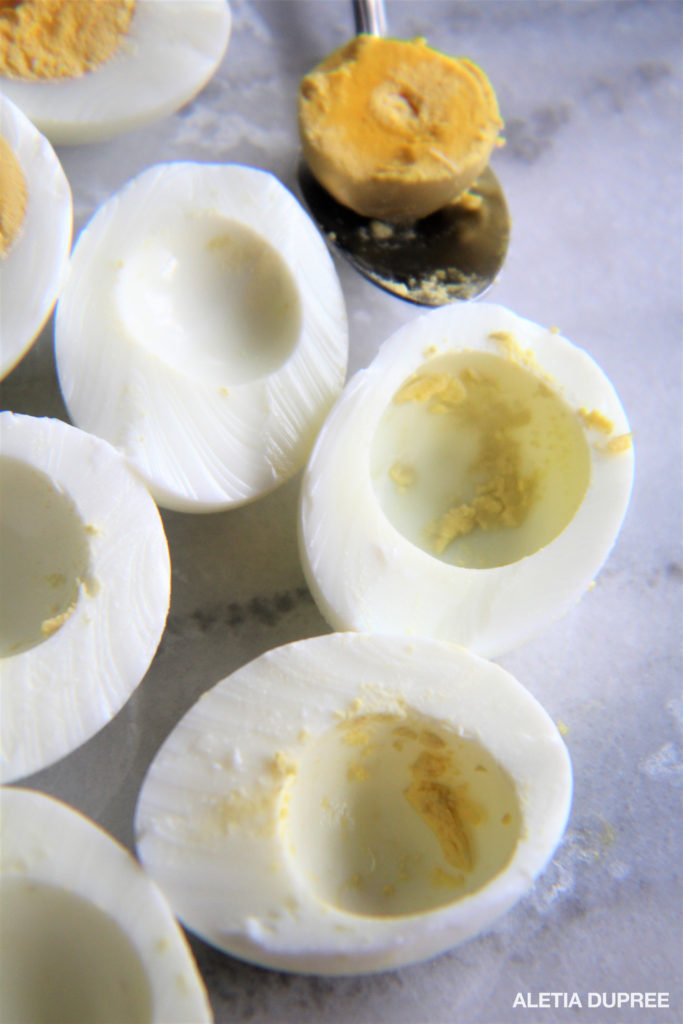 Place the yolks in a small bowl and mash with a folk.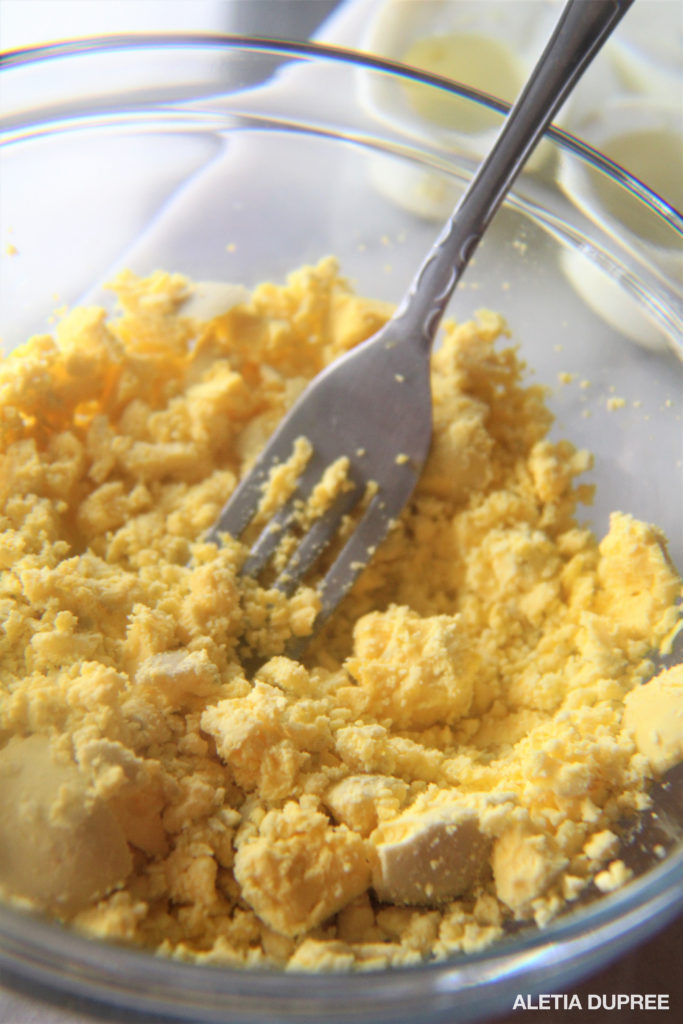 Spoon the egg mixture into the egg whites or pipe the mixture into a pastry bag. I like to use a pastry bag. It really makes the deviled eggs look extra pretty.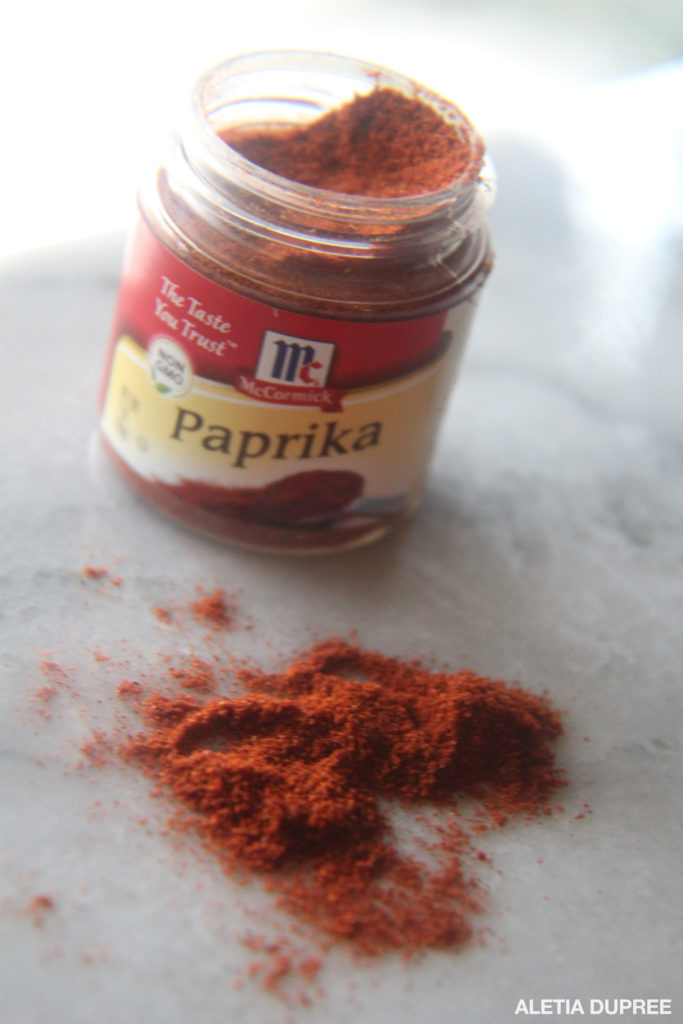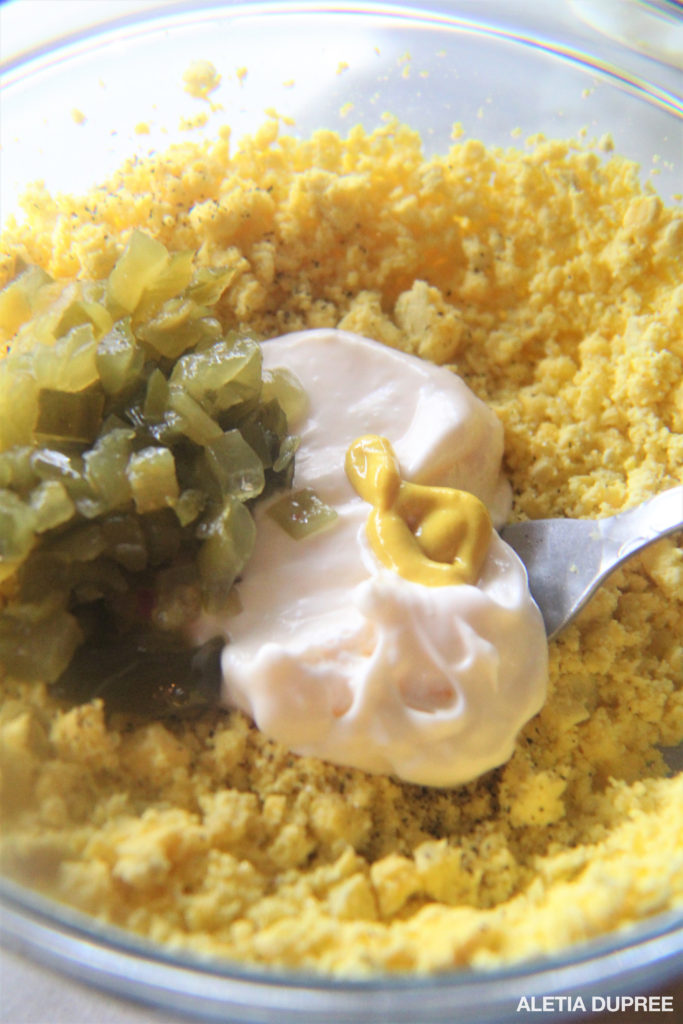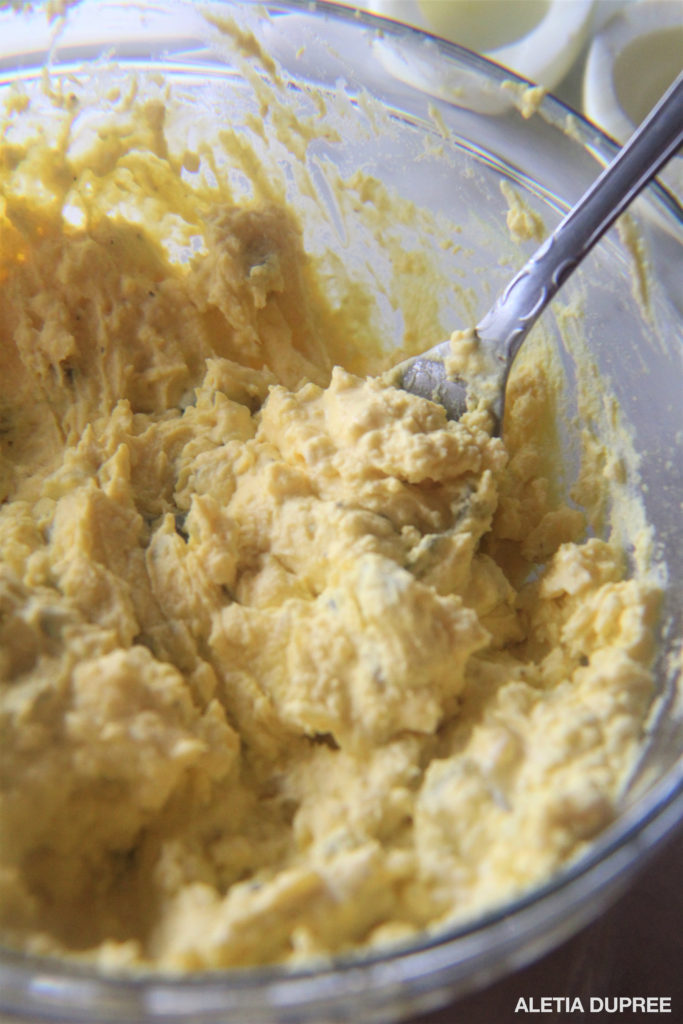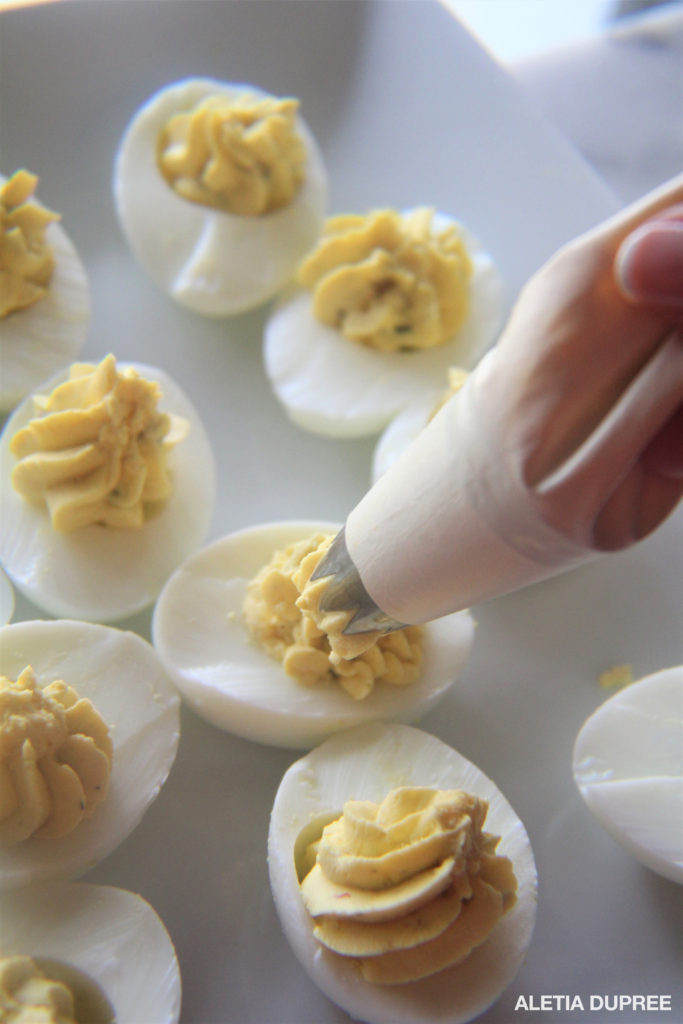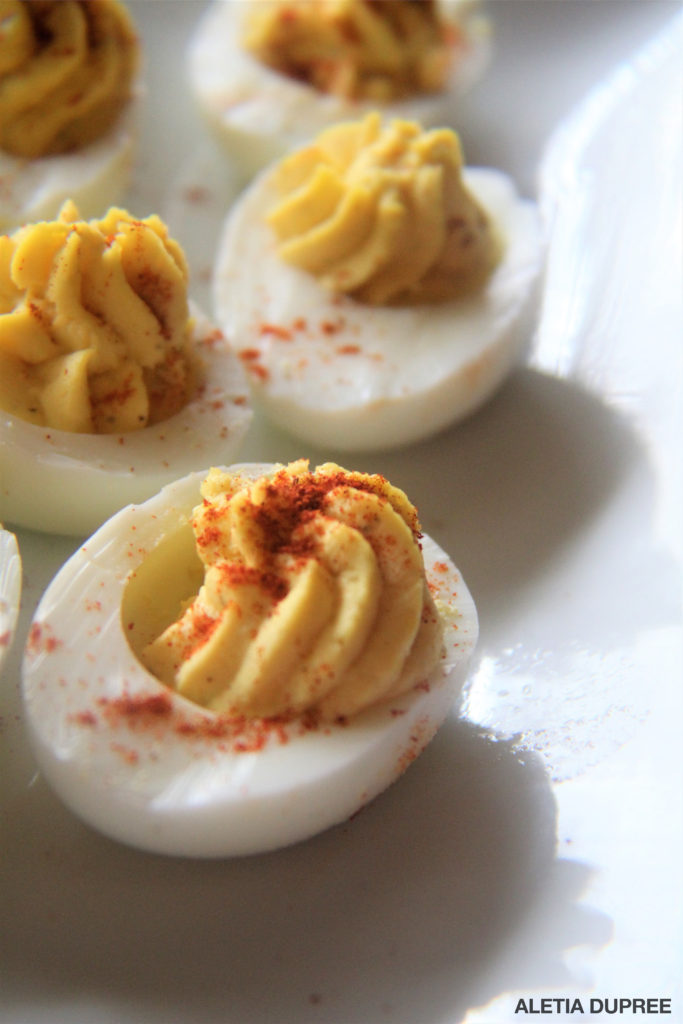 How to make Hard-Boiled Eggs
Place fresh eggs in a single layer in a saucepan. Cover with water to a depth of about 1-inch above the eggs. I always put about 1 teaspoon of salt. I think the salt makes the eggs peel better. Place the pan over high heat and bring to a boil. Cover the pan and let them immediately remove from heat. Don't lift the lid.
Let the eggs stand for about 15 minutes, and then drain off hot water; cover with cold water and a few ice cubes. Let stand until completely cooled before peeling.
The freshest eggs will be a little more difficult to peel. To make peeling easier, roll the egg over the countertop while applying a little pressure to create many fine cracks. Begin peeling at the large end under cold running water.
Hard-cooked eggs in the shell can be stored in the refrigerator for up to 2 to 3 weeks, or up to a week if peeled.
Print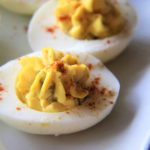 Southern Deviled Eggs
---
Author:

aletiadupree

Prep Time:

10 minutes

Total Time:

30 minutes (Includes boiling eggs)

Yield:

7 servings

Category:

Appetizers

Cuisine:

Southern
Ingredients
7 hard-boiled eggs
1 ½ to 2 Tablespoons mayonnaise (or to moistened)
½ teaspoon prepared mustard (or to taste)
2 Tablespoons sweet pickle relish or salad cubes, well drained
Salt and pepper to taste
Paprika to garnish
---
Instructions
Peel the eggs carefully and cut them in half lengthwise. Set the halves on a platter or egg tray. If you cut a very thin slice from the bottom of the eggs, they will not wobble.
Remove and mash the yolks; combine 1 ½ tablespoons of mayonnaise, mustard and pickles. Taste and add salt and pepper; as needed. And more mayonnaise if desired. Refill the centers of the egg halves with the yolk mixture. Garnish with the sprinkling of ground paprika. Cover with plastic wrap and refrigerate until ready to serve.
Notes
Do ahead tip: You can boil and peel eggs 2 or 3 days ahead, but it's best not to fill until a few hours before serving for the freshest looking deviled eggs.