You are going to love this cornbread recipe! It's tender and moist on the inside with a golden brown crispy-crunchy crust on the outside.
S outhern Buttermilk Cornbread needs no introduction especially if you have been born and raised in the South or are familiar with Southern culture at all. It's an essential component of a Southern meal.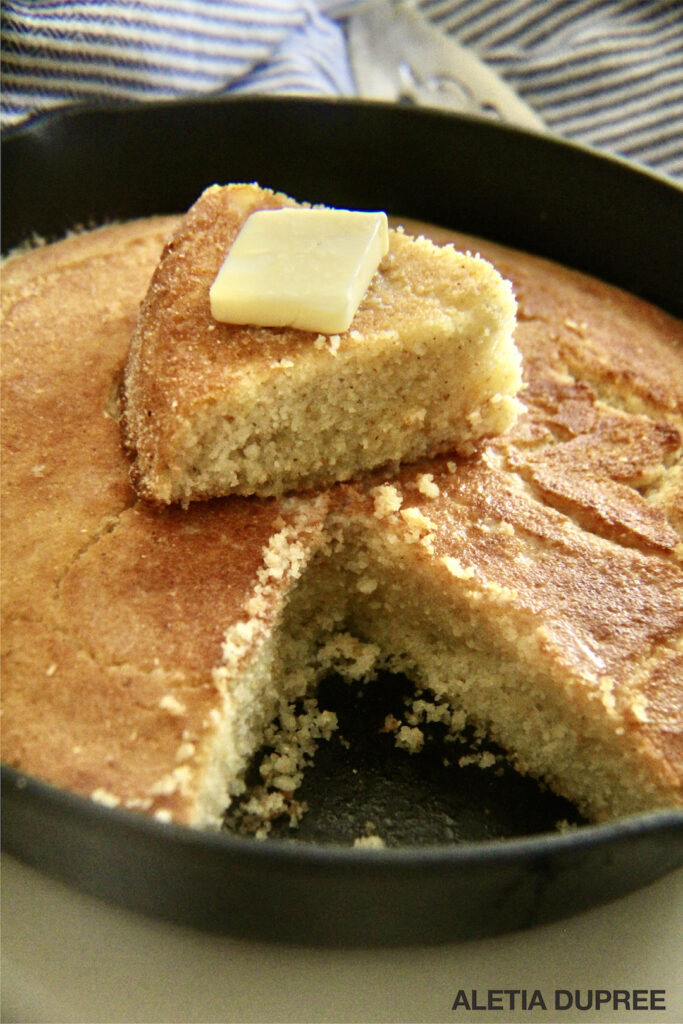 My mother taught me how to make cornbread when I was only eight years old. I consider learning to make cornbread is one of the rights of passage for a Southern girl. 
Of course, she taught me how to make it in an iron skillet. That's how her mother taught her and that's how she taught me. So in this post, I'll teach you how I learned to make the best tasting cornbread ever with an extra crispy crust.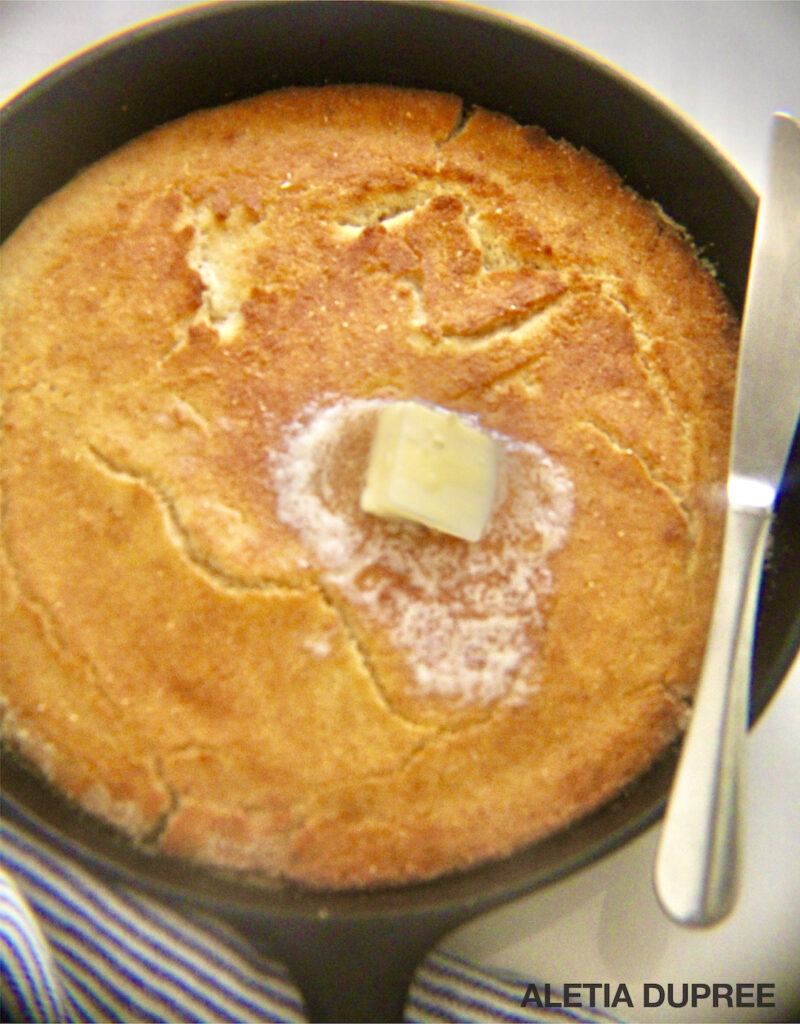 Ways to enjoy cornbread 
Hot from the skillet with lots of butter! Nothing better!

With a bowl of pinto beans. I couldn't imagine eating beans without a big ole slice of cornbread!

You've just got-to-have-it with collard greens or turnip greens or any kind of greens.

With a piping hot bowl of chili. It's AMAZING!

Aww, it is so delicious with homemade vegetable soup! 

For breakfast with hot buttered maple syrup. Oh you've gotta try it!!' Yum!!

Crumble it up in a cold glass of milk. (My Grandmother enjoyed her cornbread this way)
Southern cornbread is not a sweet-tasting cornbread. Most Southerners would never admit to putting sugar in their cornbread. It's considered taboo or worse a disgrace.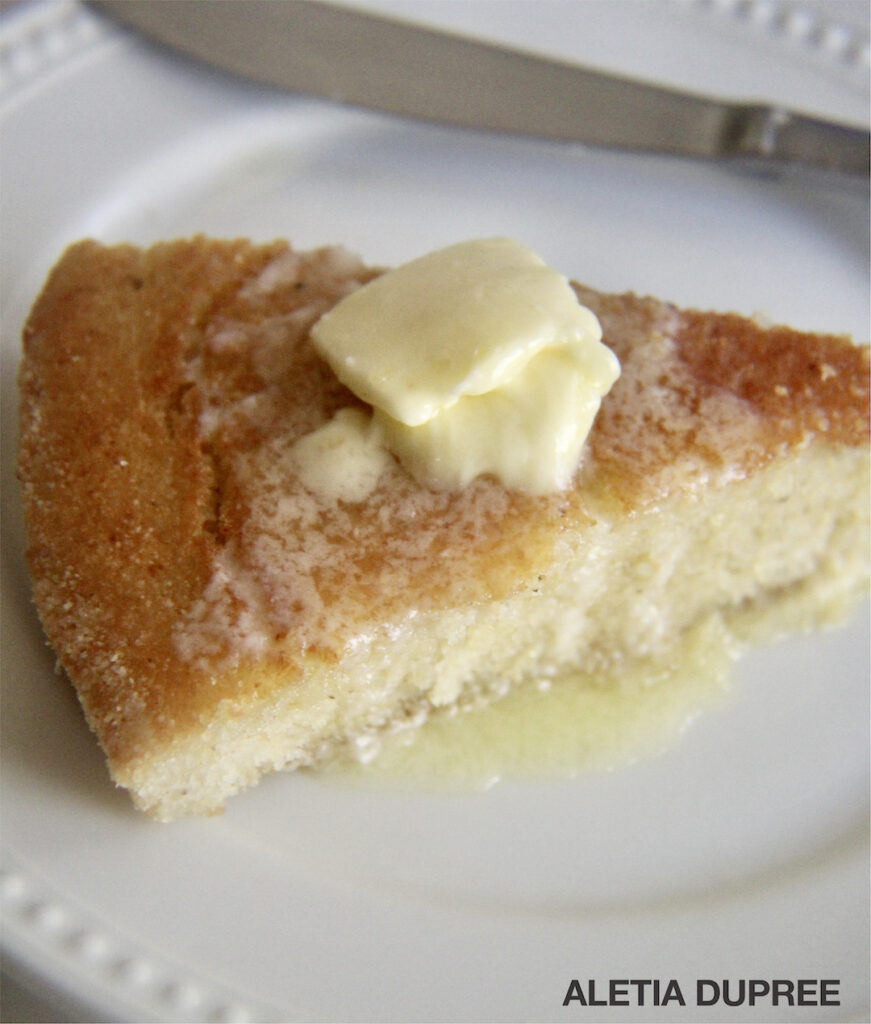 But, I do have a secret to share. My mother's recipe does have a tiny bit of sugar but it doesn't make it sweet at all. It just brings out the flavors and tames the tangy buttermilk flavor. If you don't tell anyone they'll never know. "Shush",🤫 the secret is between us. 
My tips for making perfect Southern Buttermilk Cornbread 
Hot iron skillet-

There is nothing like making cornbread in an iron skillet. A hot iron skillet makes the cornbread extra crispy. Also, add about ¼ cup of oil to the sizzle before placing it in the oven. You can use a regular round skillet for a whole cornbread cake or an iron skillet cornbread stick pan. This is my husband's favorite! I heat my skillet in the oven for about 10 minutes before adding the butter to it.
Buttermilk. Always use buttermilk, not regular milk

. You need all the fat content of buttermilk. Plus the tangy delicious flavor of buttermilk is what makes Southern cornbread taste so good!
Add a little sugar.

A little sugar helps to balance the tangy buttermilk and brings out the favor. I promise that it doesn't make it sweet. 
Use a self-rising cornbread mix.

The plain corn has never worked for me. I prefer White Lily Self-Rising Cornbread Mix or Three Rivers Self-Rising Cornbread Mix.
Sprinkle cornbread on the hot skillet.

Sprinkle a few tablespoons of cornbread in the hot skillet as soon as you take it out of the oven. You want to hear it sizzle. Then pour the batter in. It should sizzle too. That's how you know your skillet is hot enough. The extra cornmeal gives the crust a nice crunchy texture. 
Flip onto a serving plate immediately after taking the cornbread out of the oven.

Another tip from my Mother on keeping the crust crispy. This keeps the crust from sweating and getting soggy.
How to make Southern Buttermilk Cornbread 
It's super easy! Whisk the cornmeal mix, sugar buttermilk, oil, and an egg just until the ingredients are moistened and smooth.

Pour cornbread batter into the hot iron skillet and bake!

The complete recipe is below.
Thank you for stopping by my blog today. I hope you enjoy this recipe and pass it down. It's a keeper recipe. 
Please be sure to check out my homemade vegetable soup recipe here. It's so delicious with this cornbread recipe. aletiadupree.com/homemade-vegetable-beef-soup/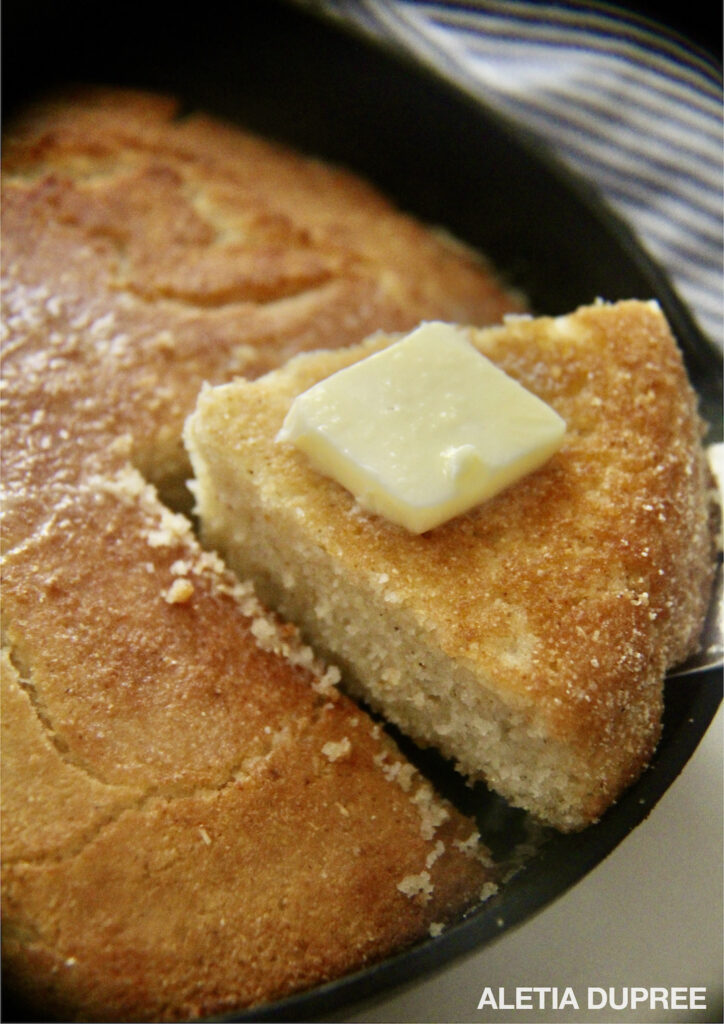 Print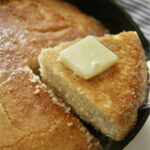 Southern Buttermilk Cornbread
---
Author:

aletiadupree

Prep Time:

10 minutes

Cook Time:

20 to 25 minutes

Total Time:

-28262402.65 minute

Yield:

6 to 8 servings
Description
This cornbread is tender and moist on the inside with a golden brown crispy-crunchy crust! It's an essential component of a southern meal.
---
Ingredients
¼

cup vegetable oil

2 ½ cups white self-rising cornmeal mix

2 tablespoons white granulated sugar (optional)

½ cup vegetable oil, plus 1 tablespoon 

1 large egg 

1 ½ cups buttermilk 

Additional cornmeal to sprinkle on the bottom of the iron skillet. (About 2 tablespoons)
---
Instructions
Preheat the oven to 425 degrees. If baking in a 10-inch round iron skillet, pour ¼ cup vegetable oil into the skillet. Place the skillet in the oven and heat while you are mixing up the batter. (

Note: a hot iron skillet makes a golden brown crispy crust

.) If you are baking in muffin pans, grease well with a nonstick cooking spray. 

In a medium-size mixing bowl, combine cornmeal mix, sugar, vegetable oil, egg, and buttermilk. Mix just until all ingredients are moistened. 

Carefully remove the skillet from the oven. Sprinkle about 2 tablespoons of cornmeal on the bottom of the hot skillet. Pour the batter into the skillet. It should sizzle. Return to the oven and bake for 20 to 25 minutes or until a toothpick inserted comes out clean. The top should be golden brown.

For a crispy crust, invert cornbread immediately onto a plate. Serve hot with butter.