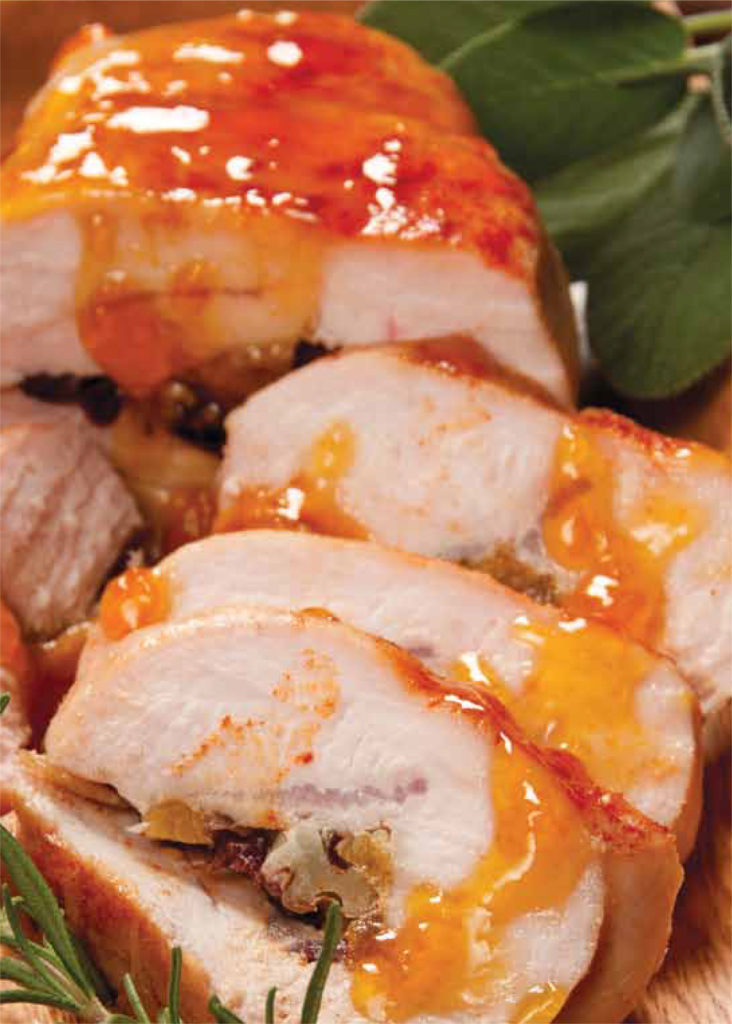 The Christmas holidays are soon approaching. How exciting! It's my favorite time of year, and I want this year to be extra special so I'm going to jazz up my holiday dinner table with just a few new twist to my traditional holiday classics.
Savory Turkey Breast Stuffed with Fruit and Nuts is going to be our Christmas dinner treat. You are going to love it too! This savory turkey breast is stuffed with a sweet, spicy fruit and nut mixture topped with a beautiful, shinny pear glaze.
Sounds yummy, doesn't it?
The spicy fruit and nut mixture turns your everyday turkey breast into a wonderful festive main course.
It may look complicated, trying to stuff a turkey breast, but it's not. I'll walk you through it. Put the breast on a cutting board and holding your knife parallel to the a cutting board or work surface, slice open the turkey breast horizontally, working from the thicker side of the lobe to the thinner side and not cutting all the way through.
Open the turkey breast like a book and season with salt and pepper. Spread the fruit and nut filling evenly over half the opened turkey breast, leave a little border around the outer edges. Fold the other half of the turkey breast over the stuffing. Tie the breast crosswise with kitchen string in four or five places to hold it all together.
I'm going to serve this savory turkey breast alongside a super moist Apple Chestnut Cornbread Dressing and Orange Candied Yams. Be sure to check my recipe for these sides. Merry Christmas!
Enjoy!
Aletia
Print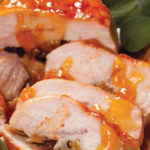 Savory Turkey Breast Stuffed with Fruit and Nuts
---
Author:

Aletia DuPree

Prep Time:

20 mins

Cook Time:

1 hour

Total Time:

1 hour, 20 min

Yield:

8 servings
Ingredients
1 boneless half turkey breast (about 2. lbs)
1 cup of each fruit, chopped dried apricots, cranberries, golden raisins
⅔ cup mixed nuts, chopped
1 small onion, chopped
½ teaspoon dried thyme or 1 teaspoon fresh thyme
1 teaspoon sea salt, divided
¼ teaspoon freshly ground pepper
2 tablespoons red cooking wine Paprika
2 tablespoons olive oil
GLAZE
½ jar pear or apricot preserves
GARNISH
A sprig fresh rosemary, fresh Granny Smith apples and pears, cut in half
---
Instructions
Mix the fruit, nuts, onions,½ teaspoon of the salt, pepper and wine.
Stuff the mixture into the turkey breast.
Pour the olive oil over the breast and spread it on all sides.
Sprinkle paprika and the remaining salt all over the breast.
Fold the breast in half and tie it with kitchen string. The cooking juices will seal the pieces together again.
Place the stuffed, seasoned breast in a tent of oiled baking parchment paper or foil.
Pinch one side of the tent closed, but leave the other side open for ventilation so that you get roasted, not poached meat.
If any stuffing falls out, just scoop it up and place it under the breast when baking it.
Bake at 350° for 1 hour or until a meat thermometer inserted into the thickest part reads 165°.
Let rest for 10 minutes before serving.