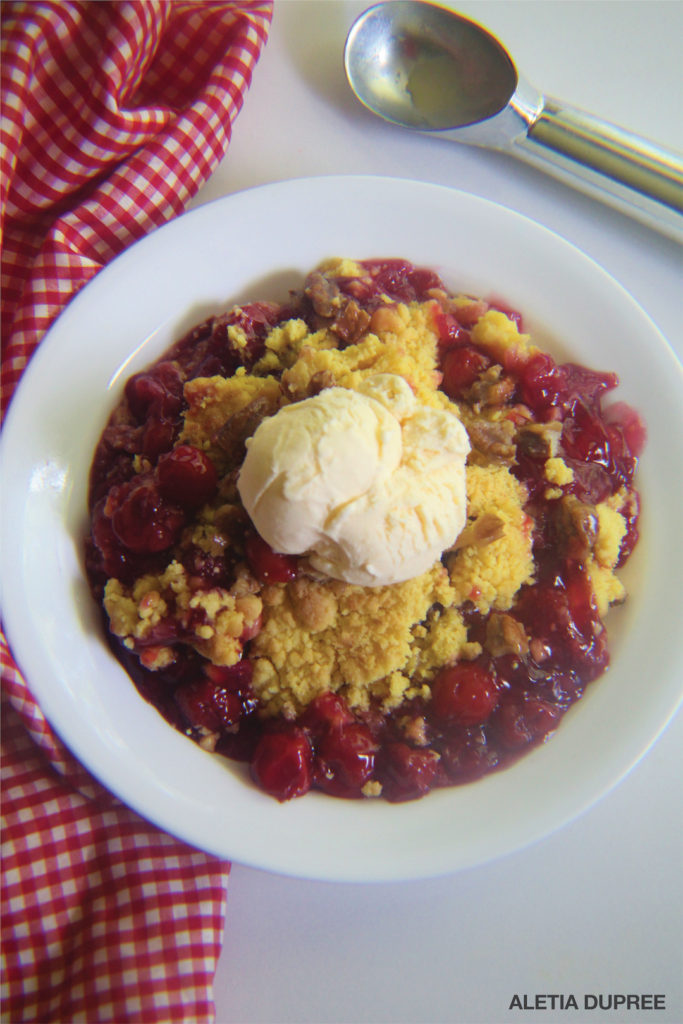 Oh my goodness, I adore this dessert, and it's ridiculously so easy to make!
It's a perfect dessert for your end of summer cookouts.
The Salted Caramel Pecans and of course a mile high scoop of ice cream takes this classic dessert to the seventh heaven!
Sometime things just never go out of style and certainly not this amazing dessert. This cherry crunch or dump cake has been a favorite of mine for a very long time. I always feel nostalgic when I make this because it reminds me of my sweet Aunt Helen. She always and I mean always brought cherry crunch to our family reunions. We all looked forward to diving into it and there was never a crumb left.
You can't beat this dessert for potlucks, casual entertaining, or just a last minute dessert.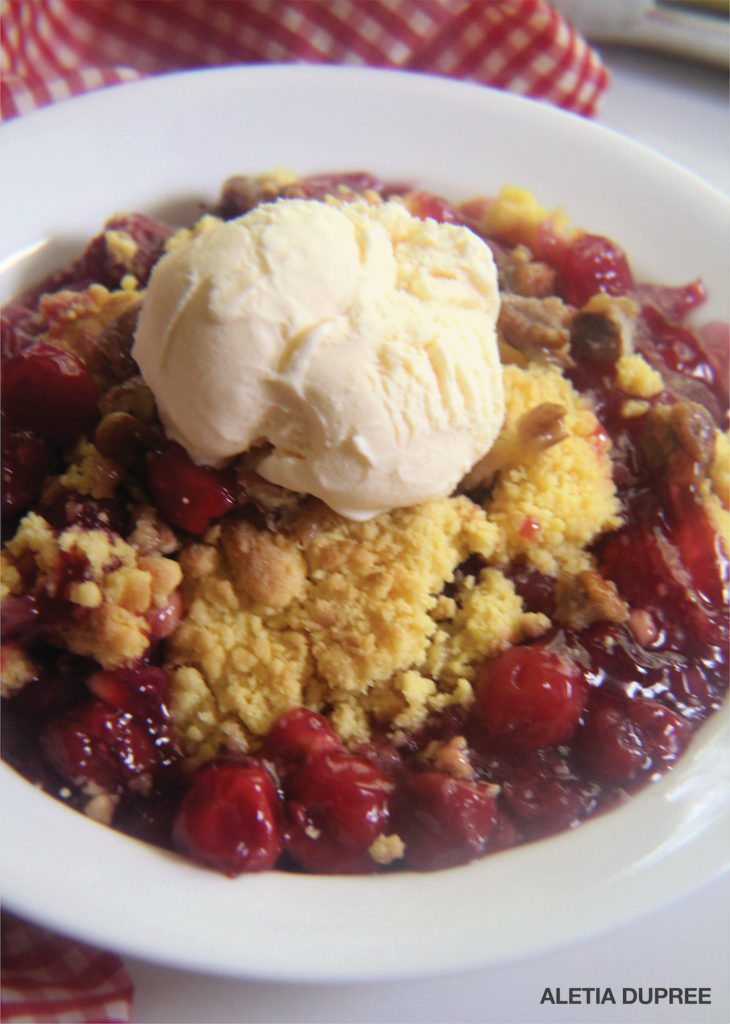 The original recipe calls for plain toasted pecans, but I decided to try something different to give this classic dump cake a new twist.  Crispy, sweet, crunchy Salted Caramel pecans took this recipe to a whole new level. They are savory but sweet, with a nice rich buttery taste and just the right amount of sea salt.
All you need is two cans of cherry pie filling, a can crushed pineapple, a stick of butter, a box of butter cake mix and pecans. Plus, the ingredients for the Salted Caramel Pecans and of course the vanilla ice cream.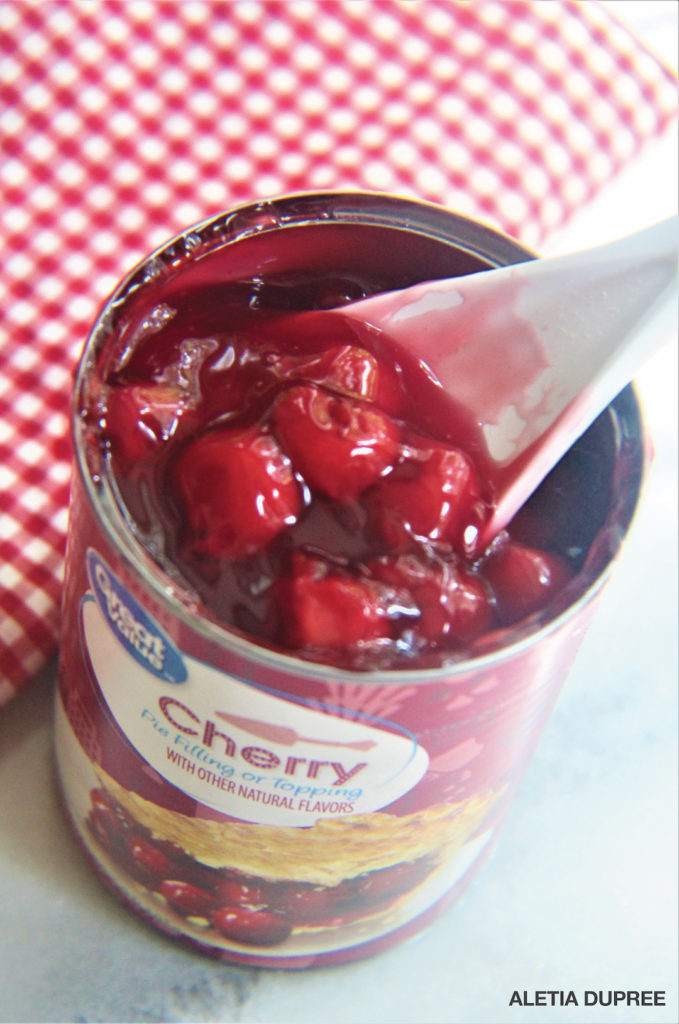 Another great thing about this dessert is that you can use any pie filling flavor. Blueberry pie filling is delicious too and it pairs nicely with the pineapple. If you are not of fan of pineapple, you can just leave it out.
Combine the cherry pie filling and crushed pineapple into a 13 x 9 x 2-inch casserole dish.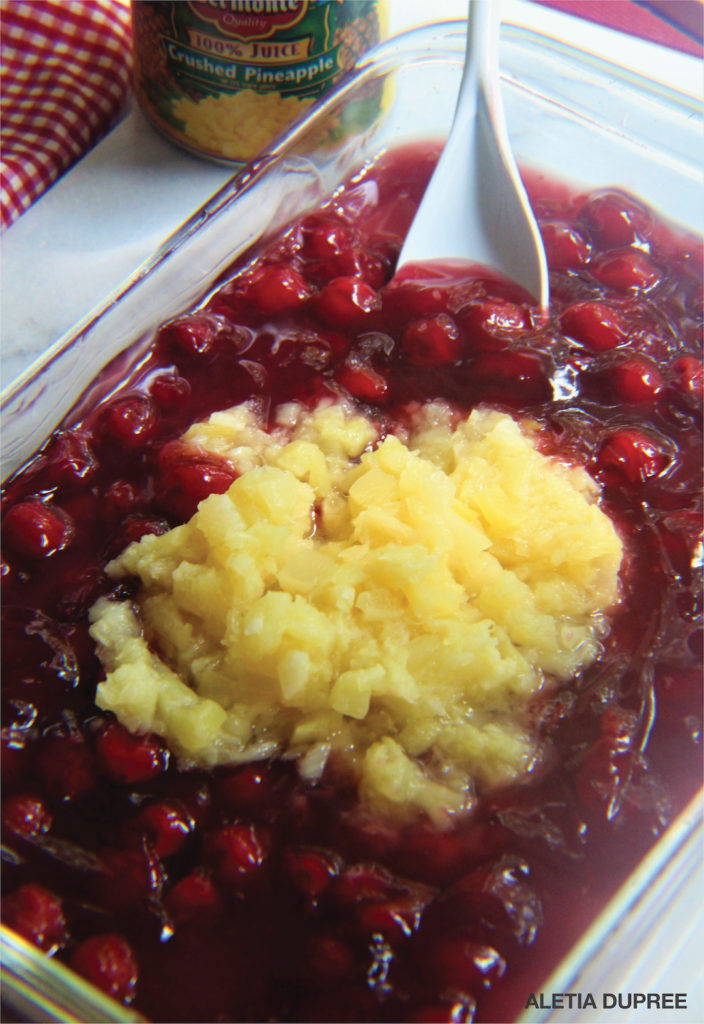 Cut butter into cake mix and mix until mixture is coarse like cornmeal and sprinkle evenly over the cherry pineapple mixture.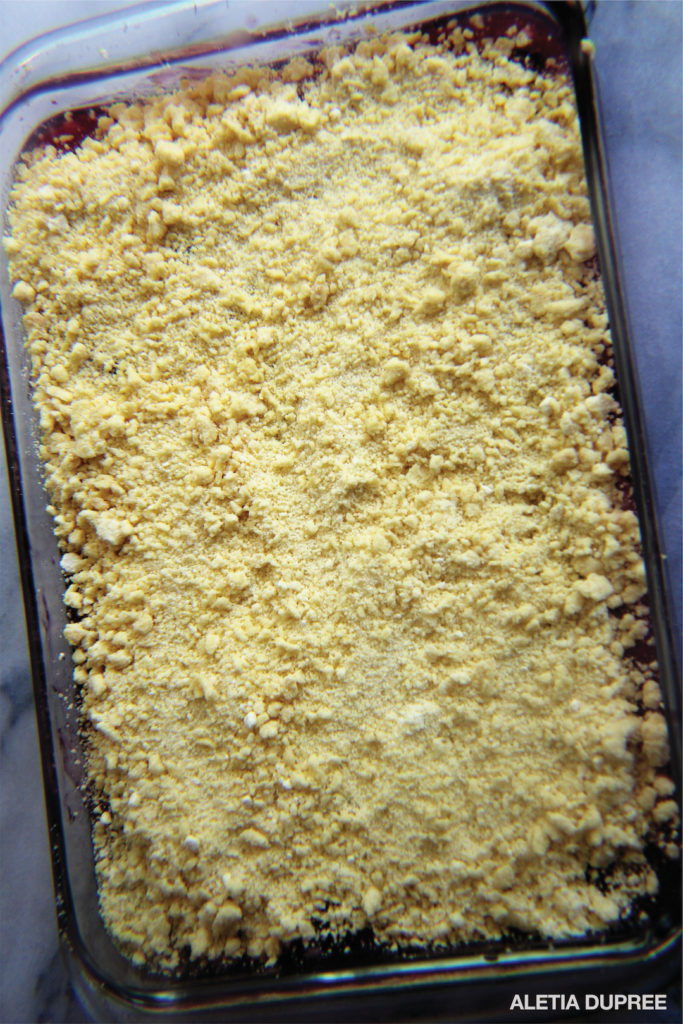 Some recipes call for just plain yellow cake mix, but I prefer the butter cake mix. I made it with both and I think the butter taste much better. I usually add about ½ cup of granulated sugar to the cherry mixture especially if the pineapple is not in the sweet heavy syrup. That's totally optional. That's it! See how easy that was! Next you bake it in the oven for about 25 minutes or until it's hot and bubbly. You want it bubbly with a nice golden brown top. The buttery cake mix topping will be deliciously crunchy. Yum! The cake mix topping is so delicious. It's hard to resist not eating it all off the top. Sprinkle with the Salted Caramel Pecans. Top with ice cream or homemade whipped cream.
Now let's make the caramel salted pecans. Here's what you will need:
3

 

cups untoasted pecan halves
½

 

cup lightly packed light brown sugar
¼

 

cup light corn syrup
4

 

teaspoons (1/2 stick) butter, cut into pieces
1/8  teaspoon sea salt
¼

 

teaspoon baking soda
¼

 

teaspoon vanilla extract
Preheat the oven to 250 degrees. Place the nuts in long baking pan and set aside.
Combine the brown sugar, corn syrup, butter and salt in a medium saucepan over medium-high heat. Stir while the butter melts and sugar dissolves, and let the whole mixture come to a slow boil.
Boil the mixture for 4 minutes with stirring. Once the 4 minutes is up, remove the pan immediately from the heat. Add the vanilla and baking soda to the brown sugar mixture in the pan, and stir it in quickly.
Immediately pour the bubbling brown sugar mixture over the nuts in the pan, and stir until the nuts are thoroughly coated with the caramel.
Place the pan in the preheated 250 degree oven and bake for 40 minutes, stirring after each 10 minutes to prevent burning.
After 4o minutes, remove the nuts from the oven. Scrape them onto a baking sheet covered with wax paper or parchment paper. Allow them to cool completely at room temperature. Break them up one they have cooled. Store in an airtight container. Enjoy!!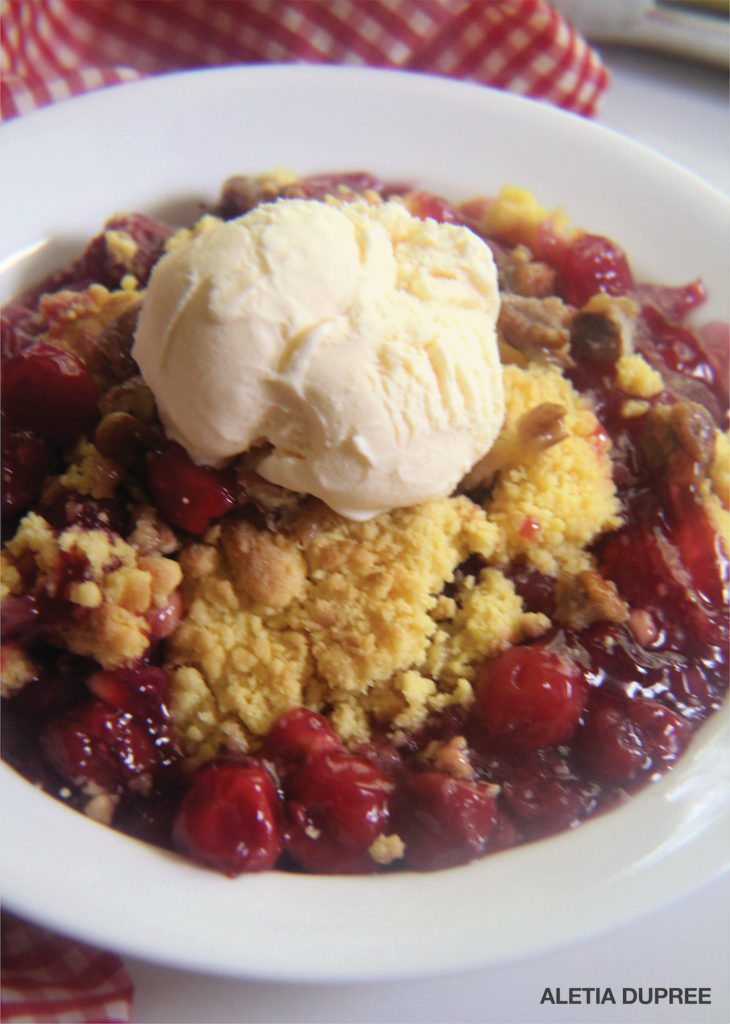 Print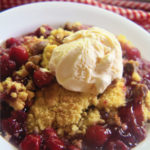 Pineapple Cherry Crunch with Salted-Caramel Pecans
---
Author:

aletiadupree

Prep Time:

10 minutes

Cook Time:

25 minutes

Total Time:

35 minutes

Yield:

10 to 12 servings
Ingredients
2 (21-ounce) cans cherry pie filling
1 (20-ounce) can crushed pineapple in heavy syrup, undrained
½ granulated sugar
½ cup (1 stick) butter
1 (18.25-ounce) box butter cake mix
1 cup chopped pecans or recipe for Salted Caramel Pecans in blog post
Vanilla ice cream or whipped cream
---
Instructions
Preheat the oven to 350 degrees. Combine pie filling, pineapple and sugar and pour into a 13 x 9x 2-inch casserole dish.
Cut butter into the cake mix and mix until mixture is coarse like cornmeal. Sprinkle evenly over the cherry mixture.
Bake or 15 minutes. Remove from the oven and sprinkle nuts on top and continue baking for 10 minutes or until bubbly and golden brown. Serve with Ice cream or whipped cream.