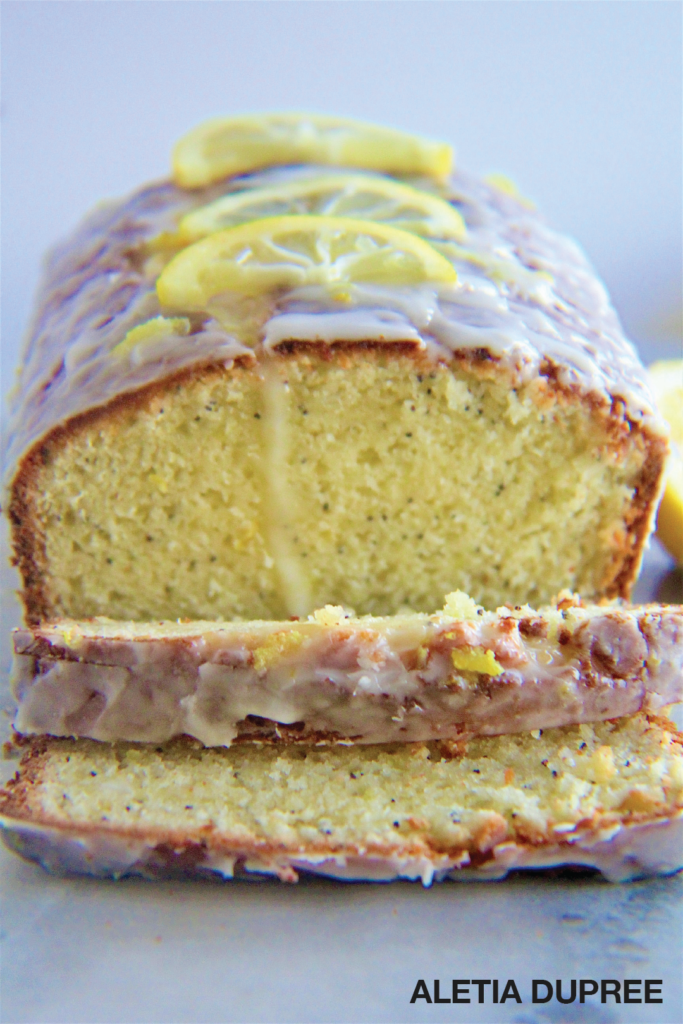 This Lemon Poppy Seed Bread is a delicious quick bread! It's so refreshing, moist and tender with the taste of fresh lemon bursting throughout the whole loaf. Sprinkled with just the right amount of poppy seeds and drizzled with an amazing creamy lemon glaze, it will be a favorite springtime treat!
It's perfect for springtime brunches, ladies teas, a snack or it makes a wonderful gift to give to a friend.
I'm totally in love with this bread!  I've been working on perfecting this recipe for a while and I'm so excited to share it with you. It's super moist and so delicious. I used oil, sour cream and buttermilk in the recipe to give it the tender moist texture because poppy seeds tend to absorb the moisture. That's why some poppy seed breads are way too dry.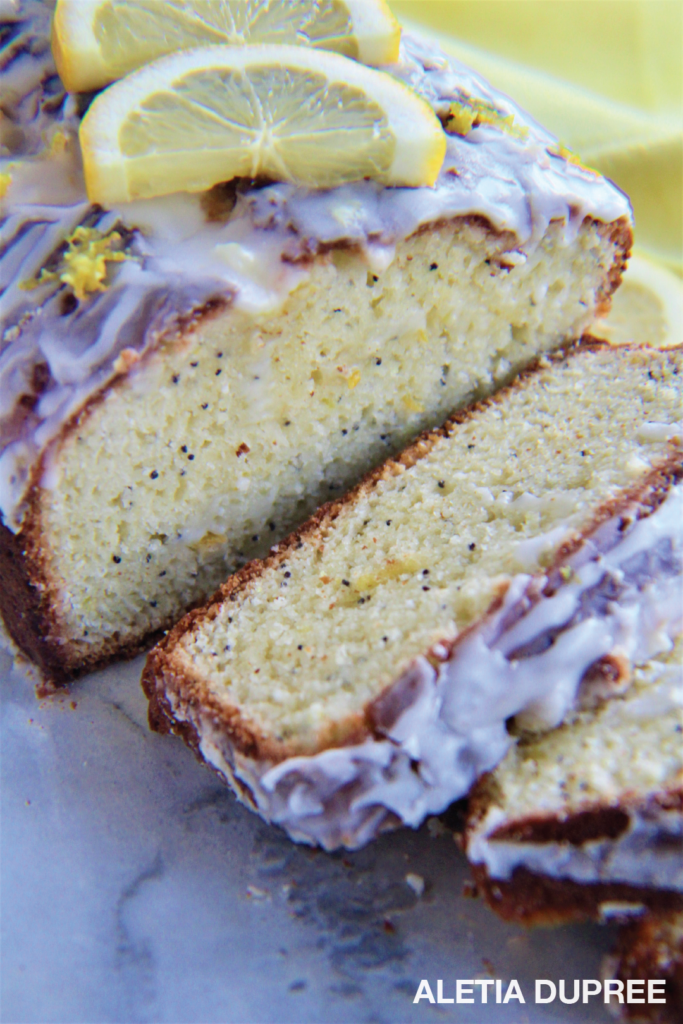 This recipe has lots of fresh lemon flavor. I put a heaping tablespoon of lemon zest in the batter along with fresh lemon juice and lemon extract. Not only does it taste delicious, it smells heavenly too. I know that you are going to be making it over and over again!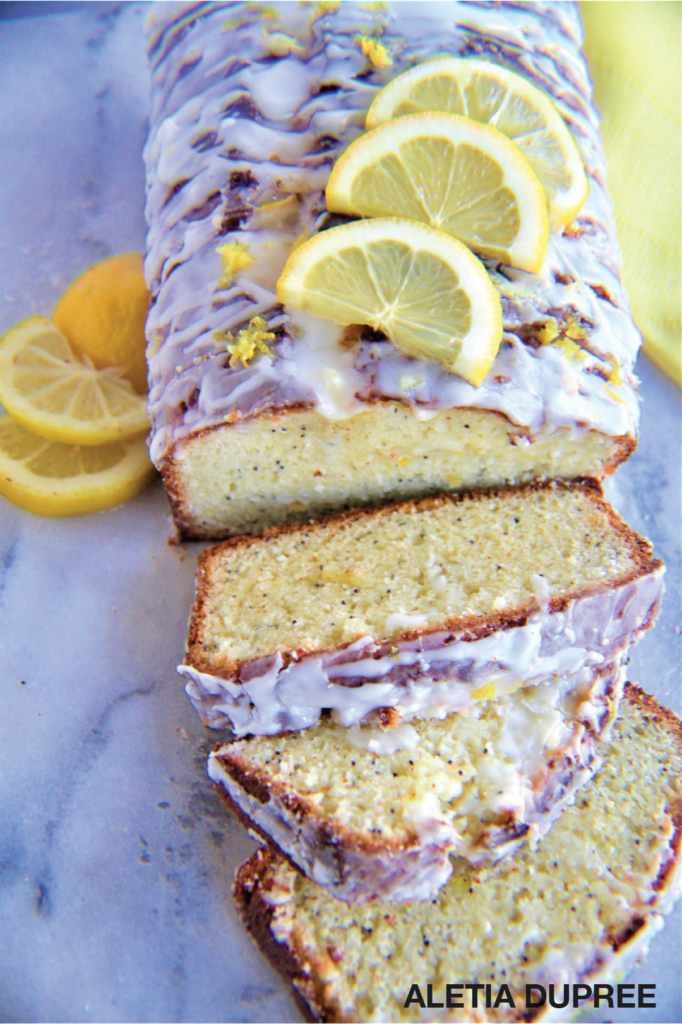 I baked a fresh loaf this morning and it's taking all my willpower not to devour the whole entire loaf right now.  It's so delicious!  Can't wait for you to get a loaf in the oven as soon as possible. Oh how I love it with my morning coffee! So I'll hurry up and tell you how to make the perfect Lemon Poppy Seed Bread.
Tips on how to make the best Lemon Poppy Seed Bread ( Be sure to see the full printable recipe at the bottom of this post.)
Wet ingredients need to be at room temperature.

Have at least your eggs at room temperature and set your buttermilk and sour cream out a few minutes before mixing up the batter.

Sift four before measuring.

I always, no matter what I'm cooking or baking,  sift my flour before measuring. This will prevent adding too much flour to the recipe. Otherwise your bread will be too dry. 

Use fresh lemon juice.

Fresh lemon is a must. This recipe calls for fresh lemon zest so buy plenty of lemons. I love the garnish with fresh lemons too.

Don't over mix.

Once you beat the eggs, sugar and oil together, use a whisk, spatula, or wooden spoon to mix all the other ingredients together just until all the ingredients are incorporated.  Over mixing will make the bread tough.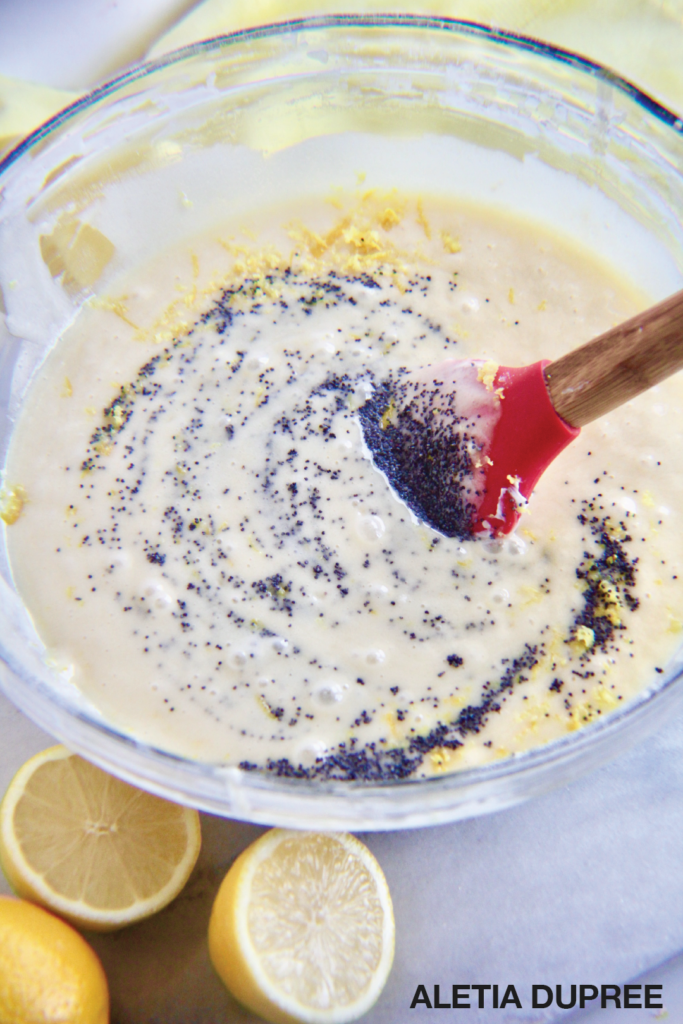 Add the baking soda to the sour cream.

Adding baking soda to the sour cream helps to activate the sour cream that helps your bread to rise taller.  I add the soda just before I fold the sour cream in the batter. You don't want to do it too soon or it can make your bread fall.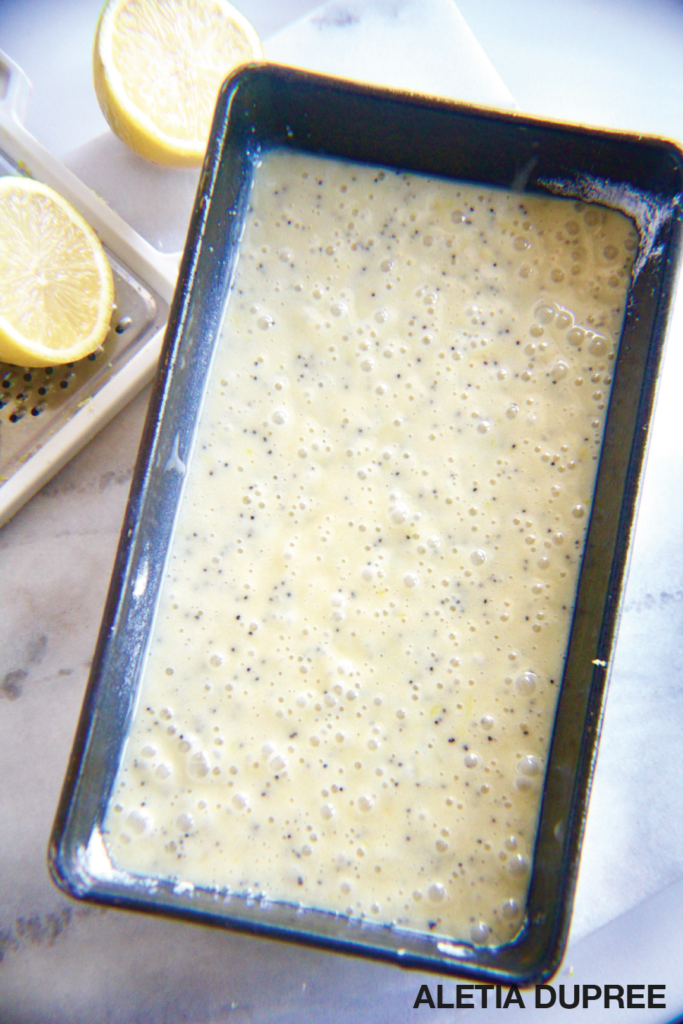 It's ready to go into the oven now.
Don't over bake.

My loaf cooked in about 55 minutes. Ovens temperatures vary so if your oven tends to run a little hotter, reduce the temperature to 325 degrees.

Don't skip the lemon glaze.

The fresh lemon glaze just completes the loaf. It's so simple to make too. The glaze is so good and it keeps the loaf extra moist. I like to punch tiny holes in the loaf with a toothpick before drizzling it over the bread to let the lemon glaze soak inside the bread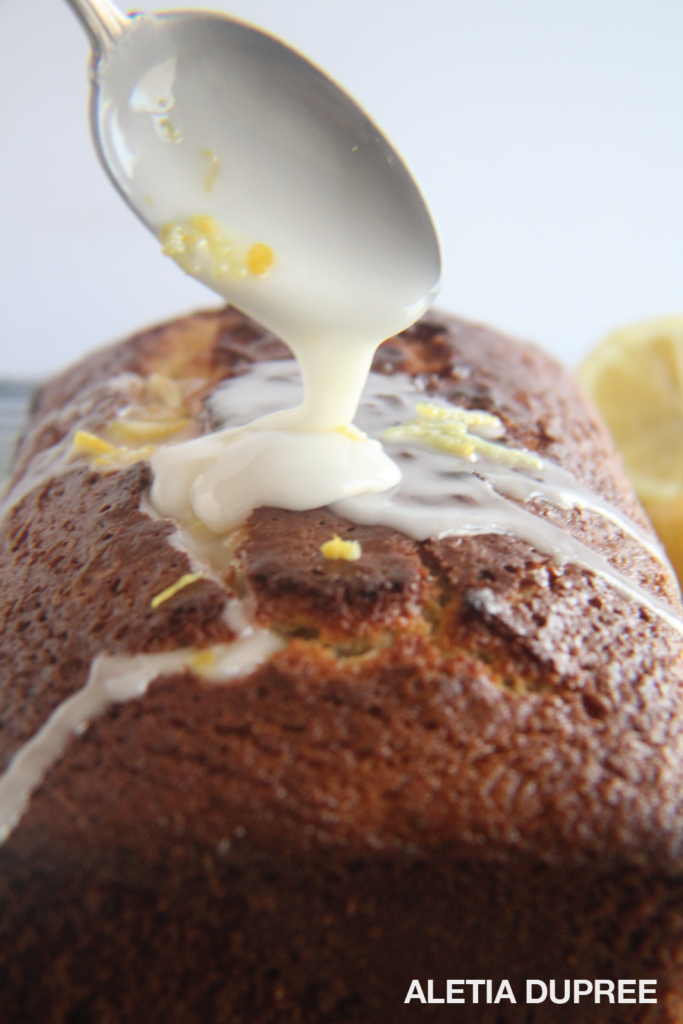 Three magical ingredients.

The oil, sour cream and buttermilk are the three ingredients to the perfect texture. Be sure to follow the recipe to a T!
More tips!
This batter also makes great muffins too. I love poppy seed lemon muffins or you can use the little mini loaf pans to bake in as well. Just reduce the baking time. For the standard muffins size pan, bake for about 15 minutes. For the mini loaf size pan, bake for 20 to 25 minutes.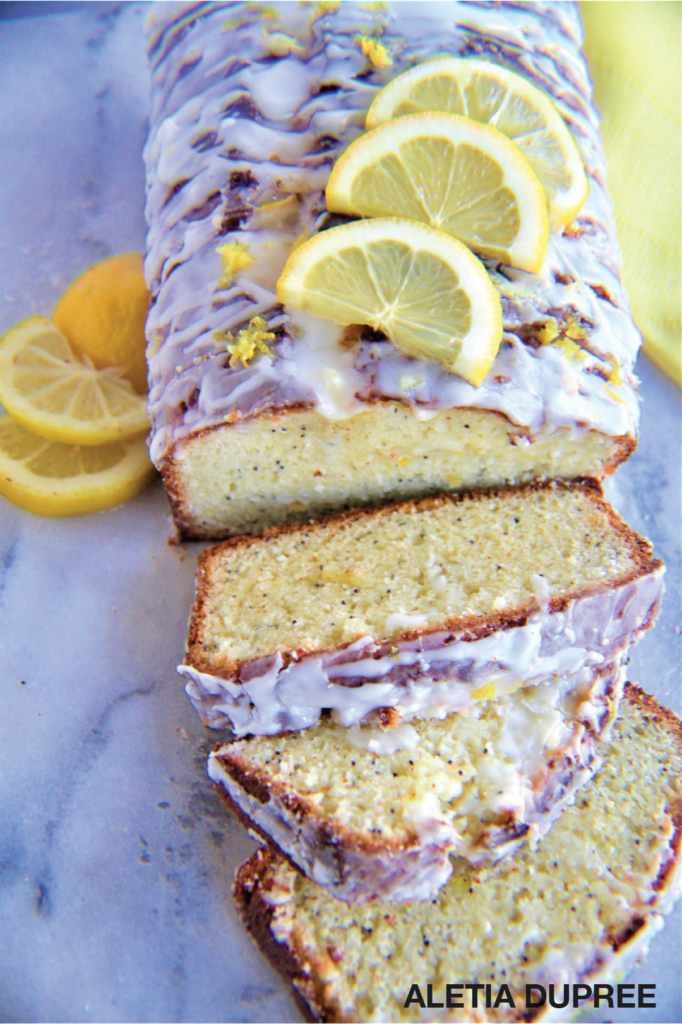 Please leave a comment below. I would love to hear from you and let me know if you bake the delicious Lemon Poppy Seed Bread and if you do be sure to use #deliciouslysouthern. 
For more delicious Southern recipes, be sure to check out my cookbook Deliciously Southern. My cookbook makes a great gift to yourself or someone you know who loves Southern food. 
Thank you for stopping by! I'll be back soon with more delicious recipes!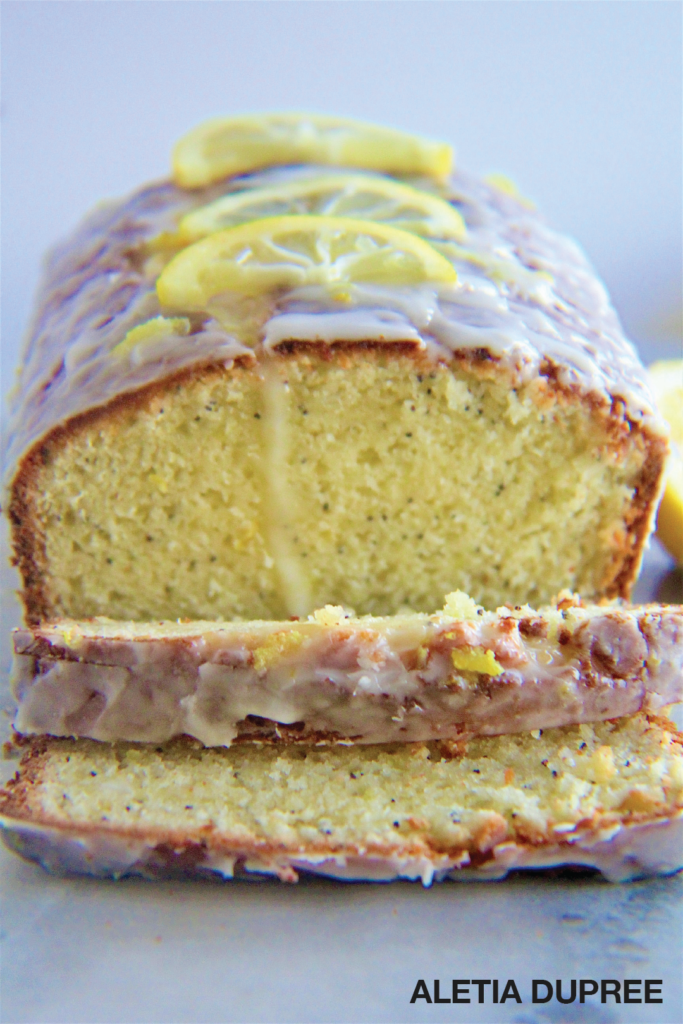 Print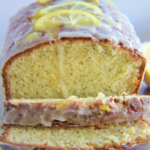 Lemon Poppy Seed Bread
---
Author:

aletiadupree

Prep Time:

15 Minutes

Cook Time:

55 Minutes to 60 Minutes

Total Time:

-28262265.2 minute

Yield:

1 Loaf

Category:

Breads
Description
This Lemon Poppy Seed Bread is super moist and so delicious! It's bursting with fresh lemon flavor all the way through and topped with a delicious lemon glaze. It's perfect for springtime brunches, breakfast, a snack or a gift to a friend.
---
Ingredients
2 cups (plain) all-purpose flour (sifted and then measured)

1 ½ teaspoons of baking powder

1 teaspoon salt

2 eggs, plus 1 egg yolk

1 ½ cups white granulated sugar 

½ cup vegetable oil

½ cup buttermilk milk

½ teaspoon baking soda 

½ cup sour cream 

1/4 cup of fresh lemon juice
1 tablespoon of lemon zest

¼ teaspoon pure vanilla extract

1 teaspoon pure lemon extract

1 tablespoon poppy seeds
For The Glaze
1 cup confectioners' sugar

3 tablespoons fresh lemon juice
1 teaspoon lemon zest
Extra lemon slices for garnish, optional
---
Instructions
Preheat the oven to 350 degrees.  Spray a 9 x 5 inch loaf pan with a nonstick spray. I also dust the loaf pan with about 1 tablespoon of flour. In a medium size mixing bowl, combine flour, baking powder and salt together. Set aside.

In a separate bowl, beat eggs until they are light yellow. Add sugar and oil and beat on low speed with an electric mixer until sugar is dissolved. About 15 seconds. 

Using a whisk or wooden spoon, stir in the buttermilk.

Slowly mix the flour mixture together with the wet ingredients. 

Add the baking soda to the sour cream and gently fold into the batter. 

Next, stir in the lemon zest, lemon juice, vanilla extract, lemon extract and poppy seeds. (Note: Be sure not to overmix batter.)

Pour the batter into the prepared loaf pan and bake for 55 to 60 minutes or until a toothpick inserted in the center comes out clean. Some oven temperatures vary. If your oven temperature tends to run hot, bake the loaf at 325 degrees. Be careful not to over bake.

Let the bread cool on a wire rack. I like to pour the glaze over the bread while it's still warm. If you want the icing to seep into the bread, punch tiny holes in the bread with a toothpick. This will help keep the bread extra moist. 

Let the bread cool for at least 10 to 15 before slicing. Garnish with extra lemon slices if desired. Enjoy!
Notes
Do ahead/freeze tips: This bread can be made up several days ahead. Wrap well in plastic wrap or foil and store at room temperature. This bread also will freeze for up to two months. 
Recipe Note: This batter makes wonderful muffins too or you can also use the little mini loaf pans as well. Just adjust the baking time. For standard size muffin pans, bake for about 15 minutes. For the mini loaf pans, bake for about 20 to 25 minutes.