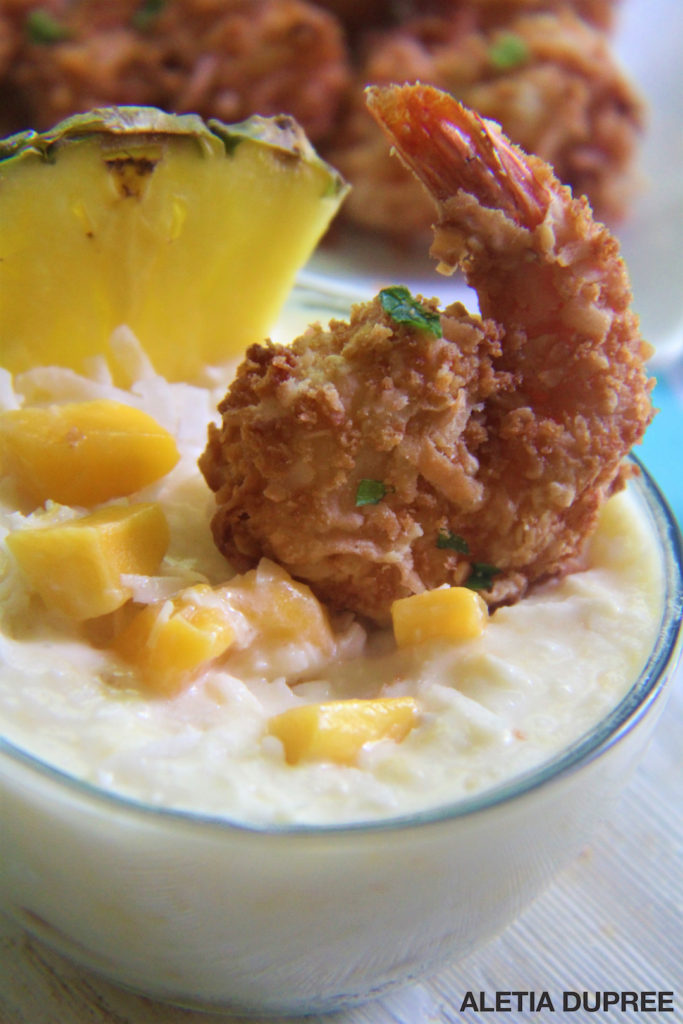 Ah….the delicious taste of sweet, juicy, golden, crispy coconut shrimp dipped in a sweet coconut-pineapple- lime-mango sauce. 
One bite and you will think you have been whisked away to a tropical paradise.
What a great summer tradition! Of course, coconut shrimp can be enjoyed any time of the year, but it's just something special about eating coconut shrimp in the summertime. It reminds me of being at the beach and sitting at an open-air restaurant, enjoying the ocean breeze.
I'm so excited to share this recipe with you today. I know you will love it just as much as I do. I would put this recipe up to the best restaurants that are famous for their coconut shrimp.
I've eaten a lot of coconut shrimp and I'm confident to say I think this recipe is the best. Plus you can enjoy eating until your heart's content without the expensive restaurant prices.
Whether you serve it as an appetizer or for your main dish, it will be the most remembered dish that you will ever make.
It's really super easy to make! If you are making this to serve at a party or as an appetizer, buy the large size shrimp and buy the jumbo size for a main entrée.  Be sure they are peeled and deveined with the tails on.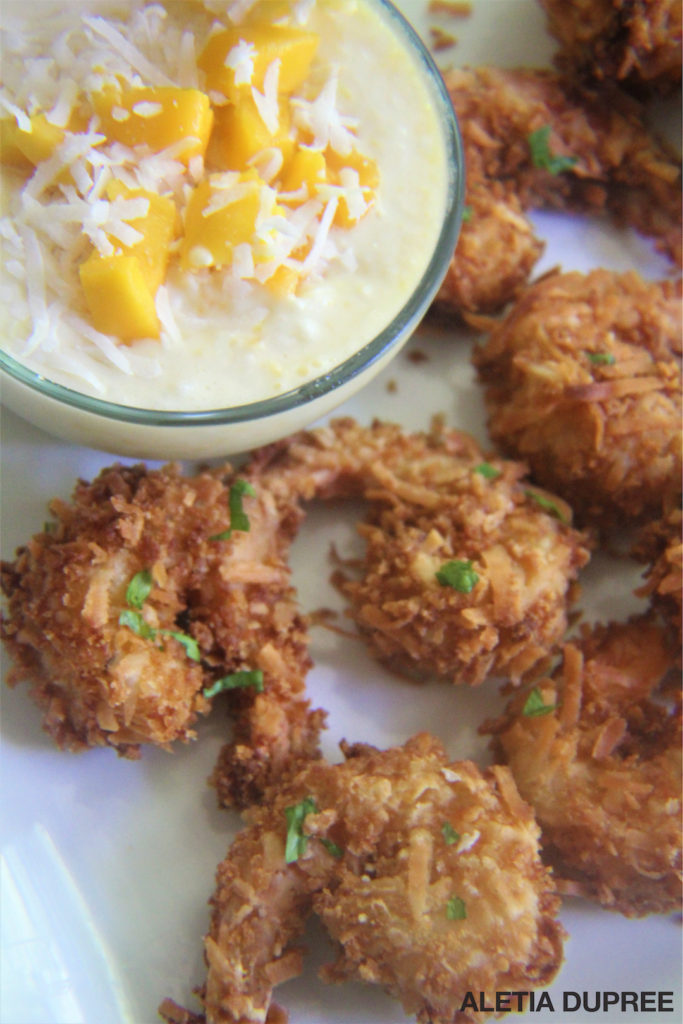 Here's the step-by-step process:
You will need 3 bowls-one for flour and the Caribbean jerk seasoning, one for the egg mixture and one for the panko-coconut mixture.
Dredge the shrimp into flour seasoned with Caribbean jerk seasoning. The Caribbean seasoning gives it a nice flavor with just the right amount of kick. Dunk shrimp into the egg-sugar mixture. The sugar in the eggs gives the shrimp a delicious sweet taste. Next roll the shrimp in the panko breadcrumb/coconut mixture and place the shrimp on a parchment lined baking pan and place in the refrigerator for at least 20 to 30 minutes. Chilling helps to keep the breading on the shrimp while frying.  You can use vegetable oil to fry, but I prefer frying the coconut shrimp in coconut oil. Coconut oil gives the shrimp an extra good favor and coconut oil holds up well over high heat which makes the shrimp extra crispy and not as greasy as vegetable oil.
Caribbean Dipping Sauce, it's absolutely delicious and it's perfect for dipping the Coconut Shrimp into. I like to make it the day before so it can thicken up and all the wonderful tropical favors have a chance to soak in.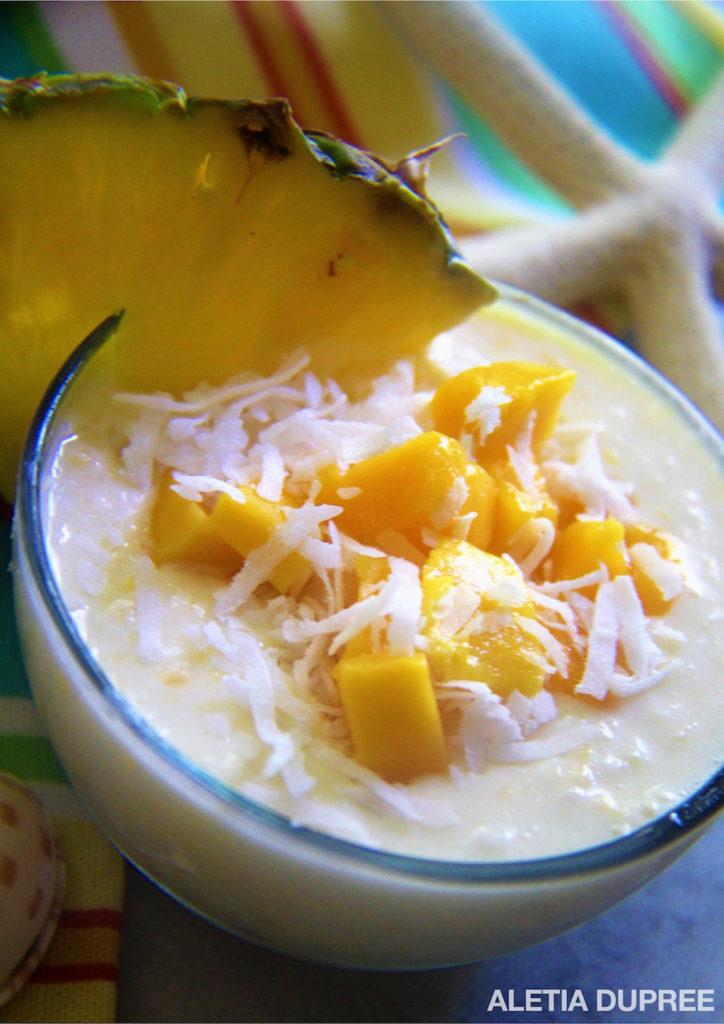 Enjoy!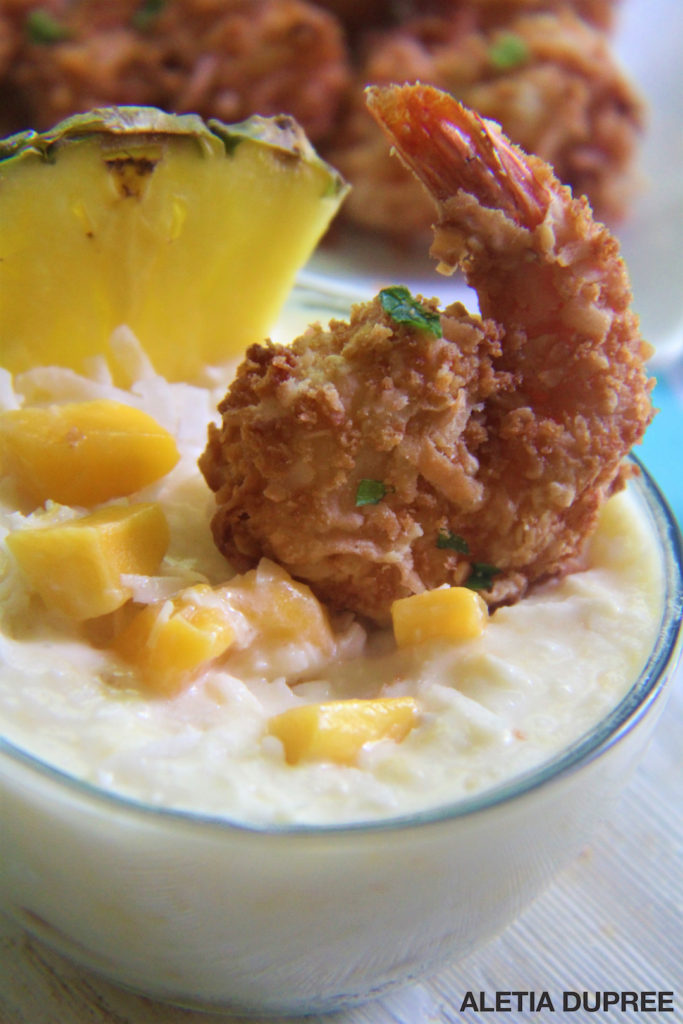 Print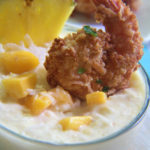 Coconut Shrimp with Caribbean Dipping Sauce
---
Ingredients
For the Shrimp:
1 pound extra-large or jumbo shrimp (21 to 25 count), peeled and deveined
1 cup all- purpose flour
½ teaspoon salt
2 teaspoons Caribbean jerk seasoning
2 eggs, beaten
2 tablespoons water
3 teaspoons granulated sugar
¾ cup Japanese-style breadcrumbs (Panko)
1 cup sweetened shredded coconut
1 to quarts of oil for frying, coconut oil or vegetable oil
Garnish, freshly chopped parsley
For the Caribbean Dipping Sauce:
1 cup Greek yogurt
1 cup cream of coconut
½ cup pineapple preserves
¼ cup frozen coconut or flaked coconut
½ cup finely chopped frozen mango
2 teaspoons lime juice
---
Instructions
Make the Caribbean Sauce: mix all the dipping sauce ingredients in a medium size bowl. Place in an airtight container in the refrigerator until ready to serve. Will keep up to 7 days.
Make the shrimp: Whisk together the flour, salt and Caribbean jerk seasoning. In another bowl add water and sugar to the eggs. In a third bowl combine panko breadcrumbs and coconut.
Dredge shrimp into flour mixture, then the egg mixture, next roll shrimp in the panko-coconut mixture. Place shrimp on a baking sheet lined with parchment paper. Repeat the process with the remaining shrimp.
Place coated and breaded shrimp in the refrigerator for 15 to 20 minutes before frying. Chilling helps to keep the breading on while frying.
While the shrimp is chilling, heat oil in a large Dutch oven. Pour oil to a depth of 2-inches; heat over medium heat until oil reaches 350 degrees F.
Fry shrimp in small batches 5 to 6 at a time for 1 to 2 minutes on each side. Fry until shrimp is a golden brown. Drain on paper towels. Serve with Caribbean Dipping Sauce.