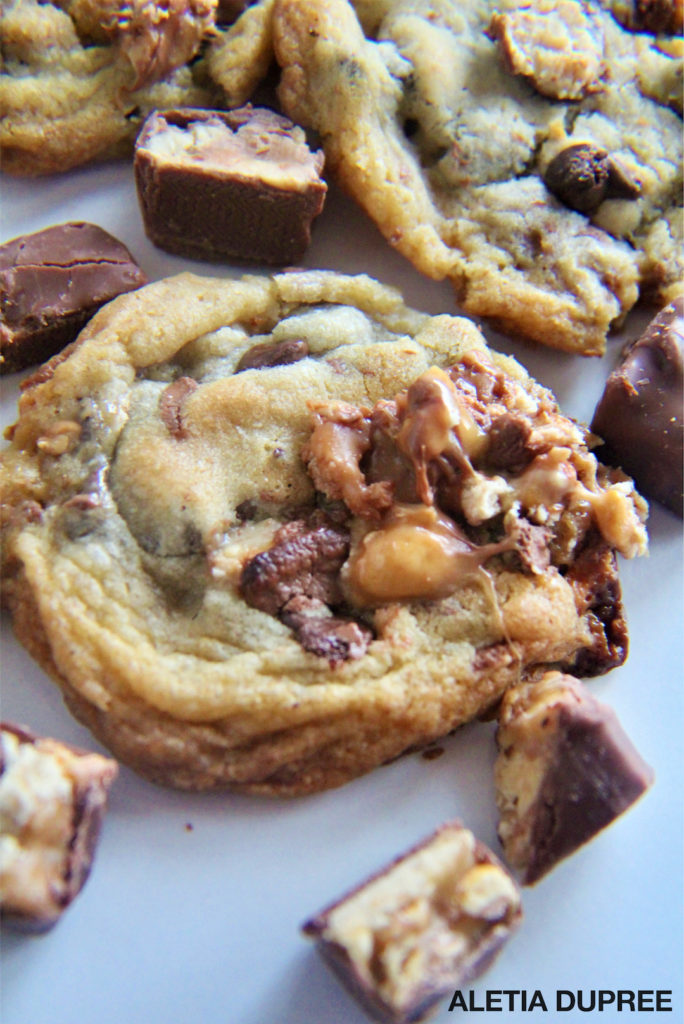 T hese cookies are hands down my all-time favorite cookie!  One reason is that it's made with my favorite candy bar Snickers. Bites of crunchy peanuts, creamy caramel, and chocolate are filled in the center of these soft, chewy, tender cookies and the outside has delicious crispy edges making it the perfect balance of soft, tender, crispy and sweet and salty! Everything that you want a cookie to be.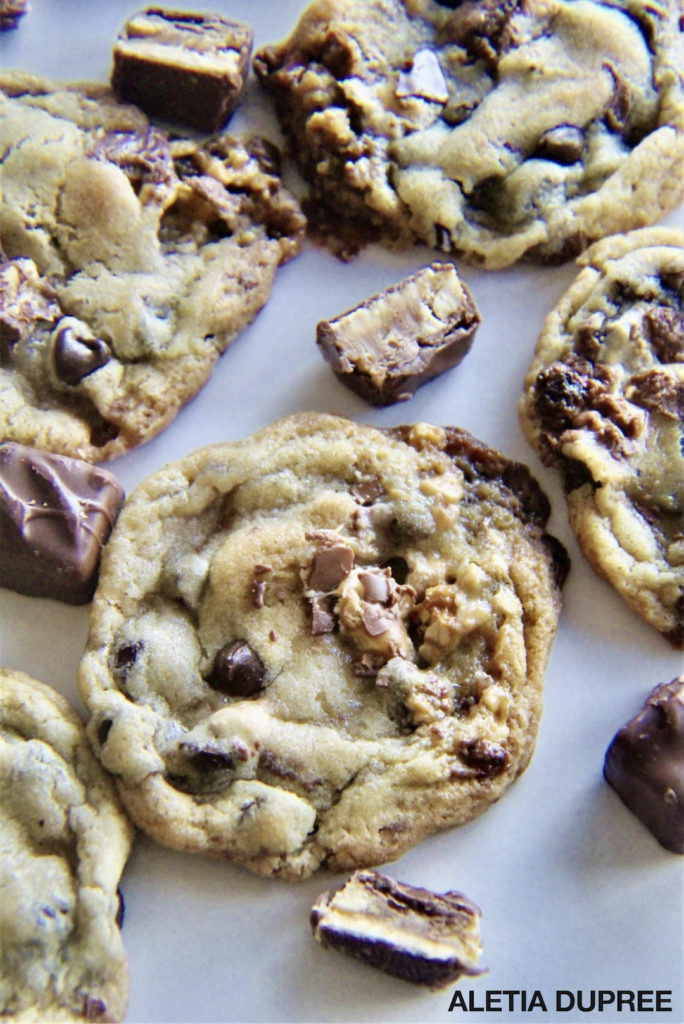 You are going to love this chocolate chip cookie dough base. You can use it for all your chocolate chip cookie baking. If you aren't a fan of Snickers, just replace them with your favorite candy bar, M & M's, chocolate chunks, or use all regular size chocolate chips.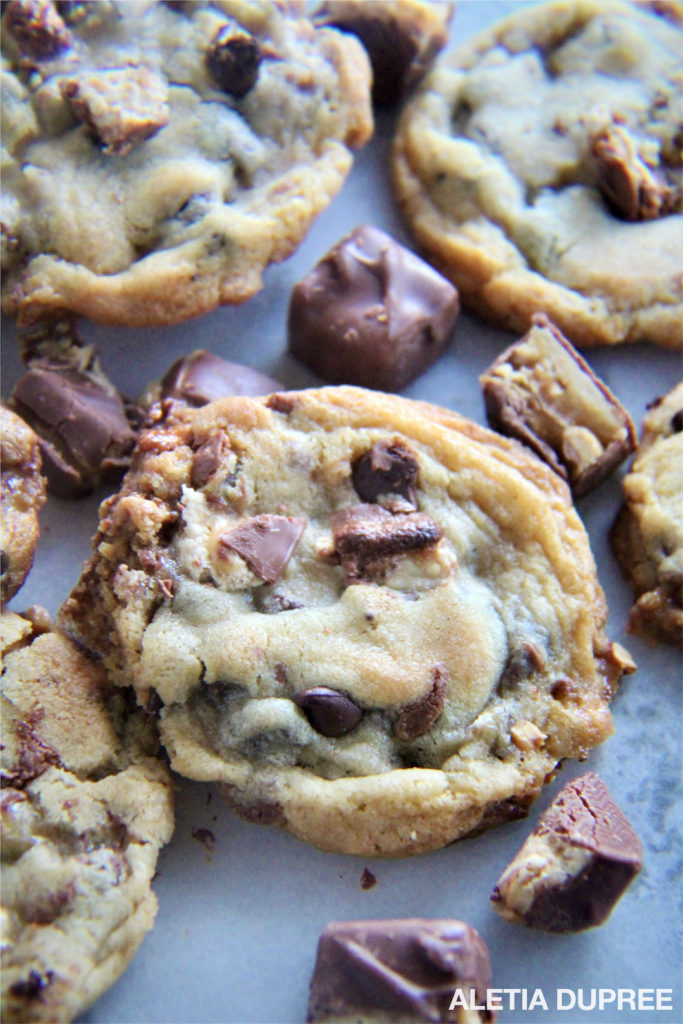 Tips on How to make Ooey Gooey Chocolate Chip Snicker Bar Cookies (Please see the full printable recipe below)
In this recipe, we are going to use a combination of butter and solid vegetable shortening. The butter gives the cookies a delicious buttery taste and gives the edges their crispness. I used salted butter in this recipe. The extra salt in the butter helps to balance out the sweetness. The solid vegetable shortening or Crisco makes the cookies soft and keeps them from spreading out too much when they are baked. If you have a stand-up mixer, be sure to use the paddle attachment when mixing everything up. You'll need to beat the butter and vegetable shortening until they are light and fluffy. 

Next, is the sugar. I use brown sugar and a little bit of white granulated sugar. The brown sugar gives softness to the cookies and a delicious warm toasty nutty flavor. The white sugar adds more sweetness. Trust me it's the perfect combination! Beat the sugars with the butter and vegetable shortening until it's light and fluffy. 

Now, the eggs are beaten in. One egg and one egg yolk. The extra egg yolk ( only) adds so much richness. It's amazing!! That extra egg yolk does the trick!' (Note: 2 eggs is too much so don't be tempted to throw the whole egg in.)

We have a whole Tablespoon of pure vanilla extract. Yes, it's a Tablespoon. I didn't want you to think that you read the recipe wrong. Aw, the extra flavor that the vanilla gives to the cookie literally takes the cookie to the third heaven! I'm telling you the truth. So be sure to put the whole tablespoon in. I promise it won't be too much.

I mix a few teaspoons of cornstarch with flour, baking soda, and salt. Cornstarch is a very special secret ingredient to soft chewy cookies. 

Once the dry ingredients are beaten with the wet ingredients, we'll stir the pieces of Snicker bars and chocolate chips in by hand. The batter will be thick so you'll need a heavy-duty wooden spoon.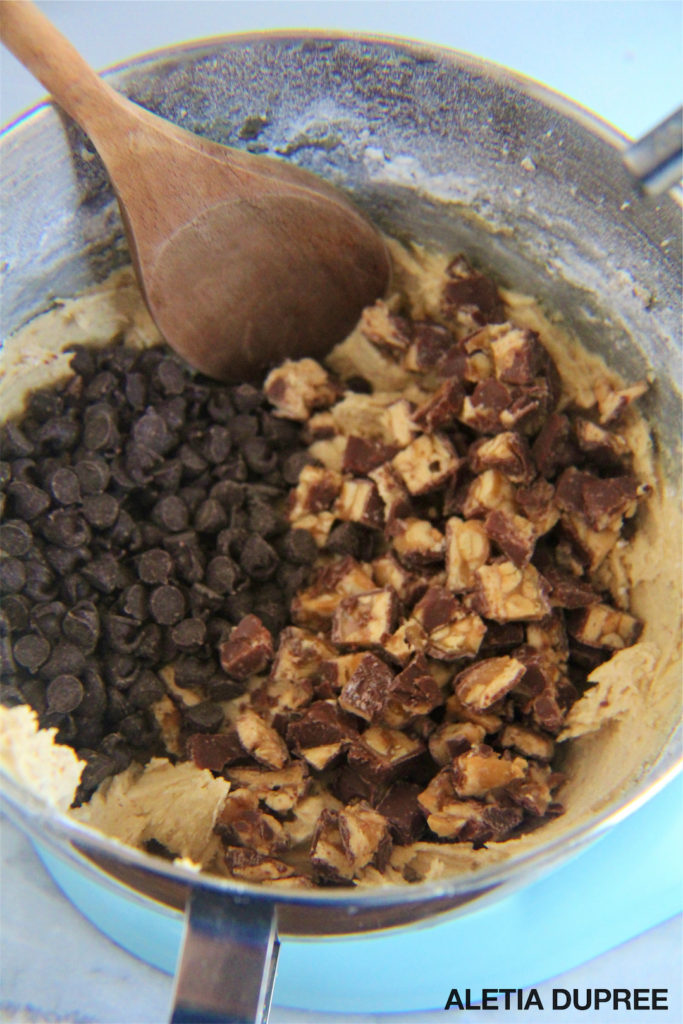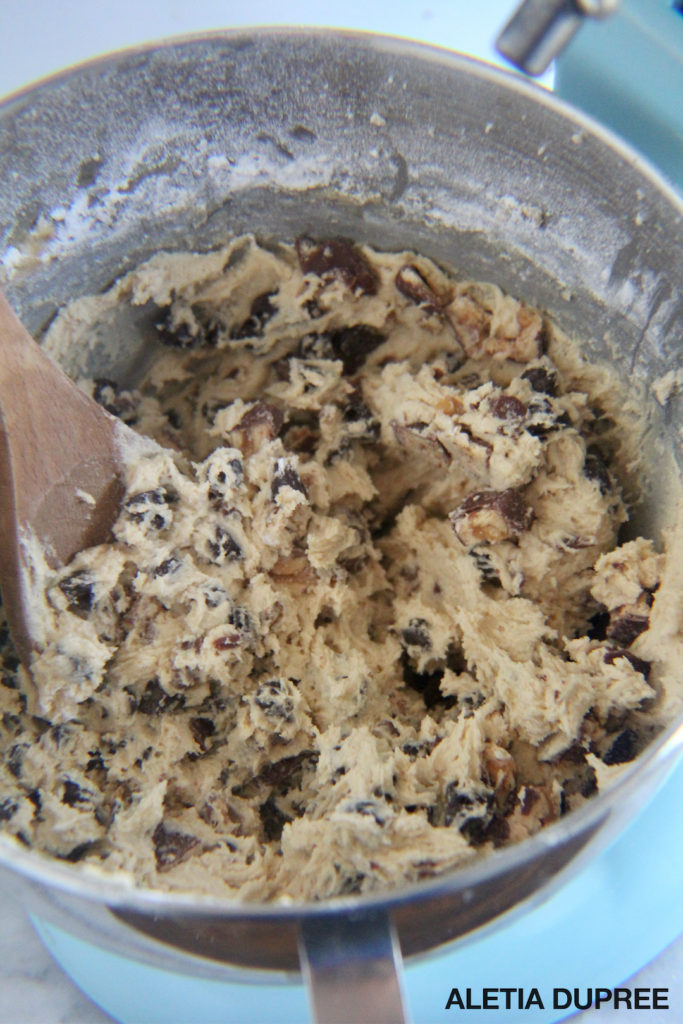 I know by now you are ready to get these babies in the oven, but you'll need to chill the dough for at least 2 hours because if you bake warm cookie dough it will spread out like flat pancakes. Another trick that I have learned to keep the cookies from spreading too much is to shape the cookie dough balls in a cone shape about 1 ½ inches high and place them about 2 inches apart. See the photo below.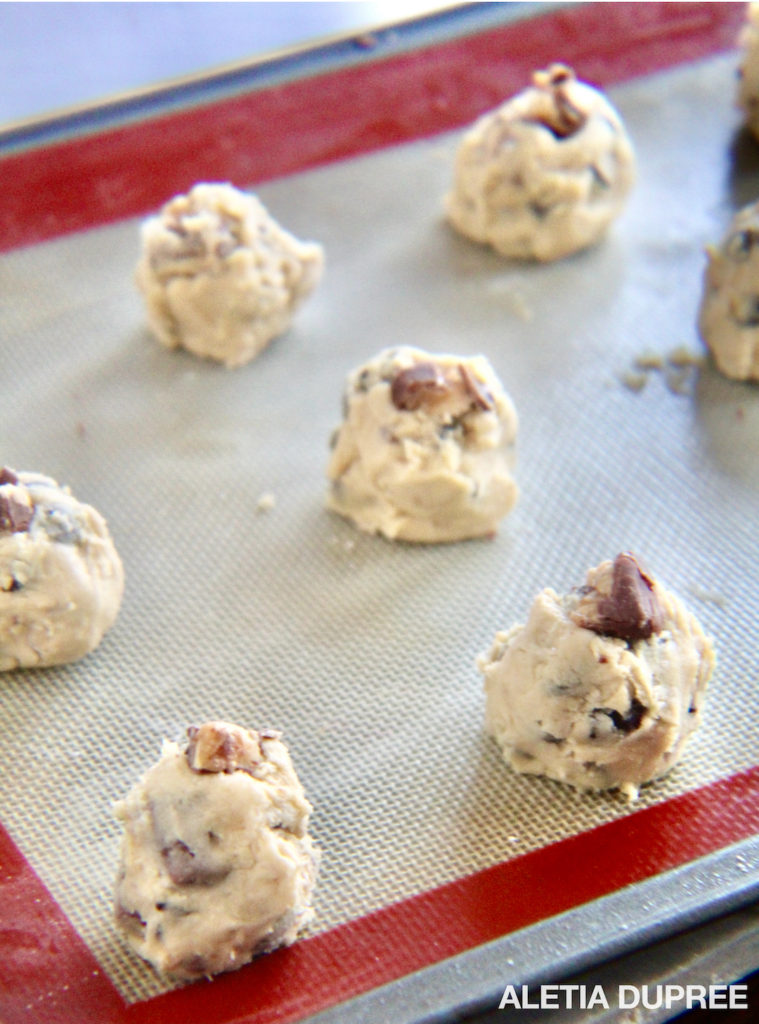 This dough does need to be chilled in the refrigerator for at least 2 hours or place it in the freezer for one hour. 

I like to make the dough up the night before and let it chill in the fridge overnight. Or you can make up a batch and freeze the uncooked dough. It works out beautifully. 

Lastly, be sure not to over-bake your cookie. Oven temperatures vary so check on your cookies after they have baked for 6 minutes. It usually takes about 8 minutes. The center will be a little doughy but that is what you want because the cookies will continue to cook after you take them out of the oven. If they cook too long, your cookies will be hard and crispy and not soft and chewy.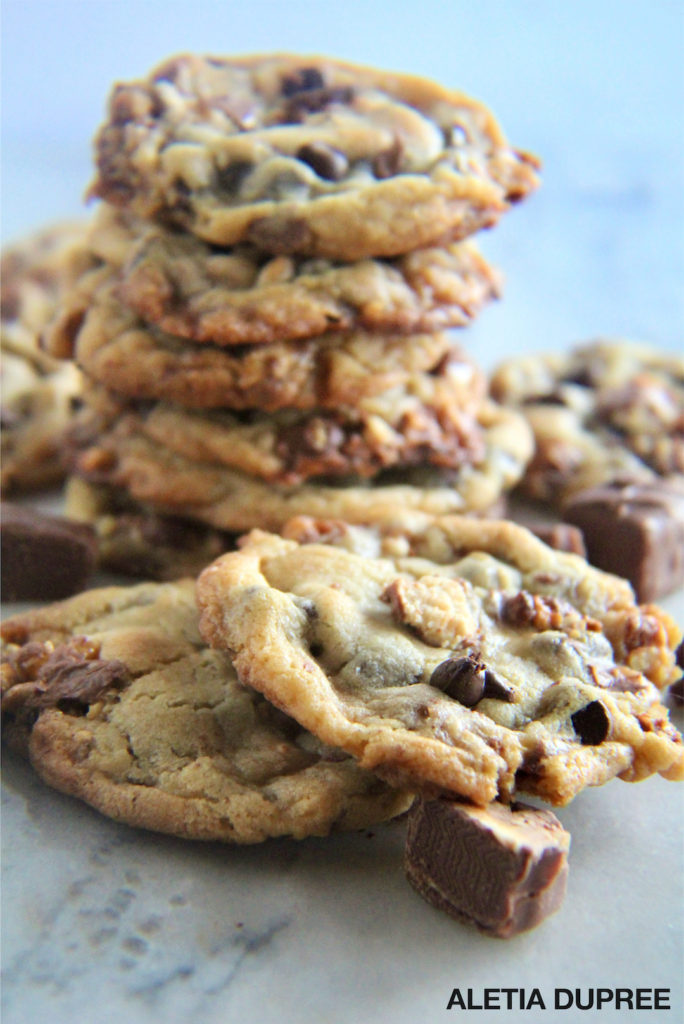 I hope you enjoy these cookies as much as  I do. And please,  relax and pour yourself a big ole cold glass of milk because you deserve an Ooey Gooey Snickers Chocolate Chip Cookie break!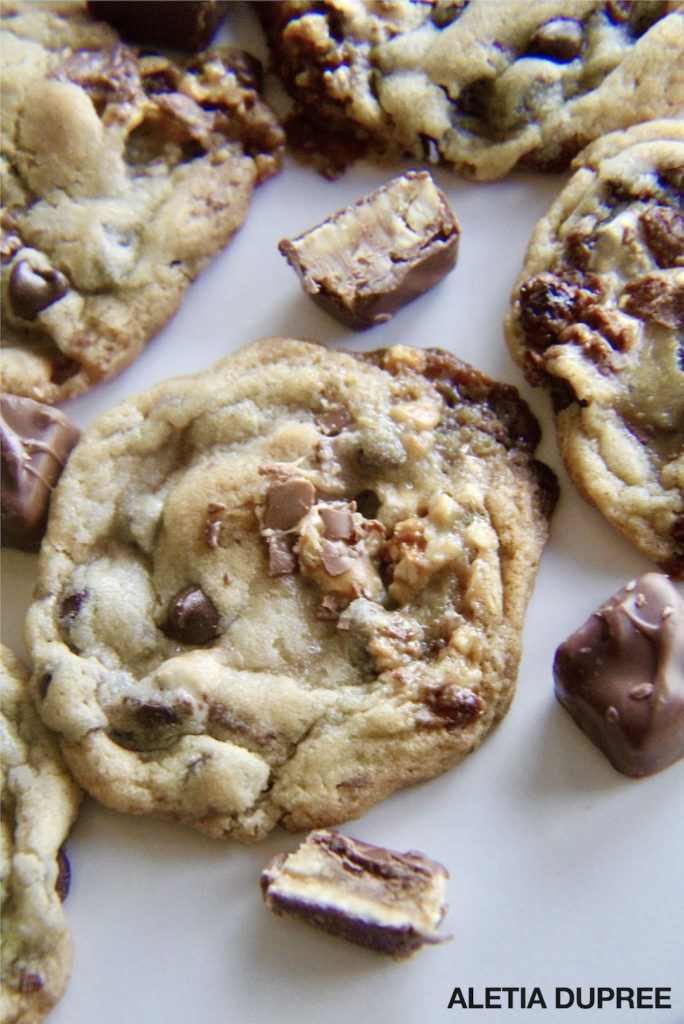 Print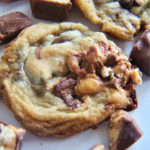 The Best Ooey Gooey Chocolate Chip Snicker Bar Cookies
---
Author:

aletiadupree

Prep Time:

12 minutes

Cook Time:

8 minutes

Total Time:

20 minutes

Yield:

26 to 28 cookies
Description
These cookies are soft, chewy, ooey-gooey on the inside with deliciously crispy edges on the outside. They are the perfect balance of sweet and salty. The cookie recipe that you will enjoy over and over again.
---
Ingredients
¾ cup (1 ½ sticks) salted butter

¼ cup solid vegetable cake shortening such as Crisco 

1 ½ cups light brown sugar, firmly packed

¼ cup white granulated sugar

1 egg plus 1egg yolk 

1 tablespoon pure vanilla extract

2 cups all-purpose flour

1 teaspoon baking soda

1 teaspoon salt 

2 teaspoons cornstarch 

1 cup semi-sweet chocolate chip morsels

1 ½ cups diced Snickers bars ( or your favorite candy bar, large chocolate chunk chips or M&M's can be substituted as well.)
---
Instructions
If you are using a stand-up mixer, use the paddle attachment to mix the batter. In the mixing bowl, beat butter and shortening together until well combined. Add brown sugar and white granulated sugar and beat on medium-high speed until light and fluffy. Next, add the egg, egg yolk, and vanilla and beat until light and fluffy. About 5 minutes. If you are using a hand electric mixer, beat a few minutes longer.

Scrape down the sides of the bowl. In another bowl combine the flour, baking soda, salt, and cornstarch together. Add the dry four ingredients to the wet (sugar) ingredients and mix until just combined. About 1 minute.

Using a sturdy wooden spoon, stir in the chocolate chips and Snicker bar pieces. Mix by hand. (Note: Batter will be thick)

Using a medium 2-inch cookie scoop, scoop about 26 mounds of cookie dough on a large tray or plate. Cover with plastic wrap and refrigerate for at least two hours or overnight. ( Note: dough can be refrigerated for up to 5 days before baking and can be frozen for up to 2 months) Don't bake warm cookie dough because cookies will be flat and will spread out too much. Plus chilling the dough allows the flavors to soak up and gives you a better tasting cookie, I think.

 Once you are ready to bake, preheat your oven to 350 degrees. Line a cookie sheet pan with parchment paper, baking matt, or spray with a nonstick spray. Roll cookie dough up and shape into a cone shape about 1 ½ inches high. (See photo in the blog post above.) Place cookie mounds about 2-inches apart and bake for 7 to  8 minutes. The center should be a little gooey. Be careful not to over-bake because the cookies will set and continue to bake after taking them out of the oven. 

Allow the cookies to cool and set on the cookie sheet for about 3 to 4 minutes and then gently transfer them to a wire rack to continue cooling. 

Store cookies in an airtight container for up to 6 days at room temperature. Cookies will freeze for up to 2 months. Enjoy with a cold glass of milk!