I simply couldn't imagine a Thanksgiving or Christmas dinner without this amazing casserole. You can rest assured that someone in our family will be assigned to making the" sweet potato crunch" because for as long as I can remember this casserole has always graced our holiday table.
Every year at the dinner table, we debate whether it's a side dish or dessert, but we all end up agreeing it can be both.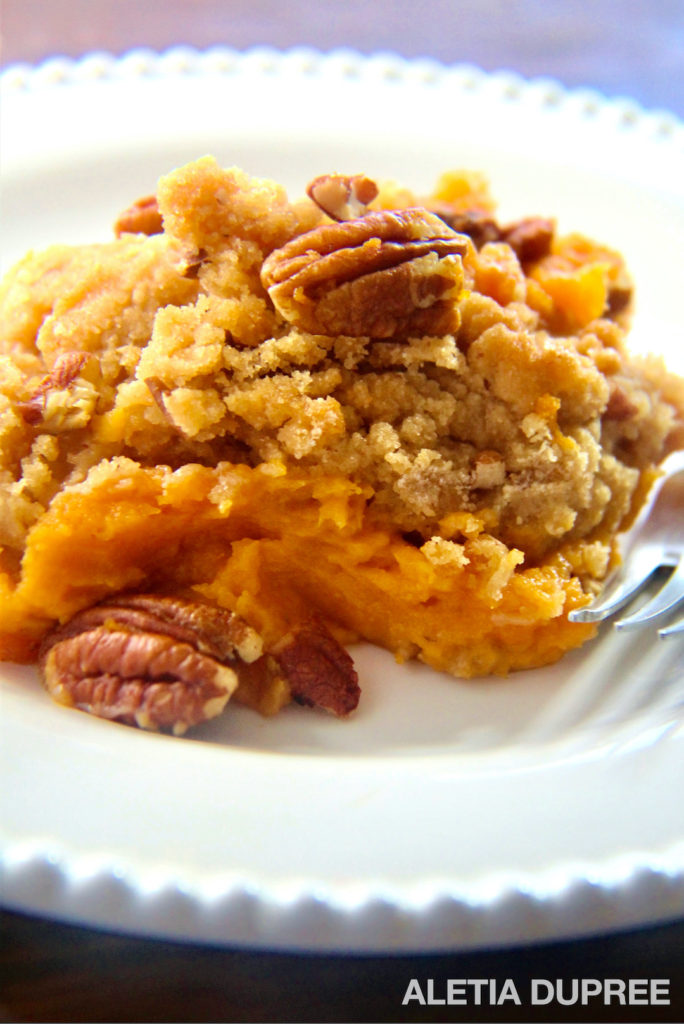 A light, fluffy, sweet, and savory sweet potato souffle topped with a crunchy, buttery brown sugar pecan topping! Yum! No wonder it's so irresistible.
Tips to Making the Best Sweet Potato Crunch:
Buy the extra-large jumbo sweet potatoes because they are much less stringy than the smaller sweet potatoes. About three large jumbo size potatoes are what you will need for this recipe.

Boil the potatoes rather than baking them. I have found that boiling the potatoes for the souffle keeps them a beautiful bright orange.

Beat the sweet potatoes with an electric mixer while the potatoes are still warm is key to a light and fluffy sweet potato souffle.  My Aunt Peggy shared this secret with us years ago.  She always makes the absolute best sweet potato crunch casserole!! Then slowly add the sugar and continue beating. Next add the butter, eggs, milk, and vanilla.  Another secret tip from her is to beat the living daylights out of the souffle. That's the Southern version of whip it on high for about five to ten minutes or until it's light and fluffy.

Use salted sweet cream butter, not margarine. Believe me, the rich delicious taste of sweet cream butter makes all the difference in the world.

Use whole milk or as my grandmother would say "sweet milk"

The extra fat in whole milk gives the souffle a rich creamy taste which is what we want for the perfecting sweet potato crunch!

Using a pure vanilla extract is the most important ingredient for the best tasting souffle. I try to keep Madagascar Bourbon Vanilla on hand. It's the finest pure vanilla on the market and it's worth every penny.

Bake the sweet potato souffle for about 10 minutes before adding the brown sugar pecan topping. This keeps the topping from browning too fast while the souffle is cooking. (after about 10 minutes, remove the souffle from the oven and sprinkle with the topping. Return to the oven and finish baking for 15 to 20 minutes longer or until the brown sugar topping has melted and the souffle is hot and bubbly.

For the topping, my secret tip is to mix all the ingredients together with your hands. This is the only way to do it! I actually squeeze the mixture together. You want the topping to form a ball or wet soft clumps. Also divide half the pecans. I mix half of the pecans in the topping and then sprinkle the remaining pecans on top as soon as I take it out of the oven. Garnish with a few whole pecans halves for a nice touch.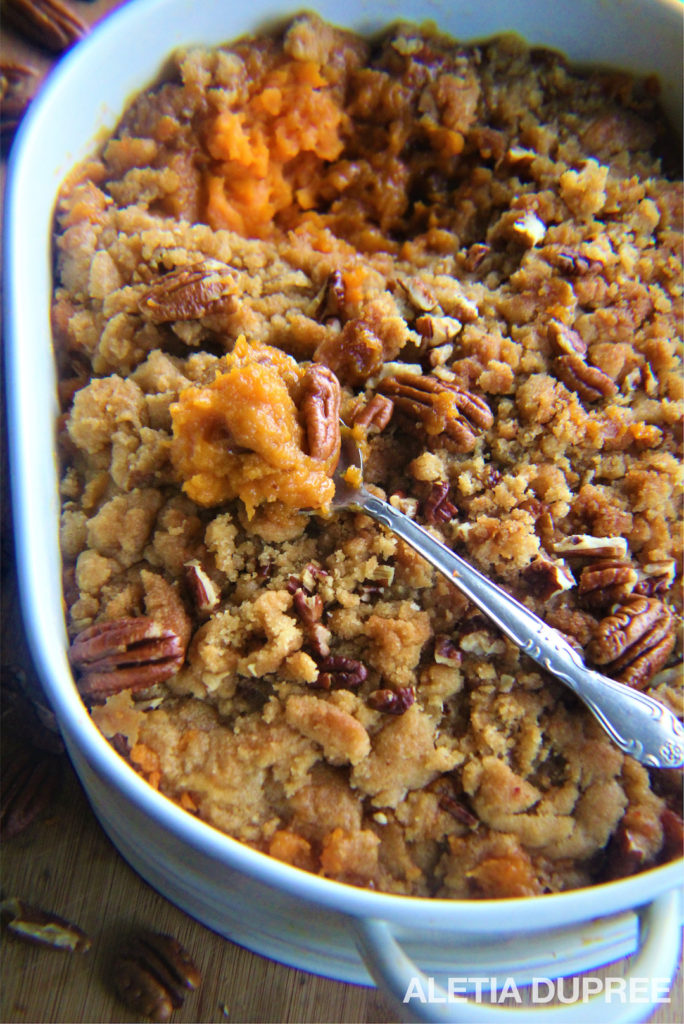 I hope this recipe brings you as much joy to your family as it has to ours. Happy holidays to you and your family!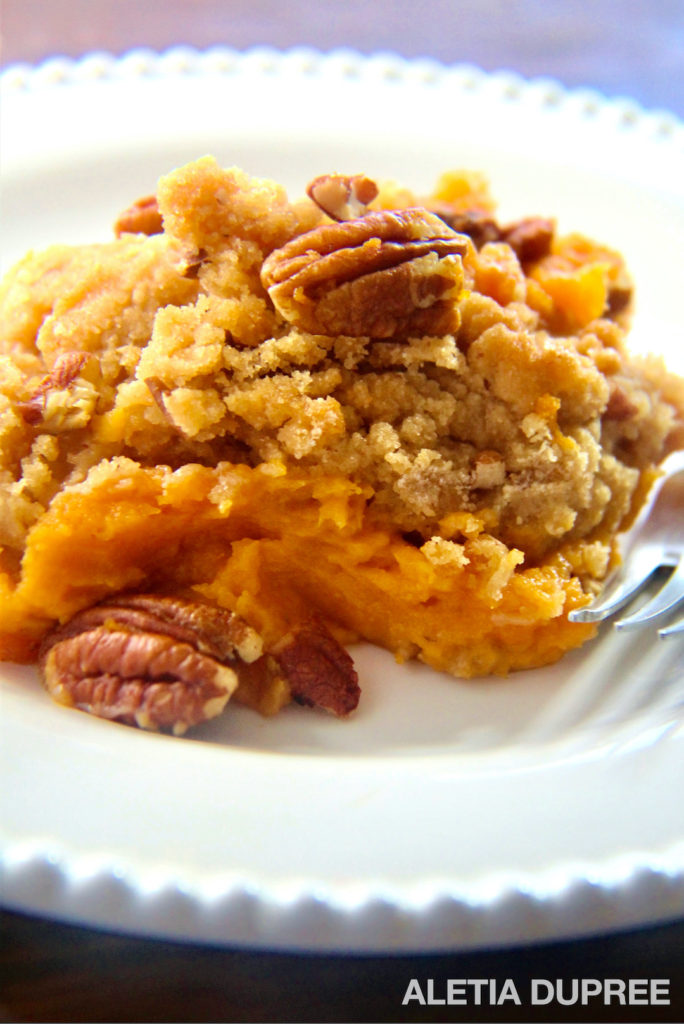 Print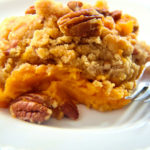 Sweet Potato Crunch Casserole
---
Author:

aletiadupree

Prep Time:

45 minutes (includes boiling sweet potatoes)

Cook Time:

30 minutes

Total Time:

1 hour 15 minutes

Yield:

6 to 8 servings

Category:

Casseroles
Ingredients
4 cups mashed sweet potatoes (about 3 jumbo sweet potatoes)

1 ⅓ cup granulated sugar

½ cup (1 stick) salted butter, soften

2 eggs, beaten

⅓ cup whole milk 

2 teaspoons pure vanilla extract
For the topping 
2 cups light brown sugar, firmly packed

⅔ cup ( 11 tablespoons) salted butter, softened

1 ¼ cups self-rising flour

1 ¼ cups chopped pecans, divided
---
Instructions
Wash potatoes thoroughly and place in a large pot. Cover the potatoes with water and boil until fork-tender. Remove peelings and place in a mixing bowl.
Using an electric mixer, beat sweet potatoes on high speed. Reduce speed and slowly add sugar. Beat well. Add butter; beat well. Add beaten eggs, milk, and vanilla extract. Beat on high speed until light and fluffy. (About 3 to 4 minutes.)
Pour into a greased or buttered 13 x 9 x 2-inch casserole dish. Bake in a preheated oven at 350 degrees F. without the topping for 12 minutes and then remove from the oven and spread brown sugar pecan topping evenly over sweet potatoes. Return to the oven and continue baking for about 15 or 20 minutes longer or until the casserole is hot and bubbly. Top with the remaining chopped pecans immediately after taking the casserole out of the oven. Garnish with a few whole pecan halves for garnish if desired. Enjoy!
Top make the topping: Mix together brown sugar, flour, butter and ½ cup of the chopped pecans. I mix the topping with my hands. I actually squeeze the ingredients together with my fingers! It should resemble wet moist clumps.
Notes
Do ahead tip/freezer:  The casserole can be made 1day ahead before baking and kept in the refrigerator. Uncooked casserole can be frozen for up to 2 months. Thaw in the refrigerator overnight before baking. Add 5 minutes to baking time. If freezing, before baking, don't put the topping on casserole. Follow the instructions for baking in the above recipe. If you freeze with the topping on, cover with foil during baking. Half-way through rehearing, uncover and continue reheating without foil. The foil keeps the topping from burning and uncovering will allow the topping to crisp back up.