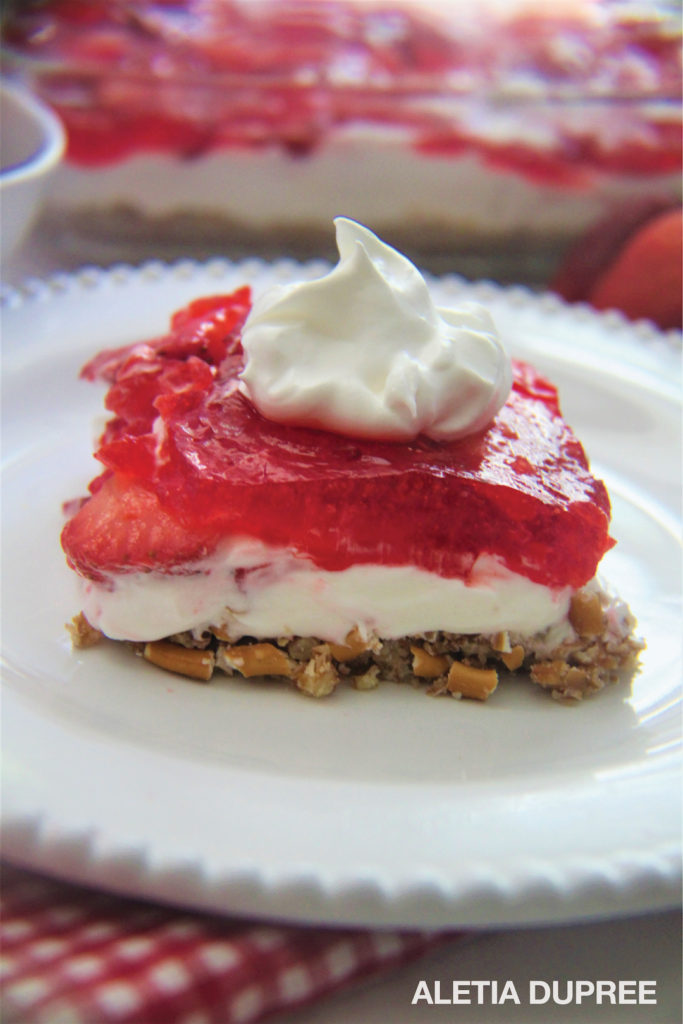 This Strawberry Pretzel Salad is insanely good! It's more like a dessert than a salad. It's sweet & salty, creamy, light, fruity and so delicious and beautiful too! This is a recipe that you will enjoy making over and over again and everyone will love it!
Strawberry Pretzel Salad is a family favorite at my house. We absolutely just love it. It's great to take to potlucks, church suppers, and it's a perfect dessert for backyard cookouts, barbecues or any holiday.
It's three layers of total bliss-a sweet & salty pretzel crust, a rich creamy cream cheese filling and a delicious strawberry jello topping!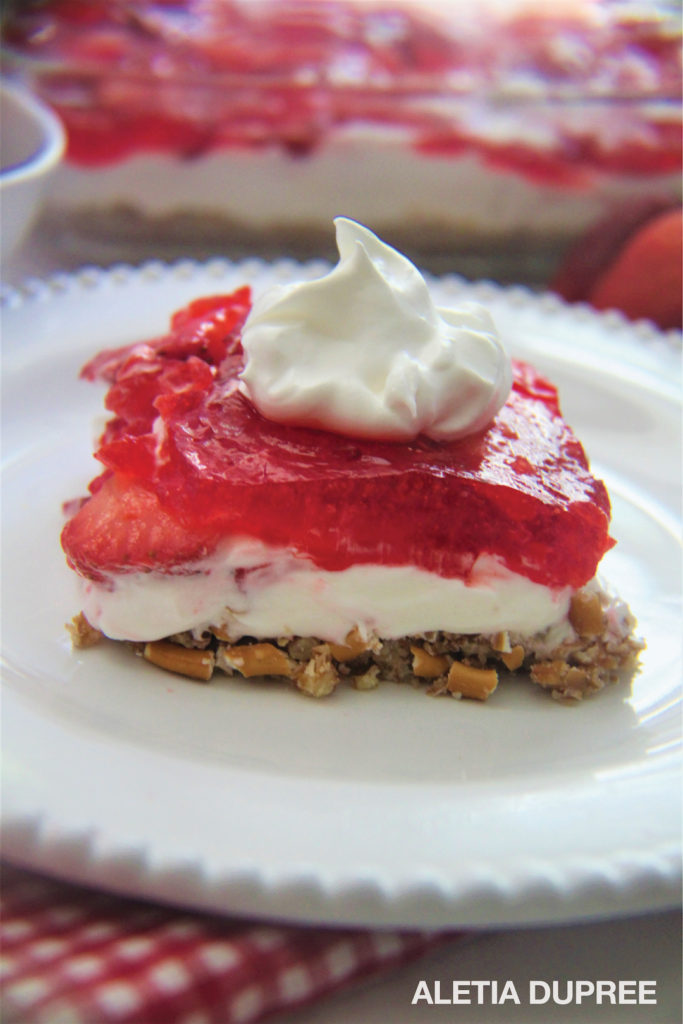 If you are not from the South or not familiar with Southern culture, here's a little insight. Native Southerner's call this a congealed salad not a dessert. In fact, in my Mother's generation, Southern women wouldn't dare call this a dessert. Southerner's  put congealed salads in the same category as a vegetable or casserole. When planning a family gathering, my mother will always ask, " What kind of congealed salad are we having?"
 In the South, you'll be sure to find a congealed salad on the table at every holiday or family reunion. So Southerner's eat jello salads as a side dish along with our desserts. It's one of those "Southern Things". Anyway, I love it as a congealed salad or as a dessert.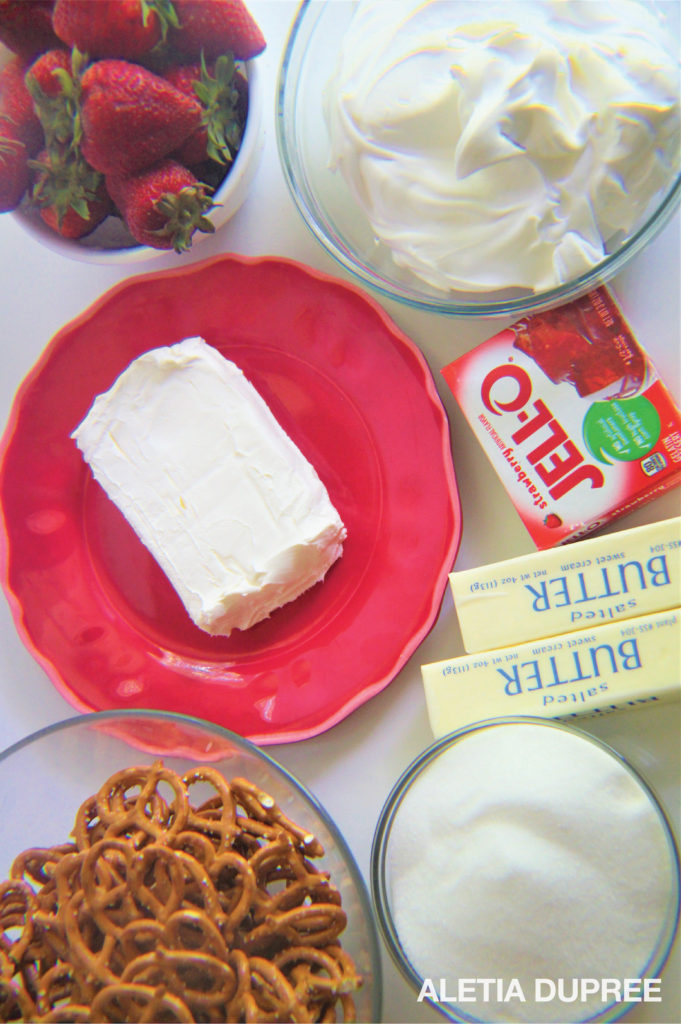 These are the ingredients that you will need: fresh strawberries, whipped topping, salted pretzels, white granulated sugar, butter, strawberry jello and cream cheese. 
To me, the pretzel crust is what takes this salad/dessert to the next level. There is no way that I would substitute a graham cracker crust in this recipe. Now, I love a graham cracker crust, but not in this recipe. It just wouldn't be the same.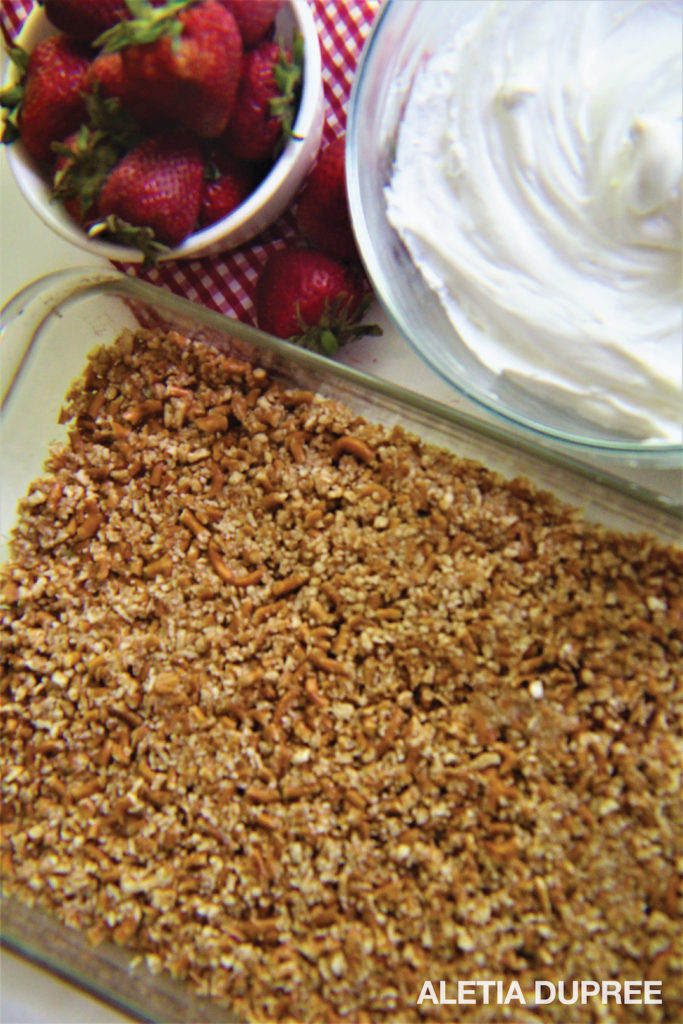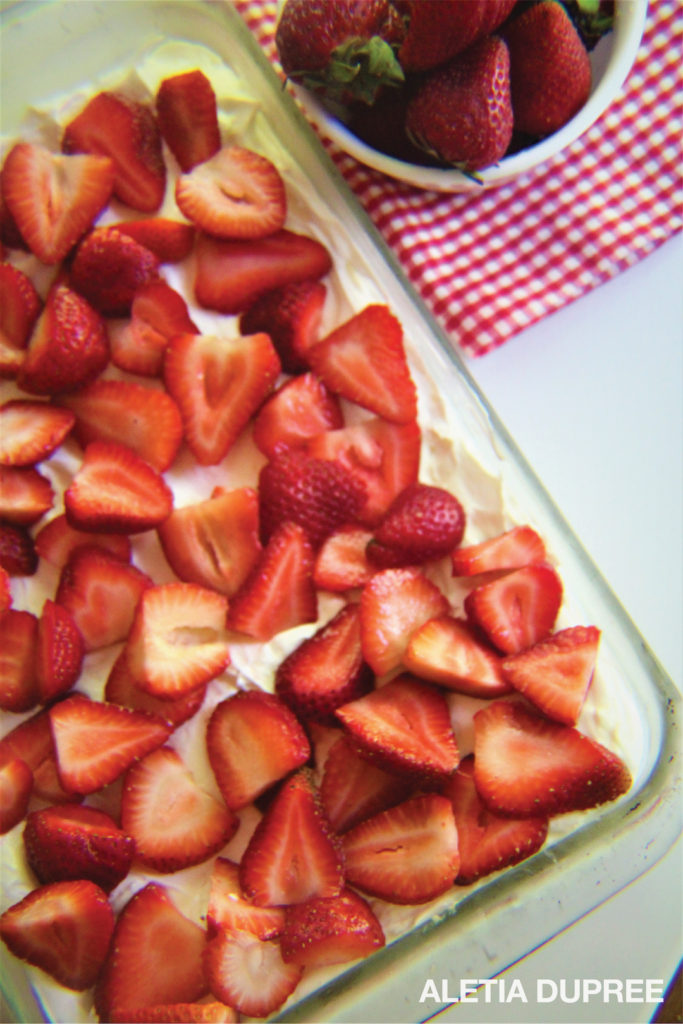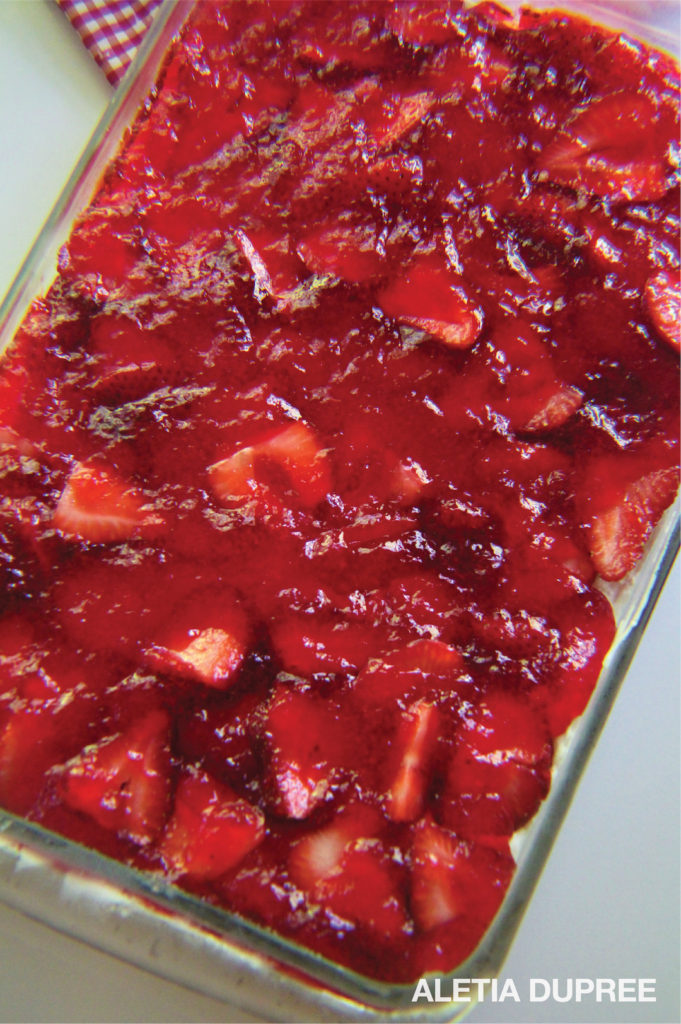 Tips on How to Make the Best Strawberry Pretzel Salad:
To prevent the delicious pretzel crust from becoming soggy, let the strawberry jello slightly congeal  before spooning  over the cream cheese layer. I did this last time I made it and the crust stayed crunchy  until we ate it all! I actually spooned the slightly congealed jello. I'll share that in the recipe. Most recipes have you pour the jello while it's still in the liquid stage.

Use the small salted pretzels either the sticks or the traditional pretzel twist. The small pretzels are easier to crush.

Use whipped topping rather than freshly whipped cream. In this recipe the whipped topping is thicker and the pretzel will stay crunchy longer.

Make sure the cream cheese is soft and the whipped topping is completely thawed. (let it thaw out in the refrigerator overnight).

Spread the cream cheese layer all the way to the edges for a tight seal. This also helps the delicious crust to stay nice and crunchy! We want to protect that yummy crust as much as possible.

Use fresh strawberries. I have used frozen strawberries in the past, but fresh is soooo much better! Enjoy!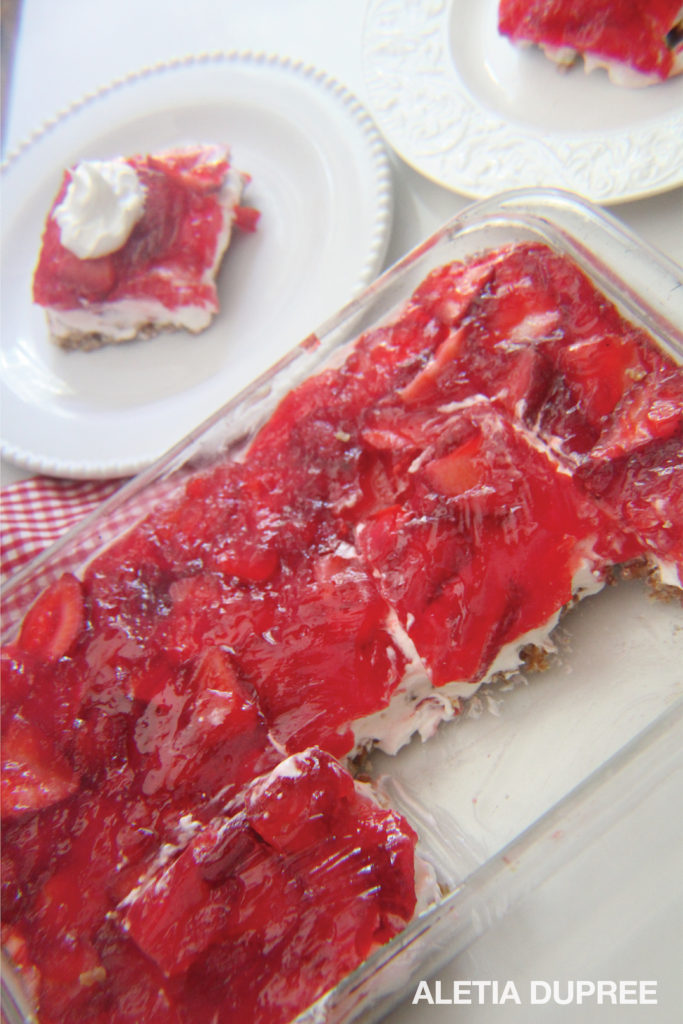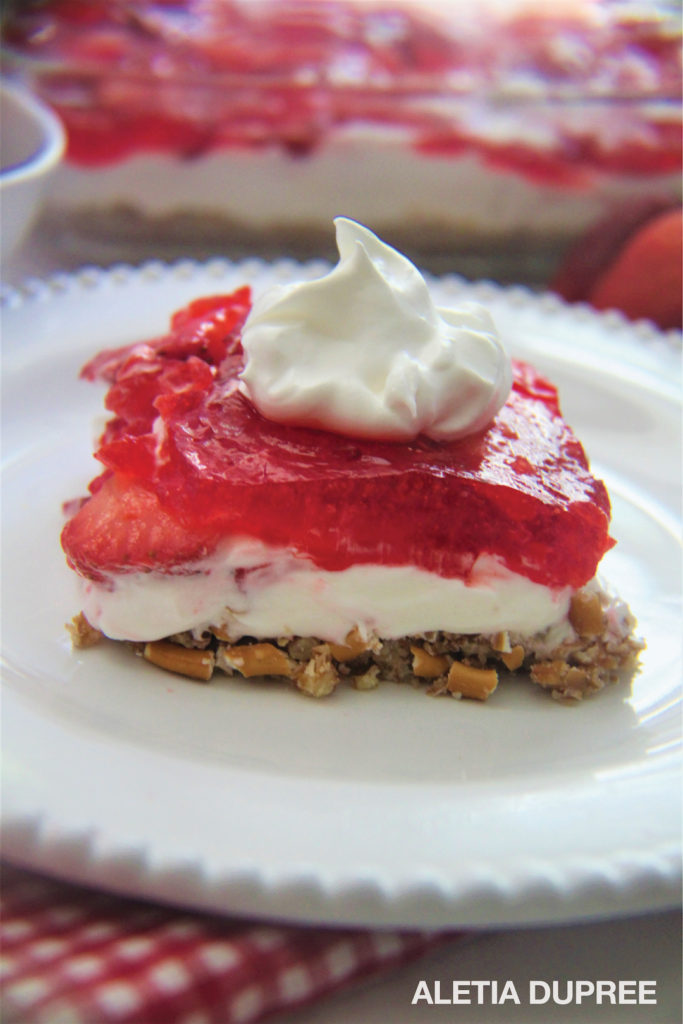 I can't wait for you to make this Delicious Strawberry Pretzel Salad. If you make it be sure to tag it #deliciouslysouthern and follow me on Instagram and Facebook. Also leave a comment below. I would love to hear from you!
Print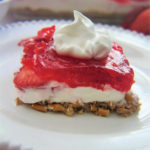 Strawberry Pretzel Salad
---
Author:

aletiadupree

Prep Time:

20 minutes

Total Time:

(Including Chilling Time): 1 hour and 20 minutes

Yield:

12 servings
Ingredients
FOR THE CRUST
2 ½ cups crushed salted pretzels
¼ cup white granulated sugar
1 cup (2 sticks) of salted butter, melted
FOR THE FILLING
1 (8-ounce) package cream cheese, room temperature
1 cup white granulated sugar
1 (8-ounce) container of whipped topping, thawed, such as Cool Whip
FOR THE STRAWBERRY JELLO TOPPING
2 cups boiling water
1 (6-ounce) package strawberry JELL-O
1 ½ cups cold water
4 cups fresh sliced strawberries
Extra whipped topping or whipped cream for garnishes, if desired.
---
Instructions
Preheat the oven to 350 degrees. In a medium size mixing bowl, stir the crushed pretzels and sugar together. Pour the melted butter over the pretzel mixture and stir with a fork or wooden spoon until the crumbs are completely moistened. Press the pretzel crumb mixture into the bottom of a 9×13-inch baking dish. (I like to use a glass baking dish so you can see all three beautiful layers.) Bake for 10 minutes. Set aside and cool completely.
Using an electric mixer, beat cream cheese until smooth. Add sugar and beat until light and fluffy. Gently fold in the Cool Whip or whipped topping. I use a rubber spatula to fold the topping in. Spread the cream cheese mixture evenly over the cooled crust. Place in the refrigerator while you prepare the topping.
Place the dry strawberry jello in a medium size bowl. Pour the 2 cups of boiling water over the dry jello and stir until jello is dissolved. Let cool for about 5 minutes and add 1 ½ cups of cold water and mix well. Chill in the refrigerator until jello mixture is slightly congealed.
Slice fresh strawberries and place on the cream cheese layer. When jello has thickened a little and slightly congealed spoon jello mixture over the sliced strawberries. ( Note Tip: Slightly congealing the strawberry jello helps to keep the pretzel crust from becoming soggy) You'll know when the jello is the right consistency when you can spoon the mixture over strawberries rather than pouring. This is the secret that I learned after making it last time. The crust stayed crunchy and crisp until we ate it all.
Keep refrigerated until serving time. Cut into squares and garnished with whipped topping or freshly whipped cream, if desired. Strawberry Salad will keep in the refrigerator for up to 5 days so it can be made up several days ahead of time. Enjoy!🍓