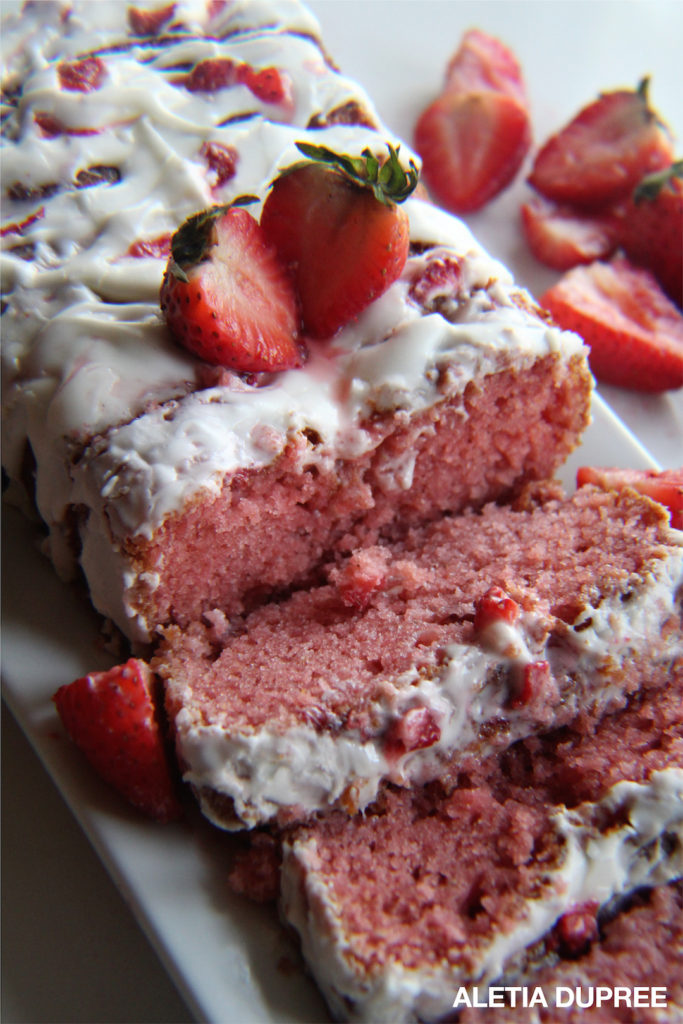 Hello spring!!!
We are so happy that you are finally here! We're celebrating your arrival with a delicious loaf of Strawberry Cream Cheese Bread that's drizzled with absolutely the yummiest cream cheese glaze imagined. This melt-in-your-mouth super moist bread is loaded with fresh juicy sweet strawberries in every bite.
My family loves anything made with strawberries especially my daughter Ashley. She is like me, a strawberry girl through and through so when I texted her a photo of the strawberry bread she texted back, "Oh my goodness, I need that!" I texted back, "It's delicious! It's made with cream cheese and a cream cheese glaze. She,  "Did you create this and are you publishing it?" Me,"Yes, I made it today. I'll freeze it if I don't see you soon. It would be good for a girl's spring brunch! And it's great with coffee!" Those text messages between us just about sums up this wonderful recipe.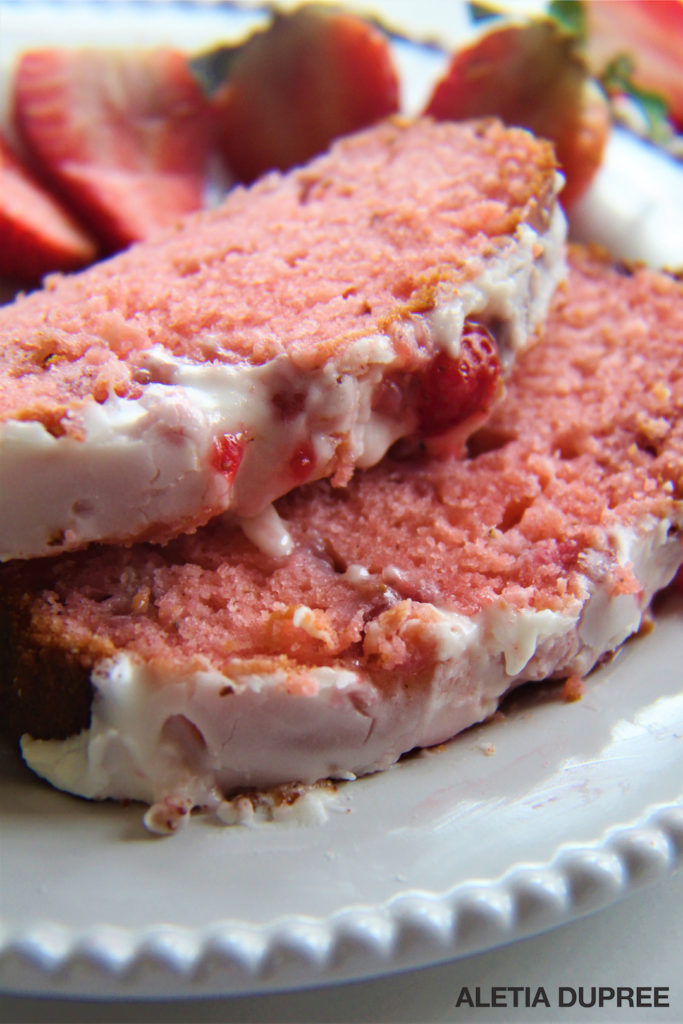 It's delicious, it's perfect for a spring brunch and it's great with coffee! What more could a Southern girl ask for?
I must be honest, over the years I haven't had much luck making a strawberry bread that I was truly happy with. My bread was either too dry too, too oily, or the strawberries turned purple. It just didn't have much flavor for whatever reason.
But, I was determined to create a perfect recipe for one of my favorite fruits.  After all, I think strawberries deserved to be made in wonderful tasting bread. Don't you?  With lots of trial and error, I think I nailed it on this one. It's super moist, but still has a bread like texture, and it's totally bursting with lots and lots of strawberry flavor.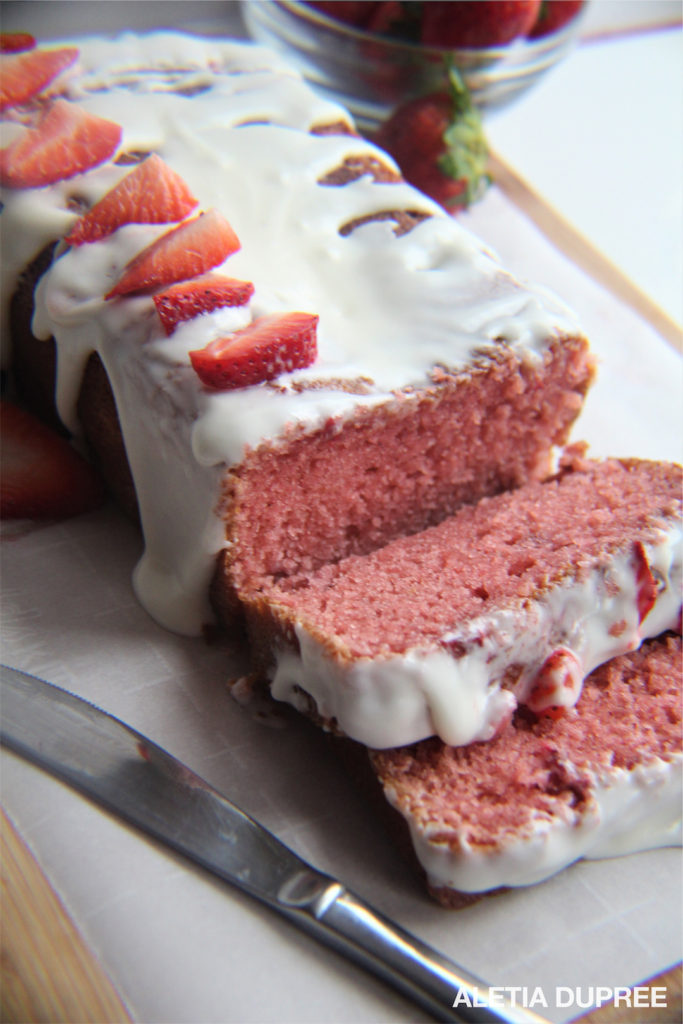 Now let's dive into this strawberry bread recipe because I want you to hurry and get a loaf in the oven! I promise, as this bread starts to bake, your house will smell like strawberry heaven.
Here are the key ingredients: Cream cheese, sugar, eggs, oil, buttermilk, vanilla, flour, baking soda, cinnamon, dry Jello, and of course, the star of the show, delicious strawberries.
I'm so glad that I used cream cheese in this recipe. It gives this bread an extra moist, rich taste and an incredible texture and the glaze is also made with cream cheese as well. So it really is strawberries and cream all the way through. No wonder it's so good!
This recipe has a perfect amount of oil, ⅓ cup plus 1 tablespoon and 1 teaspoon. That may seem like an old amount but trust me, it works. I have found that using oil rather than butter in quick breads is much better. Oil makes the bread super moist. Buttermilk really adds flavor and moisture too. Along with the perfect amount of flour, sugar, eggs and baking powder, The dry strawberry Jello was a last minute decision and probably the best. It gives the bread more strawberry flavor and a beautiful pink color……yes, a few tablespoons of dry strawberry jello was the final touch to strawberry bread perfection!
Here are my tips and tricks for baking Strawberry Cream Cheese Bread:
I cut strawberries into small pieces ( about 2 cups) Add 2 tablespoons of sugar and then gently mash them just enough to release the juice.Tossed the berries with 1 tablespoon flour to help keep the strawberries from sinking into the bottom of the bread. Cooking with fresh berries can be tricky because they have a lot of moisture from their juice. I reserve 1 tablespoon of the juice for the batter. Cutting the strawberries into small pieces and draining the juice helps to keep the bread from falling apart from too much moisture. I don't suggest using frozen strawberries because they tend to turn the bread purple.
Make sure that your cream cheese is at room temperature.
Beat your eggs first. Beating your eggs first helps make the bread rise without over mixing the batter.
Check to make sure your baking powder is not out of date. If it's expired, your bread will not rise and will fall flat.
Buttermilk is a must for this recipe. Please don't substitute it with milk. Buttermilk adds great flavor and moisture.
Once you add the oil, don't use the electric mixer. Use a whisk to blend the dry ingredients together. Over beating quick breads will cause the bread to be too heavy and it won't rise like it should.
Be sure not to over bake, preheat the oven to 325 degrees as soon as you place the loaf in the oven. Bake for 40 minutes.
Grease and flour your loaf pan for super easy removal.
This bread is even better made a day ahead. All the flavors have a chance to soak in.
After drizzling the glaze over the bread, let it set about 30 minutes before slicing. Be sure to buy extra strawberries for garnishing.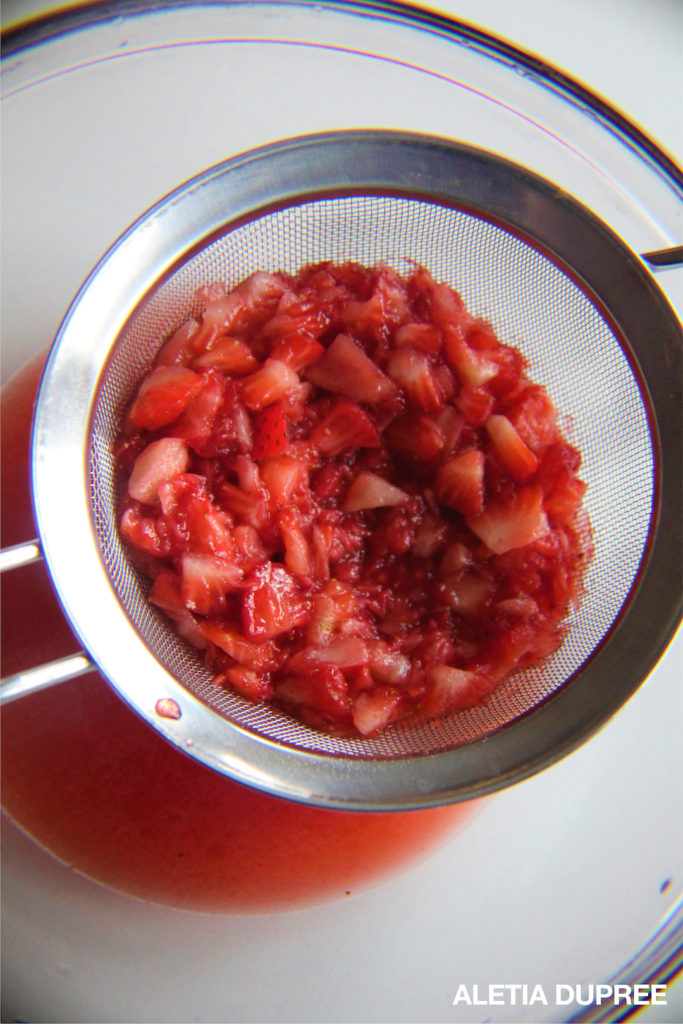 This recipe is also makes wonderful strawberry muffins too! Just adjust the oven temperature and reduce the baking time. You can drizzle the cream cheese icing over the muffins once they have cooled. I'll include instructions for making the muffins in the actual recipe!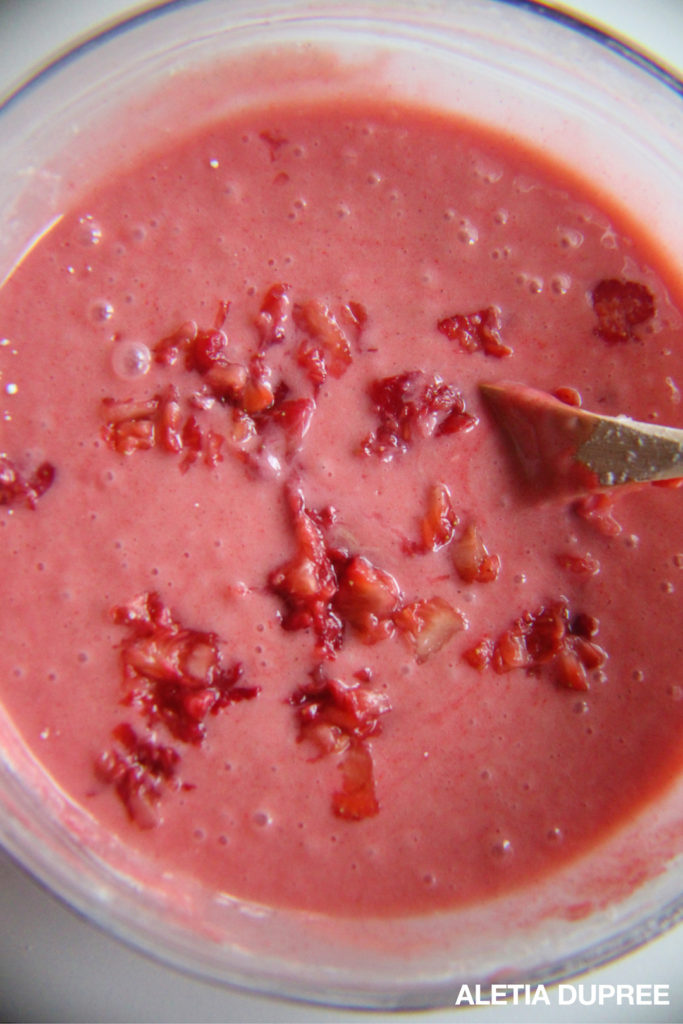 For something different, you can add chopped pecans to the batter as well.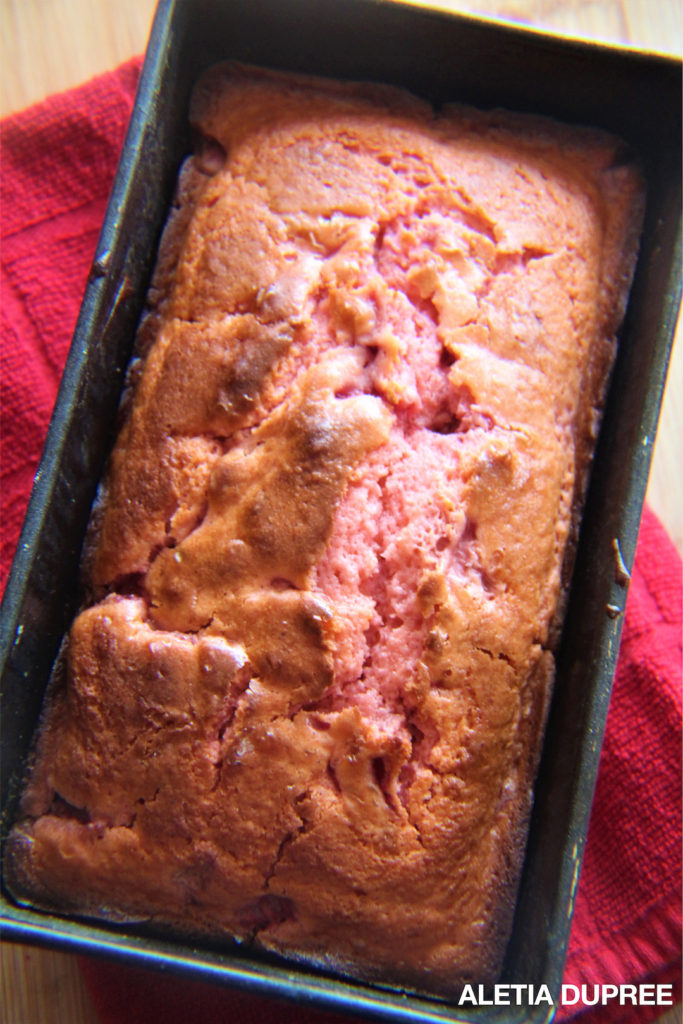 This bread is delicious even without the cream cheese glaze, but to me, the glaze  simply takes it to the next level. For a pretty touch, I diced up a few strawberries to sprinkle on the loaf after glazing it and then place a whole sliced strawberry on top!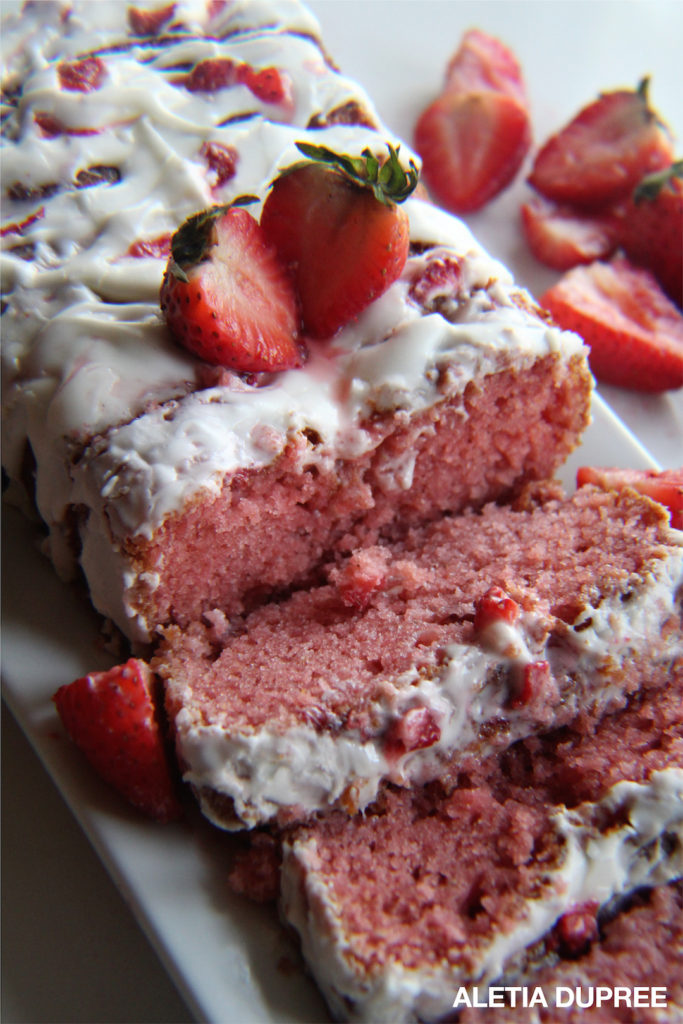 I hope you make this delicious Strawberry Cream Cheese bread all spring and summer long. It will be perfect for a spring brunch, to take to a friend or simply enjoy by yourself  with a cup of coffee.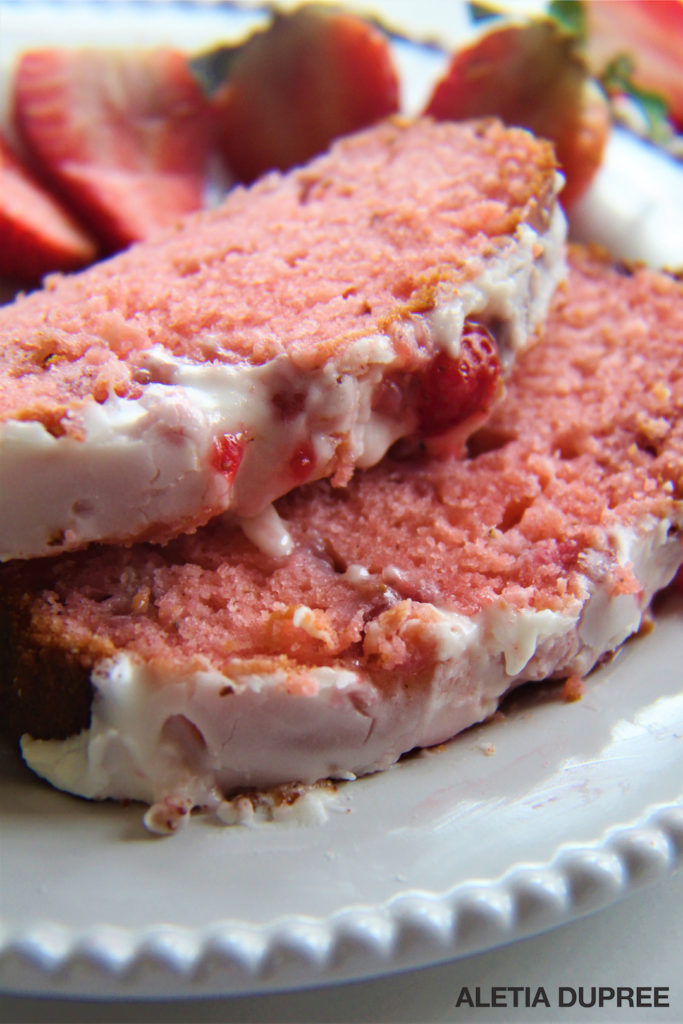 Please let me know if you make this. I would love to hear from you. Be sure to sure to leave a comment and follow me on Instagram @aletiadupree and on Facebook and Pinterest.
Print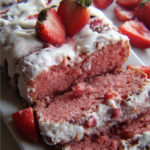 Strawberry Cream Cheese Bread
---
Author:

aletiadupree

Prep Time:

15 minutes

Cook Time:

50 to 55 minutes

Total Time:

-28262314.183333 minute

Yield:

1 loaf
Description
This melt-in-your-mouth super moist strawberry bread is loaded with fresh sweet strawberries in every bite. It's quick and easy and perfect for a spring and summer brunch!
---
Ingredients
Bread
4 ounces cream cheese, at room temperature
1 cup granulated sugar
2 large eggs, beaten
½ cup buttermilk
⅓ cup vegetable oil, plus 1 Tablespoon and 1 teaspoon
1 teaspoon pure vanilla extract
2 cups all-purpose flour (sifted and then measured)
2 teaspoons baking powder
½ teaspoon salt
¼ teaspoon cinnamon
3 Tablespoons dry strawberry Jello
2 cups fresh chopped strawberries,  sprinkled with 2 tablespoons of granulated sugar, gently mashed so the juices are released. Toss berries with 1 Tablespoon of flour. Reserve 1 tablespoon of juice from strawberries to add to batter.
1 Tablespoon of strawberry juice
Glaze
4 ounces cream cheese, soften
2 cups confectioners' sugar
¼ teaspoon vanilla extract
3 Tablespoons heavy cream or whole milk
---
Instructions
Preheat the oven to 350 degrees. Grease and flour a 9×5 loaf pan. In a large mixing bowl, using an electric mixer, beat cream cheese until smooth and creamy. Add 1 cup of sugar and beat until light and fluffy. Add beaten eggs and mix well.
Using a wire whisk slowly add buttermilk, oil and vanilla. In a medium size mixing bowl, sift flour, baking powder, salt, cinnamon and dry jello mix.
Add mixed dry ingredients to the cream cheese mixture or (wet ingredients). Mix with a wooden spoon or a wire whisk. (NOTE: Don't over mix. Over mixing will result in a tough textured bread. Gently fold in the strawberries (reserving about 2 Tablespoons to sprinkle on top of batter before baking. Add 1 Tablespoon of the strawberry juice to the batter.
Reduce the oven to 325 degrees and bake loaf for 50 to 55 minutes or until a toothpick comes out clean. (Note: Oven temperatures vary so I would check on the bread after about 45 minutes. It still might need another 10 minutes or so. Just don't over bake) Allow bread to cool completely in the pan on a wire rack before glazing and slicing.
Make the glaze: Using an electric mixer, beat cream cheese until smooth. Add confectioners' sugar, vanilla and heavy cream. Mix until smooth and creamy. Drizzle over bread immediately after bread has cooled. Garnish with chopped fresh strawberries, if desired. Bread will stay fresh for 7 days stored in an airtight container.
Notes
Do ahead/freeze tip:  Bread can be made up a day or two ahead of serving. Actually it taste better on the second day! It will freeze up to 2 months. Thaw in the refrigerator overnight.
Recipe Note:  Strawberry Cream Cheese Muffins: Preheat the oven to 425 degrees and spray a 12-count muffin pan with nonstick spray or line with cupcake liners. Prepare batter as directed above, fill each cupcake liner to the top with batter and bake for 5 minutes at 425 degrees. Reduce the heat to 350 and continue baking for an additional 10 to 15 minutes longer or until a toothpick comes out clean. Top with cream cheese glaze. Makes about 12 muffins.